BBG Watch Commentary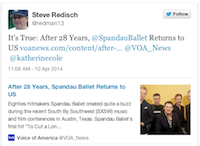 This lengthy Voice of America report, "After 28 Years, Spandau Ballet Returns to US," was posted on April 1 and we might have missed it along with many who may have not heard of this British 1980s band if we were not alerted to it ten days later by a VOA executive through social media.
Taken in isolation, this VOA report, although very dated, might be considered acceptable, if we ignore the fact that Great Britain is not a high priority target country for VOA. Other foreign audiences that count would probably expect reporting on U.S. music groups or bands from countries that VOA targets with its programs if there were any such bands. We were not told in this report if there were any such groups. The report was only about Spandau Ballet. Although music tastes differ, the 1980s group is not widely considered the most avant-garde or even trend setting import from across the pond. But we do not fault individual reporters who lack guidance and leadership from VOA executives.
It's True: After 28 Years, @SpandauBallet Returns to US http://t.co/1YsFbn7T6A @VOA_News @katherinecole

— Steve Redisch (@redman13) April 10, 2014
Looking at the picture of Spandau Ballet aging members who try to appear as if they are still in their 20s, the piece does not strike us as particularly appealing to VOA's young and hip target online audience. But thanks to today's tweet from VOA Executive Editor, we did learn of Spandau Ballet continued existence. The tweet also brought back memories that VOA had posted online dozens of reports about the British royal family — reports funded by our taxpayer dollars that we along with members of Congress who appropriated the money would rather forget.
[aside] caption = Voice of America's Coverage of British Royals in 2011 and 2013
alignment = none
width = 630px
collapse_state = collapsed
bg_colour = #CEECF5
Critics say that VOA news reporting has declined and nearly collapsed.
U.S. taxpayers paid for these programs by the Voice of America (VOA) while many human rights-related news stories and important U.S. foreign policy pronouncements by the White House, the State Department, and members of Congress went unreported on VOA websites in recent months and years.
Years and months later, these reports on the British royalty posted on the VOA English website show zero or very few Facebook "Likes" or any other indication of any notable audience engagement through social media.
IF YOU ARE A U.S. TAXPAYER YOU MUST CHECK THIS OUT
1.
2.
3.
4.
5.
6.
7.
8.
9.
10.
11.
12.
13.
14.
15.
16.
17.
18.
19.
10.
Royal Wedding: William & Kate Voice of America (VOA) English website, April 20, 2011 8:50 AM
21.
22.
23.
24.
25.
26.
27.
VOA on British Royal Christening, October 2013
Among five reports on the VOA website on the royal christening in Britain posted on October 23 and 24, 2013, none has more than 20 Facebook "Likes" as of October 28, 2013, one had zero Facebook "Likes" and another one had three.
Zones: Breaking News , Europe
October 23, 2013 12:08 PM
……..was born on July 22. In the arms of his mother as she left the the palace's Chapel Royal, George was dressed in a long cream satin robe that was a replica of an 1841 gown made for the christening of Queen Victoria's eldest daughter. Kate, a style icon whose outfits often increase sales of similar garments, wore an off-white, ruffled skirt-suit, made by British fashion house Alexander McQueen, and pillbox hat by British milliner Jane Taylor ….
Tags: Britain , duchess catherine , Kate Middleton , prince george , Prince William , royal christening
Zones: Europe
Reporters: Reuters
October 23, 2013 8:20 AM
……..William and Kate's decision is a break with the tradition of choosing royal dignitaries to take on the ceremonial role, and a continuation of their effort to portray a more informal, modern image to austerity-hit Britons. After the christening, guests will attend a private tea at Clarence House, hosted by Prince Charles and Camilla. Hollywood photographer Jason Bell has been tapped to take official photos of the event, that will include a "historic multi-generational photograph" of the queen
Tags: Britain , monarch , prince george , royal christening
Zones: Europe
Reporters: VOA News
October 23, 2013 12:14 AM
Carla Babb Prince George, the son of the Duke and Duchess of Cambridge, is being christened in Britain on Wednesday. In a break from tradition, the christening of the world's most famous baby will be as low key as possible. Three months ago, Prince William and his wife Catherine shared their bundle of joy with the world. And just as the royal couple broke with tradition ….
Tags: British royal family , christening , Prince William , Princess Kate , royal baby , royal christening , royalty
Zones: Europe
Reporters: Carla Babb
October 22, 2013 9:59 AM
Reuters A British photographer known for his portraits of rock stars and Hollywood actors was named on Tuesday as the official photographer of the world's newest celebrity – Prince George. Prince William and his wife Kate have chosen Jason Bell to photograph the christening on Wednesday, October 23, of their son, the third-in-line to the British throne, a palace statement said. Bell, 44, is an award-winning photographer best known for portraits of celebrities such as musician Paul McCartney, footballer David Beckham ….
Tags: Britain , christening , prince george , royals
Zones: Europe , Arts & Entertainment
Reporters: Reuters
October 23, 2013 12:19 PM
a central London chapel, where he made his first public appearance since his birth in July. Prince George was seen in the arms of his father, Prince William, as the elder prince and his wife Kate arrived at the Chapel Royal in St. James's Palace for Wednesday's traditional Anglican Christian ceremony. The infant was wearing a white satin gown, a replica of one made for Queen Victoria's eldest daughter in 1841. In a private ceremony inside the chapel ….
Zones: World News , Europe
[/aside]
It's hard to say what this fascination with all things British on America's the Voice of America website means, but what we do know is that VOA has problems posting real timely news, especially after business hours, and can't draw a map of Ukraine without giving Crimea to Russia. (The map was not corrected for close to 24 hours.)
But if a tweet from a VOA executive encourages VOA writers to write music features instead of producing politically faulty maps and zombie videos for Pakistan of blood-thirsty zombie Uncle Sam attacking a Pakistani, American taxpayers and Americans traveling abroad might still be better off. Spandau Ballet music is so bland that the Taliban or Al Quaeda might ignore it, but a VOA video with an American zombie Uncle Sam attacking a Muslim might just inspire them to violence or perhaps to use a clip from it for their terrorist training video.
These VOA features apparently do get some placement since hard news is hard to place on stations and websites, especially in countries like Pakistan and Russia, hence the pressure from Voice of America and International Broadcasting Bureau executives (IBB – responsible for strategic planning and marketing) to produce more features instead of news. The Spandau Ballet piece had 4.5k Facebook "Shares," the vast majority no doubt from the U.S., where most of VOA English website traffic originates. The report had only 6 comments, all but one from the U.S. Unlike this report, VOA British royal family reports had very few Facebook "Shares." Americans were probably not too interested or got their British royal family fix from BBC. (By the way, BBC posted a report on the SXSW [South by South West] Festival in Austin, TX and Spandau Ballet's concert there already on March 16 — the VOA report on April 1 and a tweet on April 10 about Spandau Ballet in Austin were really old news. )
This desperate search by VOA and IBB executives for an audience, any kind of audience — even an audience that has nothing to do with the international news and media freedom mission but is easy to get — may explain why the VOA Newsroom has been decimated by these executives and still can't respond properly to the crisis in Crimea, while VOA Ukrainian and Russian services also don't have enough people to quickly update their websites and social media pages with real news.
Former VOA chief White House correspondent Dan Robinson and other experienced and talented VOA correspondents have left the organization citing deemphasis of news reporting, bad management and abuse. And there is an independent American investigative reporter who accused VOA of trying to get UN officials to lift his press accreditation because of his dispute with some of the other UN reporters, including one from VOA. It was a rather unprecedented attempt by the U.S. government to interfere with the work of journalists in the U.S., but it was eventually dropped after numerous protests by media freedom and civil rights groups.
What all of this points to, however, is a dysfunctional and rudderless organization. We offer just one more VOA video production as an example. Voice of America executives liked this video so much that they initiated a press release about it. Warning: some may be bothered by North Korean propaganda that goes largely unchallenged and by shots of well stocked shops and chubby children of the North Korean elite in a country where some people are known to have starved to death. There is no mention of starvation in the VOA video.
Link to the video on YouTube.
After 28 Years, Spandau Ballet Returns to US, But Will Real News And Good Management Return to Rudderless VOA?
A question that perhaps members of the oversight Broadcasting Board of Governors (BBG) can ponder at their Friday meeting in Washington.