BBG Watch Commentary
After criticism from BBG Watch, Voice of America (VOA) reporters, VOA director Amanda Bennett and the Broadcasting Board of Governors' (BBG) VOA's parent agency's public outreach specialists no longer wonder whether Somali pirates who seize ships and take their crews as hostages should be seen as aggrieved fishermen rather than being called pirates. We are happy to report that subsequent VOA reports refer to Somali pirates as pirates and are not trying to present them as "desperate fishermen" fighting for economic justice. There have been no further tweets or emails on this topic from the VOA director or the BBG.
The Voice of America reported today that "A notorious Somali pirate leader is missing following an attempt Saturday to hijack a cargo ship."
A few weeks ago, VOA had a different story, which BBG Watch and others, including some VOA reporters, have criticized.
"The hijackers who seized an oil tanker and its eight-man crew off Somalia are demanding 'compensation' for a rise in illegal fishing in Somali waters," VOA reported on March 14. VOA and VOA director also reported that the pirate whom VOA had interviewed said that he was not a pirate.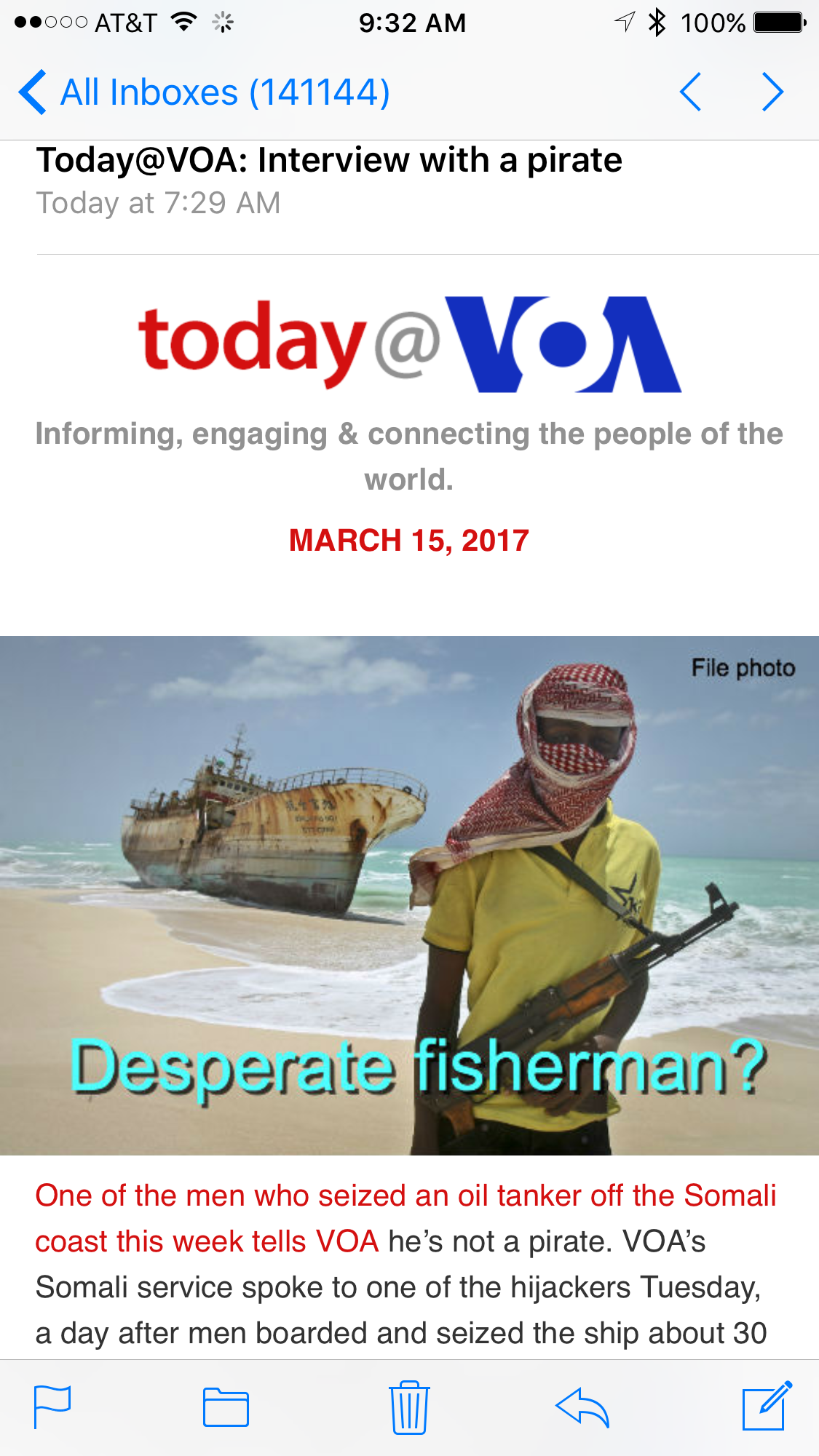 As BBG Watch commented earlier, people in the United States and abroad who have signed up for the Voice of America (VOA) e-mail news bulletin, and thus allowed themselves to be propagandized to by highly partisan and poorly-informed management of the U.S. taxpayer-funded media outlet, may have been surprised that VOA journalists, editors, and even VOA director are not sure whether individuals who seize maritime vessels at sea by force and keep their crews captive under the threat of death should be called pirates or "desperate fishermen" whom the VOA report tried to present inaccurately and misleadingly as fighters for social and economic justice.
The VOA management's e-mail news bulletin had a link to a VOA report, which in turn was highlighted in a Facebook post by VOA Director Amanda Bennett who wrote:
Amanda Bennett (amandabennettvoa) "One of the men who seized an oil tanker off the Somali coast this week tells VOA he's not a pirate. VOA's Somali service spoke to one of the hijackers Tuesday, a day after men boarded and seized the ship about 30 kilometers off the Somali coast, then anchored off Alula, a town in Somalia's Puntland region."
The latest VOA reports no longer try to present these Somali pirates as anything else than what they really are.

On April 6, Ann Noonan Executive Director of the independent NGO Committee for U.S. International Broadcasting (CUSIB – cusib.org) told members of the Broadcasting Board of Governors (BBG), which now has an advisory role for BBG CEO and Director John F. Lansing, that CUSIB was "stunned by the VOA director's Facebook post highlighting a blatantly false claim from a Somali pirate who told VOA that he was not a pirate."
"As someone observed, VOA used to take pride in interviewing Vaclav Havel who told the truth. It now takes pride in interviewing a hostage taker who told lies," Ann Noonan added.