BBG Watch
Assume you are someone in Africa who likes and is interested in former U.S. President Jimmy Carter. Assume that he or she hears good news about Jimmy Carter being free of brain cancer on a local African radio station which may have used a brief item from Agence France Press (AFP). You tune to a Voice of America (VOA) radio broadcast or, if you are more affluent and lucky and have Internet access, you check VOA websites and you find — NOTHING.
UPDATE: VOA finally posted a Carter story at 4:12 PM EST, hours after other media organizations reported on it.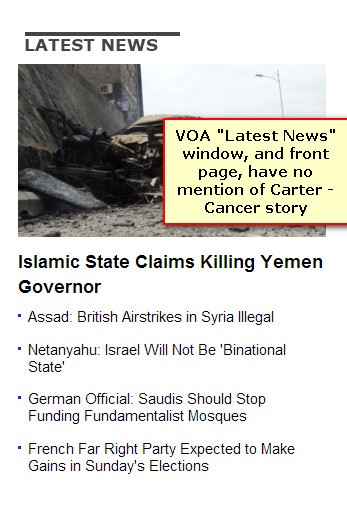 No one likes to work on weekends. VOA Newsroom is woefully understaffed even during weekday business hours. It takes VOA hours, sometimes, more than a day to post important news.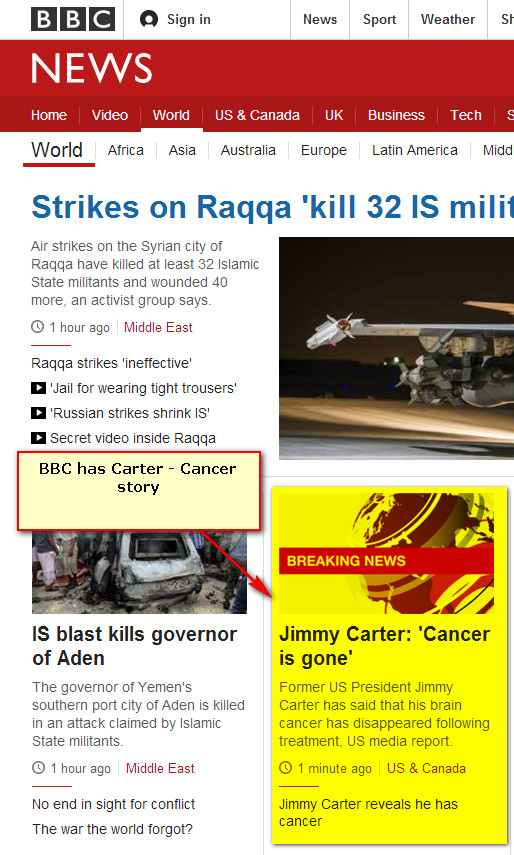 So, BBC has, under a BREAKING NEWS headline, Carter's revelation that he is cancer-free (see attached). No mention on VOA site, at least as of noon EST.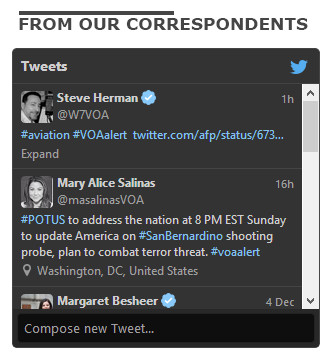 Neither the so-called "Latest News" window on the VOA news homepage, nor the correspondents' tweet window, have any mention of the Carter story as of 12:30 EST.
Note that some of the latest Voice of America correspondents' tweets are 16 hours and two days old.
And BBC Carter story is already well into multiple updates….no appearance yet on VOA.
If you are curious what the top U.S. News story on the VOA website was 12:10 PM and still there at 1:30 PM EST, Sunday, December 6, 2015, it was: "Photographer Takes Portraits Using 150-Year-old Process."
No kidding, after the Broadcasting Board of Governors' (BBG) bureaucracy and VOA executives spent millions of dollars over the last several years on "Digital Projects" — read this as millions spent mostly on the bureaucracy — VOA has no Newsroom staff to work on weekends and it still cannot manage its website to distinguish between news and features.
VOA language services are not doing any better. If anything, they are even worse when it comes to timely reporting of important news. The VOA French to Africa top U.S. News story is one day old as of Sunday, 1:30 PM EST.
The top World/US News story on VOA Hausa website is 2 (two days old).
By not covering major breaking news, especially in this case major U.S. news, a news organization sends a message that it is not in fact a news organization and gives its audience no incentive to go back to it for anything else.