BBG Watch Commentary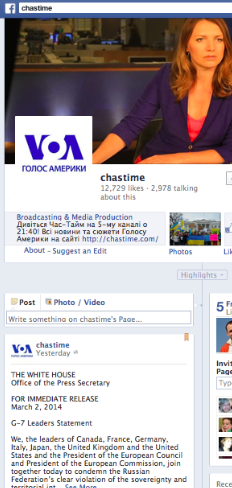 A check done by BBG Watch at 11:00 PM EST Monday, March 3, shows that the Voice of America (VOA) Ukrainian Service has not updated its Facebook page since yesterday and its latest Tweet is already eight hours old.
BBG Watch has learned that Voice of America executives did not provide the Ukrainian Service with resources to update social media regularly or even enough resources to post news reports on its website 24/7.
On the day of the escalating crisis and strong statements on Russia's aggression against Ukraine from President Obama, Vice President Biden, Secretary of State Kerry, Secretary of Defense Biden and other U.S. and foreign leaders, VOA Ukrainian Service has not been updating its website or social media platforms for many hours.
It also appears that work on updating the main VOA English news website with new U.S. and international information related to Ukraine has also stopped after business hours in Washington. The main VOA English news report on Ukraine was not being updated with new information Monday evening for several hours.
As of late evening Washington time, Voice of America was not reporting online about Vice President Biden's phone call Monday afternoon with Ukrainian Prime Minister Arseniy Yatsenyuk or Biden's meeting with Moldovan Prime Minister Iurie Leanca. Voice of America was also not reporting about the U.S. Defense Department's decision to suspend U.S. military-to-military activities with Russia, including "exercises, bilateral meetings, port visits and planning conferences."
What is most disturbing, however, is that not even the VOA Ukrainian Service was given sufficient resources to post news reports on new developments, U.S. and foreign, relating to Ukraine and to update its social media pages.
News reporting under VOA Director David Ensor and VOA Executive Editor Steve Redisch has deteriorated to such a degree, along with employee morale, that even foreign policy statements by President Obama do not get reported or are reported late and superficially.
Very often, Russia's and China's state-run media, such as RT, Voice of Russia, and CCTV, report U.S. news faster and more comprehensively than VOA. Both RT and Voice of Russia reported on the suspension of U.S.-Russia military cooperation while Voice of America did not.
Critics, including many Voice of America journalists, charge that VOA executives have mismanaged the organization and diminished serious news reporting while pushing for posting of hundreds of news stories and videos that can only be described as fluff journalism.
Examples of fluff journalism pushed by top executives include multiple VOA news reports on the British royal family, Justin Bieber, and even a dog show in New York, while Obama, Biden, Kerry, Hagel, McCain and others were ignored or largely ignored as they spoke out about serious U.S. foreign policy issues.
Members of the oversight Broadcasting Board of Governors (BBG) are said to be deeply concerned about mismanagement and news reporting failures at the Voice of America.