BBG Watch Commentary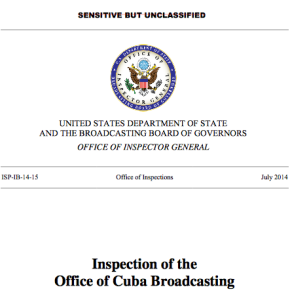 "Low morale still plagues the Office of Cuba Broadcasting, the U.S. government organization responsible for Radio and TV Marti, a new audit finds," The Sacramento Bee reported.
"In a partially redacted report dated July 7, based on employee interviews conducted last year, the State Department's Office of Inspector General cited morale as among the pressing challenges facing the Cuban broadcasting operations."
The paper reports a reaction to the OIG audit from Lynne Weil, spokesperson for the Broadcasting Board of Governors (BBG). She told the paper Monday afternoon that "we concur overall" with the recommendations made in the Inspector General's report, and said "the work of the OIG will help" the Cuban broadcasting office improve.
"Numerous steps have already been taken to address these issues," Weil said, adding that "the head of the office has heard (the concerns) loud and clear," The Sacramento Bee reported.
In our view, this response represents a considerable departure from previous responses from the BBG's International Broadcasting Bureau (IBB) to similar criticism of the agency's management practices.
BBG Watch suspects that the agency's top management may have gotten the message from reform-minded new BBG Chairman Jeff Shell that employees must be treated with dignity and management-labor relations must improve. Whether this will be translated soon into concrete actions by IBB and OCB managers remains to be seen, but comments by Ms. Weil, as reported by The Sacramento Bee, seem encouraging.
BBG Watch had reported earlier that a 2009 dismissal through management imposed RIFs (Reductions in Force) of a group of Radio and TV Marti journalists, which was reportedly motivated by criticism of the management by some of them, has contributed greatly to poor employee morale at OCB. The OIG audit does not address this particular case.
We have reported that at the last BBG Board meeting held last month at OCB in Miami, Ann Noonan, Executive Director of the independent Committee for U.S. International Broadcasting (CUSIB – cusib.org) spoke eloquently about personal hardships and suffering of OCB broadcasters who were illegally dismissed by the management.
A Federal Arbitrator, backed by a recent court decision, ordered their reinstatement, but employees have not yet been allowed to return to work by IBB. Dismissed OCB employees were successfully represented in court by a lawyer from their union, AFGE Local 1812, and received major support from their union's leadership in their long fight for reinstatement. They have told harrowing stories of their suffering and hardships endured since their dismissal in 2009.
CUSIB Directors Defend Radio TV Marti Journalists, Support Royce – Engel Bill to Reform Broadcasting Board of Governors
CUSIB EXECUTIVE DIRECTOR ANN NOONAN: "Thanks to the BBG, these Americans have lost their homes, lost their cars, lost their 401k's, sold their family business to help pay the bills, have been hospitalized because of stress and serious health issues, have lost their health insurance, cannot afford Obamacare, have no health insurance for themselves and their children.

These are people with families, and their families also suffer financial and emotional tolls. Their families witness their disheartened spouse or parent out of work in a tough job market. Their families are where a college-student on the Dean's list drops out of college to help pay the bills."
Sources told BBG Watch that a BBG Governor assured Ann Noonan at the board meeting in Miami that the BBG no longer plans to challenge in court legal decisions in favor of RIFed OCB journalists. How this plays out in the next few weeks remains to be seen. These journalists have not yet been allowed to return to work or given lost pay and benefits, but the agency's lawyers on instructions of Chairman Shell and the BBG Board have reportedly started working to settle the case rather than prolong the suffering of employees and continue to damage employee morale at OCB.
Noonan and CUSIB's co-Director and co-founder Ted Lipien had met in Miami with five of the dismissed OCB journalists.
But OCB management apparently still has a lot to learn. The Sacramento Bee reported that "official with the Office of Cuba Broadcasting told auditors they were surprised at the morale complaints." According to the article "officials noted that in a 2013 Office of Personnel Management's Federal Employee Viewpoint Survey, OCB employees gave high scores in categories of work experience, leadership, and supervisors."