BBG Watch Media
An unprecedented late evening and apparently secret meeting of high-level officials representing the highly repressive Ethiopian regime with a selected group of Voice of America (VOA) staffers at the VOA headquarters in Washington, DC on September 26, 2015, was met with condemnation from Ethiopian democracy leaders, journalists and human rights activists. According to Committee to Protect Journalists' 2015 report, Ethiopia is the "4th most censored country in the world". Cuba is number 10 on the 2015 CPJ list. Foreign Minister Dr. Tedros Adhanom and Special Envoy to the U.S. Ambassador Girma Birru were brought into the headquarters of the U.S. broadcaster late in the evening and participated in what was reported as an editorial meeting with some Voice of America staff members. This would be an equivalent of the Cuban Foreign Minister secretly visiting at night the Office of Cuba Broadcasting's (OCB) headquarters in Miami, FL of Radio and TV Marti for a meeting with OCB broadcasters.
Broadcasting Board of Governors (BBG) and Voice of America officials said off the record that this unannounced meeting with Ethiopian regime officials was nothing more than a useful off-the-record briefing for VOA journalists. In 2006, the late leader of Ethiopia, Meles Zenawi, charged 5 Voice of America Horn of Africa Service journalists with crimes based on their reporting from the United States. The BBG, which oversees VOA, passed then a resolution condemning these charges against VOA journalists living in the United States as "nothing more than a blatant attempt to criminalize freedom of the press."
Two well-known and highly regarded Ethiopians now living in United States, one of them a journalist and another a professor of political science at California State University, San Bernardino, have commented on the unusual circumstances of the September 26, 2015 meeting at the Voice of America headquarters between Ethiopian regime officials and VOA staffers.
Journalist Abebe Gellaw, a former John S. Knight Journalism Fellow at Stanford, tried to get answers about the meeting from VOA Public Relations officials. According to Gellaw, his specific and simple questions listed in the article linked below were not answered. He described the response from he received from VOA as "inappropriate posturing and badmouthing."
ABEBE GELLAW: "In the spirit of fairness and balance, the bosses should also convene another Saturday or Sunday night meeting behind the scene with opposition party leaders and the countless victims of TPLF's tyranny to review the editorial quality of VOA and give their own guidelines and orders. That is the easy way to open a can of worms.
It is ironic to note that some VOA bosses used to claim to have an issue with government officials for failing or refusing to answer any serious questions raised by VOA Amharic service. Unless they are talking about a different standard, the same must apply to themselves. If getting answers to their questions is so important that they had to go out of their ways to welcome the tyrants in the middle of the night, why is it that answering a few serious questions once in a blue moon has become so hard for them?"
ABEBE GELAW BIOGRAPHY (John S. Knight Journalism Fellowships at Stanford): "Abebe Gellaw was born in Addis Ababa, Ethiopia. He earned his bachelor's degree from Addis Ababa University and a post-graduate diploma from London Metropolitan University. He began his career in journalism in 1993 as a freelance writer focusing on human rights and political issues. In 1995, he was one of the founders and editors of an independent, biweekly newspaper, Addis Express, which by early 1996, was forced to close down by the government. From 1996-1998, he was a senior reporter and columnist for the Ethiopian Herald, the only English daily in the country. In late 1998, he was exiled to London. He started his work in London as a radio producer and broadcaster for Health Africa. Then from 2000-2004, he was the managing editor of New Vision, a UK-based refugee e-journal. Since 2005, he has been a regular contributor and columnist for major Ethiopian cyber media outlets such as Ethiomedia.com, Nazret.com and Abugida.com. In 2006, Addis Voice, a popular Ethiopian online current affairs journal in Amharic and English, was launched and he became its founding editor. He has received many awards including, winning an international journalism training award at Reuters Foundation in 1998. He also received a Champions of Change Millennium Award in 2002 for his contributions to refugee media development in the UK. He received a British Telecom Community Connections Award that same year for his work in creating a cyber network for the refugee community in the UK. In 2007, he was honored by the UK branch of the Coalition for Unity and Democracy in Ethiopia for his commendable journalism and advocacy endeavors."
Professor Alemayehu G. Mariam who teaches political science at California State University, San Bernardino, had a similar reaction to Voice of America staffers arranging an apparently secret, late evening meeting at the VOA headquarters in Washington with high-level officials of the one the most repressive regimes in Africa which persecutes and imprisons journalists, political opponents and human rights activists.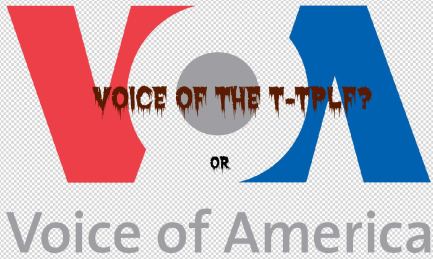 PROFESSOR ALEMAYEHU G. MARIAM: "Reading recent reports that Adhanom and his flunkey Birru, had 'sneaked' under cover of darkness on a weekend night for a secret meeting into the headquarters of the Voice of America with selected VOA AS and other reporters and staffers caught me completely off guard.
 
I was apoplectically outraged when I learned the details of the secret weekend night meeting.
 
Finding out Adhanom and Birru had been secretly skulking the hallowed halls of America's 'shrine of free press' for the rest of the world to me was like finding out the Big Bad Wolves of Press Freedom in sheep's clothing stalking the the lambs.
 
Better yet, it was like finding out that the Princes of Press Darkness have secretly entered the inner sanctum of the shrine of American press freedom to the rest of the world and defiled it. Desecrated it."
READ MORE: Barbarians in the Headquarters of Voice of America? By Professor Alemayehu G. Mariam, California State University, San Bernardino, Al Mariam's Commentaries, November 8, 2015
PROFESSOR ALEMAYEHU G. MARIAM BIOGRAPHY (About Al Mariam): Professor Alemayehu G. Mariam teaches political science at California State University, San Bernardino. His teaching areas include American constitutional law, civil rights law, judicial process, American and California state governments, and African politics. He has published two volumes on American constitutional law, including American Constitutional Law: Structures and Process (1994) and American Constitutional Law: Civil Liberties and Civil Rights (1998). He is the Senior Editor of the International Journal of Ethiopian Studies, a leading scholarly journal on Ethiopia. For the last several years, Prof. Mariam has written weekly web commentaries on Ethiopian human rights and African issues that are widely read online. He blogged on the Huffington post at http://www.huffingtonpost.com/alemayehu-g-mariam/ and later on open.salon until that blogsite shut down in March 2015.
 
Prof. Mariam played a central advocacy role in the passage of H.R. 2003 (Ethiopia Democracy and Accountability Act of 2007) in the U.S. House of Representatives in 2007. Prof. Mariam also practices in the areas of criminal defense and civil litigation. In 1998, he argued a major case in the California Supreme Court involving the right against self-incrimination in People v. Peevy, 17 Cal. 4th 1184, cert. denied, 525 U.S. 1042 (1998) which helped clarify longstanding Miranda rights issues in California criminal procedure. For several years, Prof. Mariam had a weekly public channel public affairs television show in Southern California called "In the Public Interest". Prof. Mariam received his Ph.D. from the University of Minnesota in 1984, and his J.D. from the University of Maryland in 1988.
Committee to Protect Journalists

 

 

4. Ethiopia

 
Leadership: Prime Minister Hailemariam Desalegn, in power since September 2012.
 
How censorship works: As Ethiopia prepared for its May 2015 elections, the state systematically cracked down on the country's remaining independent publications through the arrests of journalists and intimidation of printing and distribution companies. Filing lawsuits against editors and forcing publishers to cease production have left only a handful of independent publications in a country of more than 90 million people. Ten independent journalists and bloggers were imprisoned in 2014; authorities filed a lawsuit in August accusing six publications of "encouraging terrorism," forcing at least 16 journalists to flee into exile. There are no independent broadcasters, though broadcasts from the U.S.-based opposition Ethiopian Satellite Television (ESAT) intermittently air within the country. The state-controlled telecommunications company Ethio Telecom is the sole Internet provider and routinely suspends critical news websites. International journalists work in Ethiopia, but many are under surveillance and face harassment. Although journalists have not had difficulties acquiring accreditation in the past, newer arrivals say that they face challenges.
 
Lowlight: Authorities in 2014 unleashed the largest onslaught against the press since a crackdown in 2005 after disputed parliamentary elections. Ten independent journalists and bloggers were arrested on anti-state charges, and at least eight independent publications were shut down.