BBG Watch Commentary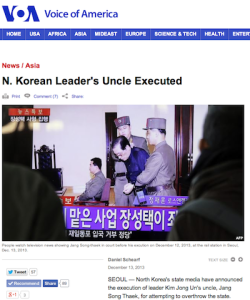 Among major international media outlets, BBC is by far the best source for coverage and analysis of the execution of a once-powerful uncle of North Korean leader Kim Jong-un.
The execution of Chang Song-thaek has been the lead news story on the BBC website since yesterday. The BBC homepage offers seven links to North Korea crisis-related news reports. BBC was also reporting the White House spokesman's comments on the latest events in North Korea before they were reported by the Voice of America (VOA).
The Voice of America was a few hours late behind BBC, Al Jazeera, and RT (Russia Today) in reporting on the execution. VOA initially offered only a short news item (142 words). VOA has since posted a report from its correspondent in Seoul, "N. Korean Leader's Uncle Executed," Daniel Schearf, VOA, December 13, 2013.
The VOA correspondent report has 714 words and includes some analysis from experts, but the VOA site offers no links to other North Korea-related material.
The BBC report, "North Korean purge of leader's uncle sparks stability fears," BBC, December 13, 2013, has 2,000 words with, a video, photos, numerous links and quotes from analysts. BBC also provides bios of various North Korean political figures and their family members. BBC report showed 463 Facebook "Likes" as of 2PM ET.
Radio Free Asia, VOA Korean Service do well
Radio Free Asia English website posted a report on the execution. RFA website also includes an earlier interview with Bruce Klingner, senior fellow at the Heritage Foundation, about Kim's possible motivations and his challenges ahead. Klingner, formerly an intelligence analyst with the U.S. Central Intelligence Agency and the Defense Intelligence Agency, has written extensively about Korean affairs since he joined Heritage Foundation, a Washington-based think tank, in 2007. The interview was conducted by Changsop Pyon of RFA's Korean Service.
RFA Korean Service offers much more extensive coverage than can be found on the RFA English site. The service's homepage is almost entirely devoted to the ongoing leadership crisis in North Korea.
VOA Korean Service is also providing full coverage.
VOA English better on North Korea than its recent Ukraine coverage
While the VOA English website was late in reporting on the North Korean execution, and did not have much information on it initially, subsequently it offered a good report with analysis from its correspondent in Seoul. The report shows 89 Facebook "Shares," which is a good number for VOA. But VOA English news reporting and social media engagement performance has been generally dismal and chaotic in recent months and years due to bad management at the top level.
Until very recently, the VOA English website relied almost exclusively on Reuters to cover massive anti-government protests in Ukraine and failed to report or was late and superficial in reporting on Ukraine-related statements from Vice President Biden and other U.S. administration officials.
On North Korea, VOA English News did, however, mention the State Department spokesperson's comment:
"The U.S. State Department says it can not immediately verify Jang's execution. But spokeswoman Marie Harf said U.S. officials have no reason to doubt it. If confirmed, Harf said the execution will serve as another example of the 'extreme brutality' of the North Korean regime."