BBG Watch Commentary
UPDATE: As of 3:30 PM EST, Tuesday, January 28, 2014 – BBC report, "President Obama pays tribute to US folk singer Seeger," BBC, is now showing 15,881 Facebook "Likes" (1,675 Tweets).
Voice of America (VOA) short initial report without video, photo, or audio, "Pete Seeger, U.S. Folk Singer, Songwriter and Political Activist, Dies," VOA, is still showing 0 (zero) Facebook "Likes" (19 Tweets).
VOA's somewhat longer report, posted later, "US Folk Singer, Political Activist Pete Seeger Dies," VOA, shows 132 Facebook "Likes" (15 Tweets).
In the last hour and a half, BBC report gained over 1,000 Facebook "Likes." VOA's initial report gained none (still zero) and the second VOA report gained about 20 Facebook "Likes."
Unlike Voice of America, which so far posted only two reports, BBC focused in its main report on President Obama's statement on the passing of Pete Seeger and offered in addition five other reports, only one of them a repeat of a previously used program (2009 BBC interview with Seeger). Ulike VOA's offering, which had very limited multimedia content (first VOA report had none), BBC reports on Seeger were rich in photos, videos, and audio.
VOA posted four reports on the recent arrest in the U.S. of Canadian pop star Justin Bieber, albeit over a period of a few days, but it had dozens of reports on the British royal wedding in 2011 and five reports on the British royal baby christening in 2013. Meanwhile, it failed to post reports on recent important U.S. foreign policy statements by Vice President Biden, Secretary of State Kerry, and key U.S. senators. VOA Management announced a Bingo Game Night for January 27 to improve dismal employee morale. It's not clear whether this event, if it were held, distracted VOA from reporting on the White House statement on Ukraine last night and providing better coverage to international audiences about Pete Seeger.
BBC ON PETE SEEGER
28 JANUARY 2014, ENTERTAINMENT & ARTS
28 JANUARY 2014, ENTERTAINMENT & ARTS

28 JANUARY 2014, ENTERTAINMENT & ARTS

28 JANUARY 2014, ENTERTAINMENT & ARTS

28 JANUARY 2014, ENTERTAINMENT & ARTS

02 MAY 2009, ENTERTAINMENT
While Voice of America had posted a short story on the death of Pete Seeger (the one with zero "Likes), there was no "VOA News" attribution, which may be an indication that it was not a VOA report but a wire service story or something put together from a number of wire service reports. The second VOA report, posted later, was written by a VOA reporter.
But initially, the VOA story was not visible even in the USA section of the VOA homepage page, at least as of noon EST.
END UPDATE
Voice of America (VOA) was late, short and incomplete in reporting Tuesday on the death of America's legendary singer Pete Seeger and initially did not mention President Obama's statement about the musician. BBC quickly posted a long report with a video, photos, and President Obama's tribute to Pete Seeger.
At 12:30 PM EST, VOA's short report on Seeger, without any video, audio or photo, was showing 0 (zero) Facebook "Likes."
At the same time, BBC's report on Seeger was already showing over 13,000 Facebook "Likes."
Later VOA posted a somewhat longer report on Seeger's death with an audio obit and some reactions attached at the end of the report, including President Obama's statement. The second VOA report was showing slightly over 100 Facebook "Likes" after 1:00 PM EST Tuesday but nowhere near over 13,000 Facebook "Likes" for the BBC report.
Unlike VOA, BBC has also posted a separate Pete Seeger obit with photos, a 2009 BBC interview with Pete Seeger, and an additional Pete Seeger in pictures photo gallery.
It appears that VOA did not even have a prepared text, photo and video obituary for the famous American singer who was over 90 years old. VOA posted late its initial perfunctory report about his death, and was late in reporting on President Obama's statement.
It is also worth noting that VOA did not offer President Obama's statement on Seeger under a separate title as BBC did. Not surprisingly, the initial VOA report got zero Facebook "Likes" while the BBC report got over 13,000. BBC offered full coverage on the passing of the American music icon. VOA was late, incomplete and certainly did not meet expectations of its international audience.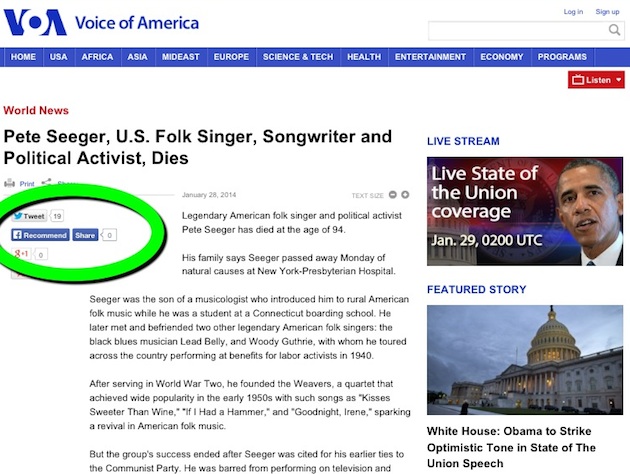 VOA

January 28, 2014

Legendary American folk singer and political activist Pete Seeger has died at the age of 94.

His family says Seeger passed away Monday of natural causes at New York-Presbyterian Hospital.

Seeger was the son of a musicologist who introduced him to rural American folk music while he was a student at a Connecticut boarding school. He later met and befriended two other legendary American folk singers: the black blues musician Lead Belly, and Woody Guthrie, with whom he toured across the country performing at benefits for labor activists during the Great Depression of the 1930s.

After serving in World War Two, he founded the Weavers, a quartet that achieved wide popularity in the early 1950s with such songs as "Kisses Sweeter Than Wine," "If I Had a Hammer," and "Goodnight, Irene," sparking a revival in American folk music.

But the group's success ended after Seeger was cited for his earlier ties to the Communist Party. He was barred from performing on television and eventually called before the House Un-American Activities Committee, where he refused to answer questions about his political activities. He was tried and convicted for contempt of Congress and sentenced to jail, but the sentenced was eventually overturned.

But Seeger continued to draw huge audiences at college campuses and small nightclubs, and he took part in such causes as civil rights and environmentalism. His arrangement of "We Shall Overcome," which had its roots as a gospel song, became the anthem of the Civil Rights Movement of the 1960s.

Seeger also wrote such popular songs as "Turn, Turn, Turn" and "Where Have All the Flowers Gone?" He earned numerous awards and accolades late in his career, including a Grammy Award in 1993 for lifetime achievement, a Kennedy Center honoree in 1994, and induction into the Rock and Roll Hall of Fame in 1996 as an early influence.

In 2009, he performed at a concert staged at the Lincoln Memorial in celebration of President Barack Obama's first inauguration.
The White House
Office of the Press Secretary

For Immediate Release January 28, 2014
Statement by the President on the Passing of Pete Seeger

Once called "America's tuning fork," Pete Seeger believed deeply in the power of song. But more importantly, he believed in the power of community – to stand up for what's right, speak out against what's wrong, and move this country closer to the America he knew we could be. Over the years, Pete used his voice – and his hammer – to strike blows for worker's rights and civil rights; world peace and environmental conservation. And he always invited us to sing along. For reminding us where we come from and showing us where we need to go, we will always be grateful to Pete Seeger. Michelle and I send our thoughts and prayers to Pete's family and all those who loved him.
List of VOA's British Royal Family reports.
[aside] caption = Voice of America's Coverage British Royals in 2011 and 2013
alignment = none
width = 630px
collapse_state = expanded
bg_colour = #CEECF5
U.S. taxpayers paid for these programs by the Voice of America (VOA) while many human rights-related news stories and important U.S. foreign policy pronouncements by the White House, the State Department, and members of Congress
went unreported on VOA websites
in recent months and years.
Years and months later, these reports on the British royalty posted on the VOA English website show zero or very few Facebook "Likes" or any other indication of any notable audience engagement through social media.
IF YOU ARE A U.S. TAXPAYER YOU MUST CHECK THIS OUT
1.
2.
3.
4.
5.
6.
7.
8.
9.
10.
11.
12.
13.
14.
15.
16.
17.
18.
19.
10.
Royal Wedding: William & Kate Voice of America (VOA) English website, April 20, 2011 8:50 AM
21.
22.
23.
24.
25.
26.
27.
VOA on British Royal Christening, October 2013
Among five reports on the VOA website on the royal christening in Britain posted on October 23 and 24, 2013, none has more than 20 Facebook "Likes" as of October 28, 2013, one had zero Facebook "Likes" and another one had three.
Zones: Breaking News , Europe
October 23, 2013 12:08 PM
……..was born on July 22. In the arms of his mother as she left the the palace's Chapel Royal, George was dressed in a long cream satin robe that was a replica of an 1841 gown made for the christening of Queen Victoria's eldest daughter. Kate, a style icon whose outfits often increase sales of similar garments, wore an off-white, ruffled skirt-suit, made by British fashion house Alexander McQueen, and pillbox hat by British milliner Jane Taylor ….
Tags: Britain , duchess catherine , Kate Middleton , prince george , Prince William , royal christening
Zones: Europe
Reporters: Reuters
October 23, 2013 8:20 AM
……..William and Kate's decision is a break with the tradition of choosing royal dignitaries to take on the ceremonial role, and a continuation of their effort to portray a more informal, modern image to austerity-hit Britons. After the christening, guests will attend a private tea at Clarence House, hosted by Prince Charles and Camilla. Hollywood photographer Jason Bell has been tapped to take official photos of the event, that will include a "historic multi-generational photograph" of the queen
Tags: Britain , monarch , prince george , royal christening
Zones: Europe
Reporters: VOA News
October 23, 2013 12:14 AM
Carla Babb Prince George, the son of the Duke and Duchess of Cambridge, is being christened in Britain on Wednesday. In a break from tradition, the christening of the world's most famous baby will be as low key as possible. Three months ago, Prince William and his wife Catherine shared their bundle of joy with the world. And just as the royal couple broke with tradition ….
Tags: British royal family , christening , Prince William , Princess Kate , royal baby , royal christening , royalty
Zones: Europe
Reporters: Carla Babb
October 22, 2013 9:59 AM
Reuters A British photographer known for his portraits of rock stars and Hollywood actors was named on Tuesday as the official photographer of the world's newest celebrity – Prince George. Prince William and his wife Kate have chosen Jason Bell to photograph the christening on Wednesday, October 23, of their son, the third-in-line to the British throne, a palace statement said. Bell, 44, is an award-winning photographer best known for portraits of celebrities such as musician Paul McCartney, footballer David Beckham ….
Tags: Britain , christening , prince george , royals
Zones: Europe , Arts & Entertainment
Reporters: Reuters
October 23, 2013 12:19 PM
a central London chapel, where he made his first public appearance since his birth in July. Prince George was seen in the arms of his father, Prince William, as the elder prince and his wife Kate arrived at the Chapel Royal in St. James's Palace for Wednesday's traditional Anglican Christian ceremony. The infant was wearing a white satin gown, a replica of one made for Queen Victoria's eldest daughter in 1841. In a private ceremony inside the chapel ….
Zones: World News , Europe
[/aside]