BBG Watch Commentary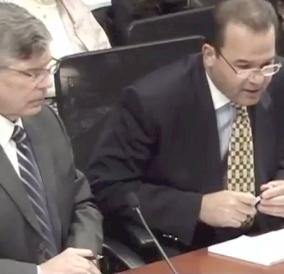 Digital storage equipment at the Broadcasting Board of Governors (BBG), which serves the needs of Voice of America (VOA) broadcasters and journalists, has not been upgraded in five years despite twenty-fold growth in demand, BBG's longtime Chief Technology Officer (CTO) and former interim CEO Andre Mendes announced at the BBG open board meeting on February 26, 2016.
Whose job was it to call attention to this problem and to get the equipment upgraded much sooner?
BBG has new CEO and Director John Lansing who has been on board only since September 2015, so this problem precedes him by several years.
Why was there no upgrade?
Voice of America broadcasters have experienced repeated equipment failures in recent years, some of them lasting for many days. They have been complaining about these failures for years with no action being taken by the management to resolve the digital storage problem. Their complaints were ignored and employee morale kept dropping to the lowest level among U.S. government agencies. Many VOA programs have been lost and not broadcast due to these failures.
Who was responsible for the equipment not being upgraded while the BBG's International Broadcasting Bureau (IBB) kept increasing its ranks of administrative and technical employees by well over 30% in a recent seven year period.
Who should have anticipated and initiated the digital storage equipment upgrade at the broadcasting Board of Governors?
Did BBG officials ask for funding for this purpose and were turned down? If they did, when did they ask for funding and who turned them down?
Was the money IBB and support services get every year (the largest portion of the BBG budget – about 34%) wasted on IBB's bloated bureaucracy?
Whose job would have been to insist that these digital storage upgrades be funded and completed years ago instead of adding new bureaucratic positions while at the same time cutting broadcasts and other programs at BBG's media outlets?
Should these digital storage upgrades have been initiated, overseen and done by:
CTO Andre Mendes?
Former IBB Director Richard Lobo?
IBB Deputy Director Jeff Trimble?
Have they done everything they could to solve this problem but were ignored or overruled by:
Former/Current BBG Boards?
White House?
U.S. Congress?
There may be money for the upgrade now, but it may take two more years to complete.
One meeting participant said that IBB had problems setting up the live streaming of the BBG board meeting on February 26. At one point, BBG Chairman Jeff Shell, who was to participate in the meeting at at a different location, was seen on the TV screen in Washington holding his head with his hands.
CEO JOHN LANSING: "Filling out the $15 million [in BBG's FY2017 Budget Request] is $1.5 million for TSI to facilitate some of this programming. Andre, our Chief Technology Officer, Andre Mendes."

CTO ANDRE MENDES: "Thank you John. This is a direly needed investment. The majority of it is going to be used to finance an expansion of our digital storage environment, which by the time this investment comes about, will be about seven years old — something that would be unthinkable in the private sector.

In the last five years or so, our needs for digital storage have grown twenty-fold and we are operating with the same piece of equipment that we bought five years ago. So, hopefully, this will be a tremendous boost to our storage capability."