BBG Watch Commentary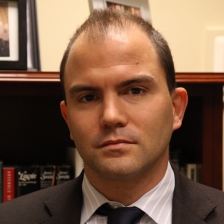 In remarks to the Board of the Broadcasting Board of Governors (BBG), Assistant to the President and Deputy National Security Advisor for Strategic Communications and Speechwriting Ben Rhodes, whose recent statements on the critical humanitarian situation in Syria and Iraq were all but ignored by the Voice of America (VOA) English Newsroom, reiterated President Obama's commitment to U.S. international media.
In first public comment, a White House representative said the Obama Administration agrees with "broad aims" of congressional legislation to reform U.S. overseas media.
White House H adviser Ben Rhodes told the BBG Board that "structural and strategic challenges" need to be addressed and called for State Department "seat at the table."
Rhodes said that the White House does not favor duplication in reform effort with two broadcasting CEOs and urged "seat at the table" for U.S. surrogate stations.
Rhodes also indicated that the State Department has a role for foreign policy guidance, input on "priorities and strategies" of of the U.S. Government, without which BBG broadcasters would be handicapped.
BROADCASTING BOARD OF GOVERNORS CHAIRMAN JEFF SHELL: We're back on the air, on the webcast, to a briefing of the BBG. I'd like to introduce a wonderful civil servant who is serving as you can see in a very glamorous location north of here [Martha's Vineyard] with the President whom I consider my boss in this job.

So, Ben, sorry you can't be here. Hopefully, you can be here at a future Board meeting. But thanks for addressing us here today. I want you to take it away.

ASSISTANT TO THE PRESIDENT AND DEPUTY NATIONAL SECURITY ADVISOR FOR STRATEGIC COMMUNICATIONS AND SPEECHWRITING BEN RHODES: Well, thanks Jeff, and, again, I'm sorry I couldn't be there. I intended to be in town this week, but with all the circumstances taking place around the world, particularly in Iraq, the National Security Staff is providing some additional support here to the President.

At the same time, a commitment to Jeff Shell is unbreakable, in my view, so I was glad that through technology I'm able to join you.

Let me just begin by thanking you, Jeff, and the rest of the Board, for your leadership. I think we're very enthusiastic that after some turnover, we now have a very strong Board in place at a critical time that's going to bring new energy and expertise to U.S. International Broadcasting.

So, let me just begin by thanking you for what you're doing to enhance Voice of America, Radio Free Europe, the other components of our international broadcasting, Radio Free Asia, Office of Cuba Broadcasting.

So, I just want to let you know that for starters President Obama has been increasingly focused on this issue of international broadcasting. We've updated him on the efforts that the BBG is undertaking and the various reform proposals that are moving forward.

We recently were able to meet with him to go through those different proposals. He reiterated both the historical legacy of U.S. International Broadcasting throughout the Cold War and years that followed, but also, I think, identified that we are at a critical moment where we need to up our own game here.

Let me also just say at the onset that we're very grateful to the thousands of journalists, communications professionals, who are dedicated to this mission, particularly those who are helping to get information to some of the more remote and, frankly, repressed corners of the globe, where people are not able to receive independent sources of news and information.

We know that this comes at a great sacrifice and particularly we think of Bashar Fahmi, the Alhurra correspondent who has tragically been missing for two years in Syria.

So, just to step back and frame the discussion.

We see an increasing need for information to reach peoples who are in areas where they cannot access information — the traditional role of the BBG in helping to facilitate the flow of information around the world, but also just frankly, we see an increasingly populated space around the world. Russia Today, for instance, has obviously been very broadly disseminated, as well as other state media and independent media. And, it's a good time for us to step back and think through how the U.S. is communicating, how the independent agencies under BBG are operating and what additional steps that we can do to, again, meet the challenge of getting information out in an increasingly competitive environment.

We welcome the fact that there have been serious efforts on the Hill, in both Houses of Congress, to address some of the challenges confronting the BBG and to make sure you have the tools, authorities and structures needed to communicate with the global audience here in the 21st century.

I think I'll just say about the reform efforts that we agree with the broad aims of the reform.

We do believe that the strategic, structural challenges faced by the BBG need to be addressed and that doing so will strengthen American foreign policy, increase understanding of our view of critical issues and open up access to information.

We are engaging Congress on the proposed structure, however. We have expressed some concerns about the creation of two separate broads and two separate CEOs.

Given that the challenge that has been identified is improving coordination, we believe that duplication of effort can actually compromise our ability to get better coordination.

So, again, we want to see reform efforts that don't have a duplication of effort that could decrease our effectiveness.

So, again, the difference in the governing structures of the BBG already has served as one of the management challenges for the organization.

So we have recommended the creation of a single oversight structure for U.S. international broadcasting as the best way to provide that umbrella for reform.

We also believe that the State Department needs to have a seat at the table. Again, while the BBG carries out its mission, State is obviously communicating on behalf of the United States around the globe.

And, again, see believe that the State Department needs to have a seat at the table on the board for the grantee organizations.

Again, this role on the board has enabled the State Department to provide foreign policy guidance and input so that the BBG can understand what the priorities and strategies of the U.S. government are as they make decisions about resources. And without this input, we believe, broadcasters will be handicapped in their ability to achieve the stated mission of advancing freedom and democracy and supporting open societies and information.

In addition to the structural reforms, we believe it's important to address the strategic requirements for U.S. international broadcasting and that goes frankly beyond some of the reforms in the legislation.

So, for instance, we believe it's important to shift additional resources to engage global audiences and to focus locally only when there are compelling reasons to do so.

We're in a global information environment, we need to have the ability to communicate globally.

There will, of course, be priority countries, for instance countries where there is not access to free information, where it will be necessary to communicate locally and specifically in a certain language and with certain publics, but we don't want the local mission to come at the expense of also having the ability to broadcast and communicate globally.

We also, frankly, need capacity to produce compelling and relevant content for that global audience, as well. And that includes looking at producing beyond news, but also other programs that, frankly, meet the audience where they are with the type of content that they're seeking.

And, nobody should be better than the United States of America, given our mix generally of not just being the leader in the world, but having the independent media and the vibrant press, but also being the cultural leader in the world.

Again, we believe the ability to meet people with their information needs and the information they're seeking is going to be critical for the BBG going forward.

And if you look across the world, that can be everything from the use of mobile technology in places like Africa where people are increasingly drawing not just on radio but on their phones, to reaching people with content and on the appropriate platforms in Asia, where we see an explosion of consumers of different media, in particular in South East Asia.

So, as we make this transition, we also want to make sure that we also make the best use of the transitional platforms that we have in place.

As I said, radio is still an important medium for reaching audiences, particularly in Africa, but we want to make sure that as we look at different regions we're keeping the foundation of the traditional platforms as necessary, but also looking at video, mobile and online production.

But, again, just to conclude here, if you look across the spectrum, I think we have a huge opportunity. I think people recognize the valuable and critical tool of international broadcasting in engaging global audiences.

People recognize the competitive nature of the space that we're confronted with as other nations move aggressively into the international broadcasting space.

So, the need is there.

And whether it is dealing with making sure that there is good information that people can access in places like in Eastern Europe — or we see Russia very active — whether it's engaging emerging audiences in critical regions like sub-Saharan Africa or South East Asia — of course, the Middle East and North Africa — or whether it is, again, moving into additional content that builds on the journalistic foundation of the BBG to meet those consumers of information where they are, I think if we get the reform process right with Congress, and we get the strategic vision, Jeff, that you and the Board are setting in place, we can really have an enormous legacy for taking stock of where the world is in the 21st century and having the international broadcasting structure that is a tool to advance American values for many years to come.

And just, again, to close it.

This is going to be a partnership. The people in Congress who have been focused on this have brought, I think, many good ideas to the table, very good energy to the table, and are getting at some of the structural issues in ways that are very important.

The new Board brings a lot of new strategic vision and a variety of expertise from different backgrounds to the conversation, as well.

And I can commit to you that President Obama is personally focused and engaged on this very topic.

And, again, not only will I be engaged, but with Rick Stengel, a very excellent Under Secretary in place now at the State Department, I think we have the right team to make a really lasting contribution to the United States that can benefit our values, our interests for many years to come.
Russia's RT reported that BBG Chairman Jeff Shell initiated a proposal for setting up a TV channel for the Russian-speaking audiences.
"Let's put together a plan of how much that would cost and how to do something that we could compete with Russia Today [RT] and then let's go to the Hill and then let's go to the White House and tell them what it's going to cost to compete and let's see if we can do it," RT quoted BBG Chairman Jeff Shell.
Some of the International Broadcasting Bureau (IBB) executives present in the room were responsible for eliminating in 2008 a 30 minute Voice of America direct satellite TV Russian-language news broadcast, as well as VOA Russian radio broadcasts.
Ann Noonan, Executive Director of the independent NGO, the Committee for U.S. International Broadcasting (CUSIB – cusib.org), speaking as a member of the public, called for urgent management reforms at the Voice of America. She mentioned VOA News failure to report on the House Foreign Affairs Committee testimony last week by a former Syrian Army photographer about evidence of killings and torture by the Syrian regime. A meeting Deputy National Security Advisor Ben Rhodes had with the former Syrian Army photographer who documented crimes in Syria was not reported by VOA English News.
Noonan also said that VOA English News had only one sentence on the meeting Deputy National Security Advisor Ben Rhodes had last week at the White House with members of the Iraqi Yezidi community to discuss the dire humanitarian situation in northern Iraq, particularly as it impacts the Yezidi community and other ethnic and religious minority groups, including Christians, Turkmen, and Shabak. She also said that VOA was not updating its Kurdish Service website, Facebook and Twitter last week, sometimes for up to 11 hours, while tens of thousands of Kurdish speaking refugees were being pursued by the Islamic fighters, stranded without food on a mountain, and being supplied by the U.S. military in one of the greatest humanitarian tragedies of recent years.
Noonan also said that it took VOA Kurdish Service a few hours to report last Saturday online on President Obama's major statement on the humanitarian situation in Iraq — and when it did, it had only four short sentences.
"How could VOA and IBB management allow this to happen?," CUSIB Executive Director Ann Noonan asked at the Broadcasting Board of Governors (BBG) open meeting attended by Assistant to the President and Deputy National Security Advisor for Strategic Communications and Speechwriting Ben Rhodes and Rick Stengel, Under Secretary of State for Public Diplomacy and Public Affairs. She also mentioned inaccurate Voice of America English News reporting on the UN report on casualties in eastern Ukraine that tended to boost the Kremlin's dubious propaganda claims.
The BBG Board also heard a statement from Voice of America National Correspondent Jim Malone in strong opposition to the bipartisan Royce – Engel United States International Communications Reform Act of 2014 (H.R. 4490), which was approved unanimously by the House Foreign Affairs Committee and passed unanimously in a voice vote by the House of Representatives. Malone told the BBG Board that because of H.R. 4490, "the future of VOA journalistic credibility is in question." He said that the bill would require the Voice of America not only to report the news, but "to promote U.S. foreign policy" and to take "direction from the CIA and the Pentagon."
Supporters of the reform bill in Congress counter that such claims from some Voice of America English Newsroom reporters are exaggerated and point out that the VOA employee union, AFGE Local 1812, came out strongly in strong support of the proposed legislation while requesting that some of the language be modified to strengthen VOA's journalistic credibility.
Rep. Eliot Engel (D-NY), who introduced the bill together with the House Foreign Affairs Chairman Rep. Ed Royce (R-CA), denied that H.R. 4490 is designed in any way to limit VOA's journalistic independence. The VOA Charter, which lawmakers have accused VOA executives of ignoring, was incorporated into the bill.
REP. ELIOT ENGEL (D-NY): "Lastly, and perhaps most importantly, this bill maintains the requirement that U.S.-funded programming serve as objective sources of news and information, and not simply as a mouthpiece for U.S. foreign policy. It's absolutely critical that the news be accurate and seen as credible by the foreign audiences we're trying to reach."
BBG Watch will report later more extensively on the BBG meeting.
We are including the BBG News Release as a public service.
AUGUST 14, 2014

WASHINGTON – The Broadcasting Board of Governors met yesterday in Washington, DC, to examine the activities and accomplishments of Radio Free Europe/Radio Liberty and to explore the agency's impact and reach in an increasingly competitive media environment.

In remarks to the Board, Assistant to the President and Deputy National Security Advisor for Strategic Communications and Speechwriting Ben Rhodes reiterated the President's commitment to U.S. international media. He commended the historical legacy of the networks while observing that this is a critical juncture for U.S. international media in an increasingly competitive international marketplace.

Rhodes praised the Board for its strategic vision and emphasized the value of international media, saying the BBG and its networks can "significantly strengthen American foreign policy, increase interest in and understanding of priority issues and open access to information where it may be denied or misrepresented."

"We have the right team in place," he added, referring to the Board, "to make a lasting contribution."

Separately, RFE/RL leadership outlined the network's activities and initiatives in reaching audiences in 28 languages. Nenad Pejic and John Giambalvo, Interim Managers of RFE/RL, led the "deep dive" presentation, which emphasized the network's forward thinking approach to providing unbiased news and information on multiple distribution platforms to regions affected by war, conflict and authoritarian regimes.

RFE/RL executives, editors and journalists participating via video from Prague, highlighted the network's achievements in digital and social media, programming, technology, and impact throughout its broadcast regions.

Discussion covered the network's response to the crisis in Ukraine, including the creation of additional programming, increasing reach through new partnerships, and on-the-scene coverage despite the increasingly dangerous reporting environments.

"I want to commend your efforts to expand the Russian language newscasts," said Rick Stengel, Under Secretary of State for Public Diplomacy and Public Affairs. "Given the information battlefields we are seeing in Russia and Ukraine, this represents a true realization of your mission."

In addition to the in-depth look at RFE/RL, the Board held a business meeting, which began with an update on recent threats to BBG journalists. The list, BBG Chairman Jeff Shell lamented, is unfortunately growing and includes death threats, injuries and detainment of BBG journalists in Iraq, Cuba, Kazakhstan, Crimea, Ukraine, Vietnam and South Sudan. Shell also noted the upcoming second anniversary of the disappearance of Alhurra reporter Bashar Fahmi.

Chairman Shell recognized the decades of hard work and dedication of Voice of America's Greek Service, which ended broadcasts on August 11 as well as the 60thanniversary of RFE/RL's Ukrainian Service.

During the business meeting, Director of the Office of Strategy and Development, Bruce Sherman presented an overview of the agency's 2014 strategic review process which evaluated outcomes and impacts on a country and regional level.

Governor Matt Armstrong, chairman of the Board's Special Committee on the Future of Shortwave Radio Broadcasting, summarized the recently released report, "To Be Where The Audience Is." The report is the result of a comprehensive review of the efficacy of shortwave radio as a distribution platform for U.S. international media.

A recording of the meeting and related documents are available here.