Big Mistake To Reward Failed Voice of America Managers
A Commentary
By The Federalist
Quite possibly the worst decision the U.S Senate made for U.S government-funded international broadcasting was the confirmation of Amanda Bennett as chief executive officer of the U.S Agency for Global Media (USAGM).
This conclusion is not arrived at lightly and is based on recent official U.S. government evaluations that shed light on her disastrous managerial performance as director of Voice of America (VOA). They can be found in the Office of Personnel Management's (OPM) July 2020 report "Follow-Up Review of the U.S. Agency for Global Media Suitability Program" dealing with security lapses at the agency, including VOA, and in the Office of Inspector General's (OIG) report "Targeted Inspection of the U.S. Agency for Global Media: Editorial Independence and Journalistic Standards and Principles." The latter disclosed, among other things, that "Voice of America's annual Program Reviews were inconsistently implemented" and "Voice of America lacked written procedures for addressing lapses in journalistic standards."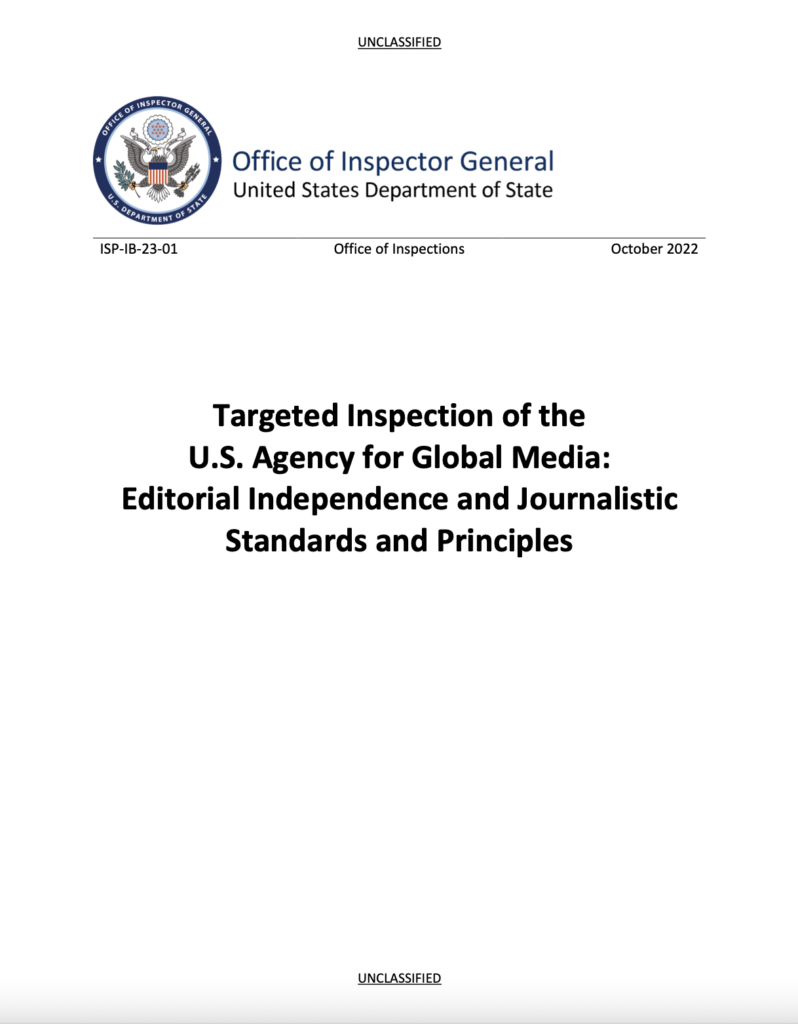 Bennett was appointed director of Voice of America under the Obama administration. She was able to continue in the position (with help from what she prematurely called a "fantastic leadership team") through most of the Trump administration, for reasons and complexities we won't review here.
Bennett had ample time to demonstrate what she was made of. It didn't turn out well. The agency was an almost non-stop succession of scandals often chronicled by BBG Watch and USAGM Watch.
In addition, Bennett turned the agency into an extremely biased media operation.
Under her, USAGM deliberately drifted a long distance away from the provisions of the VOA Charter. The agency clearly cemented itself as the voice of the U.S political far left.
Its so-called "News Standards and Best Practices" guidelines were, and continue to be, largely ignored. Agency employees, in the VOA newsroom in particular, know they can get away with anything that comports to Bennett's political views.
But the story got much worse with the release of findings by the Office of Personnel Management (OPM) and Office of the Director of National Intelligence (ODNI) that the agency was seriously derelict in its security clearance procedures for newly-hired employees. That's the OPM's "Follow-Up Review of the U.S. Agency for Global Media Suitability Program."
The OPM/ODNI findings, by the way, might never have come to light in the way they did were it not for the decision by Bennett's predecessor, Michael Pack, to make them public. And the question of what Bennett and other longtime officials knew and when they knew it, has never been answered.
Contrary to what the agency likes to claim – that it is an "independent news organization" – USAGM is part of the federal government, funded by congressional appropriations and authorizations (in other words, U.S taxpayer money). Along with its biased "reporting," these other lapses make the agency a liability, not an asset.
Bennett's tour as VOA director and her record there should have been reason enough for the Senate to take a pass on her nomination. The Senate voted 60-36 in favor of her confirmation, and the consequences of that decision are already beginning to take form.
In its way, it is a clear illustration of how far the agency has fallen in usefulness. Its impact and effectiveness are negligible, clearly seen in ominous events around the world.
The USAGM embrace of "nation building" has undermined VOA's original Charter mission as a presenter of objective news and information. Bennett and the rest of her team don't get it: change comes from within.
One of the things Bennett likes to engage in are fanciful announcements directed at staff, fantasies and fictions constructed by the aides surrounding her, over-the-top depictions of the agency that appear aimed at getting everyone to love her. These announcements are reflective enough of Bennett's dreamscape that they can be used to question everything she claims in them.
She calls employees "Friends." One should always be wary of such salutations. It negates the concept that federal employees are professionals. Her "Friends" salutation is trivial and patronizing.
Let's consider one of Bennett's latest pontifications.
In it, she delves into the subject of Afghanistan where to outward appearances she thinks that the agency still has an audience and impact in the country. Apparently, the fiasco of the U.S withdrawal and re-emergence of the Taliban have not sufficiently registered with Bennett and self-serving bureaucrats around her that the winds have changed.
An audience in Afghanistan is an audience in peril. The Taliban doesn't mess around. They have an array of means to control the population: torture, mutilation, death.
Her announcements are not helpful.
In the Afghanistan debacle, USAGM abandoned 500+ employees, contractors and dependents. At the time, the team of Kelu Chao (acting USAGM CEO) and Yolanda Lopez (acting VOA director) claimed that they were "doing everything we can" and making "frantic" efforts to get these people out of the country.
Not.
And then – there was SILENCE. That is, until Bennett arrived back on the scene, now as CEO of the entire USAGM.
Let's put it this way: USAGM doesn't have the skills or means to mount extraction operations on any major scale, certainly not those sitting on the Third Floor of the Cohen Building.
Thus, Bennett proclaims:
Among the many briefings I received last week, one issue in particular stuck out: I was proud and touched by hearing about the Agency's strong support and their extraordinary hard work to get our journalists and their families out of Afghanistan after the Taliban took power. Many of you spent sleepless nights and seemingly endless days to make sure that our journalists were not forgotten, and that they and their families could escape danger. There were many people who made truly extraordinary efforts including the senior and division leadership at both VOA and RFE/RL, VOA Afghan Dari and Pashto services, the staff in the region, and a wide range of offices at USAGM including the Office of the Chief Financial Officer, Office of Policy and Research, Office of Security, Technology Services and Innovation, Office of the General Counsel, Office of Congressional Affairs, and USAGM Office of Public Affairs.
The fervor of these efforts did succeed in getting a very large number of people to safety. Unfortunately, some of our journalists still remain inside the country. Our colleagues haven't stopped their hard work to make sure that these journalists are not forgotten and that we eventually will get our colleagues who are still in Afghanistan and who wish to leave, safe passage out of the country. We have a moral obligation to do so and I pledge to support everyone who is continuing these efforts and to add my own support wherever I can.
These claims by Bennett are suspect. It is typical of this agency to make over-sized and unsubstantiated claims about "heroics" and success, where there actually aren't any.
Bennett claims that the agency was able to get "a very large number of people to safety." On its face, we suspect this to be yet another example of hyperbole. How many is "a very large number of people? We don't know.
Getting all 500+ out would be an extraordinary task, best not left in the hands of anyone inside the Cohen Building. It would also be true to form for the agency to underestimate the number of people still inside Afghanistan as in "some of our journalists still remain inside the country."
An underlying part of this story . . .
The United States was inside Afghanistan for about 20 years. For about as many years, USAGM entities broadcast daily in several languages: Pashto and Dari to Afghanistan, Farsi in neighboring Iran and part of Afghanistan, Urdu in neighboring Pakistan and also daily VOA English broadcasts.
It is inconceivable, with more than 500 agency personnel and dependents inside Afghanistan, that no one saw the oncoming resurgence of the Taliban. This leads us to question the content of these broadcasts and what was being reported back to agency officials in language services and executive offices.
In so many words, anyone outside Afghanistan woke up one morning in August 2021 and "Bingo!" the Taliban had overrun the capital of Kabul and surrounded Kabul International Airport. Something was and still is seriously amiss. The Taliban could have been laying low, waiting for the right moment. But this was extraordinarily fast.
Fundamental questions arise. It should also be kept in mind that Bennett was the head of VOA through two administrations: both Obama and Trump. What did she know of the content of these broadcasts and other information coming out of Afghanistan by way of agency personnel on the ground?
What we already know is that we won't get a straight answer out of the agency. Years of transcripts of broadcasts and cables would have to be examined in detail. That along with detailed information from other U.S agencies including the State Department, Department of Defense, Central Intelligence Agency and others.
Bennett's top priority is to portray herself as a champion of journalism. It is evident that this public persona may indeed hide some serious lack of competence in managing a federal agency, a task which we believe has already been demonstrated to be well beyond her competence.
Congress, and the Senate in particular, need to delve into the record of the agency's actions during Bennett's time as VOA director along with those who ran both VOA and USAGM after her departure from VOA.
Uncovering a picture different than the one portrayed by Bennett is certainly a possibility, and perhaps a probability.
The Federalist
November 2022