BBG Watch Commentary
Some of the most prominent academics, writers, artists, and human rights activists in Georgia have signed an open letter to the Broadcasting Board of Governors (BBG), the Foreign Relations Committee of the U.S. Senate and the White House, as well as a separate online online petition with over one thousand signatures, in which they defend Radio Free Europe / Radio Liberty (RFE/RL) Georgian Service against pressure from what many critics among RFE/RL employees and outside observers say are senior managers who have become disconnected from the workforce and either behave like dictators or avoid contact with journalists by staying in their offices behind closed doors. The signatories of the open letter include the rector of Tbilisi State University, world renowned composer Gia Khancheli, world renowned film director Eldar Shengelaia, actor Merab Ninidze, best known for his role in "Nowhere in Africa," and Vakhtang Kakhidze, the conductor-composer head of the Georgian National Symphony Orchestra.
"We are deeply concerned with reports of possible changes in Radio Tawisupleba's [RFE/RL Georgian Service] leadership," members of the Georgian intelligentsia wrote to the Broadcasting Board of Governors (BBG). "We are addressing you, the members of the Broadcasting Board of Governors, with a request to prevent actions that would lead to detrimental transformations in Radio Tavisupleba's precise and sharp editorial balance, or cause it to even slightly lose that degree of impartiality, which makes it unique in Georgia's media landscape and which is the base of its prestige and reputation," their open letter states.
The journalists working in the Georgian Service have sent a separate letter to BBG CEO John Lansing expressing similar concerns. They complained about the "lack of open and collegial discussions" with senior managers and "non-transparency" on their part while voicing full support for the managers in charge of the service whom they credit for defending objective and credible journalism.
Outside observers and critics see such employee solidarity as unprecedented in the general atmosphere of fear created by some of the longtime RFE/RL managers with support from some of the longtime BBG executives who take advantage of what critics say is the lack of leadership and necessary experience on the part of BBG CEO John Lansing and RFE/RL President Thomas Kent.
The pressure on the Georgian Service reportedly came mainly from Thomas Kent's top assistant, RFE/RL's Vice President and Editor-in-Chief of Programming Nenad Pejic. He is a longtime associate of Lansing's top assistant, BBG Deputy Director Jeffrey N. Trimble who had held previously key management position at RFE/RL before moving to the BBG in Washington and setting the tone there for management style. Trimble has been praised in public by former Democratic BBG board chairman and current board member Jeff Shell and by John Lansing who had been Shell's choice for the CEO position and had made Trimble his deputy. Kent was also Lansing's choice for the RFE/RL's top position. It is likely that these managers will protect each other and deny that there is anything wrong with their management, both in style and consequences for the agency's programs and mission.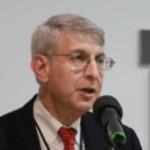 There has been no response yet from John Lansing or RFE/RL President Thomas Kent and his deputy Nenad Pejic to the open letter from the Georgian intelligentsia and the online petition.
"I am not authorized to comment on internal staff matters at RFE/RL. Out of respect for our journalists, it is the company policy not to comment," spokesperson Joanna Levison told earlier Eurasianet in an emailed response to questions about the management's dispute with the Georgian Service.
RFE/RL's management has alienated not only the Georgian Service but also many other talented journalists, including Russian speakers, some of whom have decided to leave the organization in recent months in response to what they say are poor leadership or neglect on the part of senior executives and mid-level managers.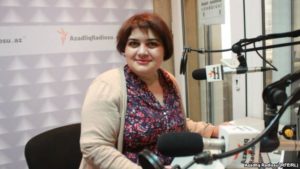 One of them is renowned newswoman Khadija Ismayilova, who had been a political prisoner in Azerbaijan while working for RFE/RL. She is the recipient of the 2017 Magnitsky Award for her outstanding contribution to the promotion of human rights and the fight against corruption. She is also the recipient of the PEN American Center's 2015 Barbara Goldsmith Freedom To Write Award, given annually to "an imprisoned writer persecuted for exercising her right to free expression" and the 2016 recipient of the UNESCO/Guillermo Cano World Press Freedom Prize.
After quitting RFE/RL, Ismayilova has published on Facebook a blistering criticism of RFE/RL management, accusing them of lack of courage, "crisis of career stagnation" and inability to communicate with their own journalists.
In her Facebook post, Khadija Ismayilova was defending journalists working for RFE/RL Georgian Service who are in conflict with some of the senior managers after they pressured them to affiliate with a partisan television station in Georgia, a move which the service has so far successfully resisted but is afraid that it may lose the fight. Unlike managers in Prague, for you it is more than a workplace and paycheck – it is about the right to tell truth," Ismayilova wrote on her Facebook page.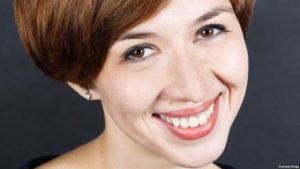 A now UK-based award-winning investigative reporter Shahida Tulaganova, who also quit RFE/RL in frustration with the management although she still produces a few reports for the broadcaster as a freelancer, wrote in her January 25, 2018 Facebook post that RFE/RL management "kills journalism, incentive and values we do this job for." Tulaganova was a co-producer of the award-winning HBO USA/Czech Republic documentary film "Cries from Syria" which showed ISIS brutality. She interviewed all the individuals featured in the film and wrote the narration voiced by Helen Mirren. Before joining RFE/RL she had worked for the BBC Uzbek Service and BBC Television.

"At the moment it looks like RFE/RL has lost its sense of purpose and turned into a hub of communist type apparatchiks who are there for the sake of being there" one former RFE/RL reporter observed, but both Ismayilova and Tulaganova praised highly the work of some of the RFE/RL foreign language services, including the frontline journalists broadcasting to Azerbaijan, Uzbekistan, and Georgia. It's the perceived lack of leadership and poor management that seems to alienate many outstanding reporters at RFE/RL, some of whom have already left the organization while others are becoming more vocal in expressing their frustration with senior and mid-level managers.
The Broadcasting Board of Governors, the Voice of America (VOA), which has similar problems with the senior management trying to fire three VOA Mandarin Service journalists, and Radio Free Europe/Radio Liberty — all seem to have lost their sense of purpose under the management "in crisis of career stagnation" which "kills journalism, incentive and values." This is what some of the award-winning former reporters who quit are complaining about and what many current RFE/RL and VOA staffers also believe to be true in their great frustration, pain and disappointment with the agency's leadership.
###


To: Broadcasting Board of Governors
Cc: Foreign Relations Committee, U.S. Congress
Office of Inspector General, White House
Open Letter
We, the undersigned representatives of cultural and academic circles, as well as human rights and civil rights activists in Georgia, would like to state the following:
Radio Tavisupleba (RFE/RL's Georgian Service) is an exceptional media outlet that always provides balanced and objective information, strives to illuminate and analyze pressing problems of the society, is distinguished with expressions of free thought and diverse ways of communicating with its audiences.
Empowerment of civil society has never been a simple task in Georgia, and it remains charged with difficulties to this day, largely due to the fact that the country is still acutely lacking in unbiased, analytical, professional journalism. The media that is permeated with shallow emotions, prejudice and intentional bias tends to give distorted, fractional views of Georgia and the world, instead of trying to cover the complex and intricate realities. And this, in turn, makes the processes self-determination even more difficult for our society, which still suffers from the traumas of the post-Soviet times.
We, who work in spheres of culture, academia, who are artists or rights activists, firmly believe that Radio Tavisupleba's discourse is the one which media should employ if the current socio-political realities are to change for the better. We understand Radio Tavisupleba's discourse, listen to it and, to the best of our abilities, try to add our contribution to its further development.
For us Radio Tavisupleba means a truly valued space first and foremost because it is entirely distanced from all political forces and covers Georgia's political life in a principled manner. In addition, it provides us with a unique and diverse forum to discuss such broad range of themes and issues, as artistic and academic debates both in Georgia and the world, as well as the urgent socio-economic problems of our society. Radio Tavisupleba never shies away from topics that are still largely taboo, it systematically tells stories of minorities' lives and enables various social groups to share their grievances with one another. The significance of Radio Tavisupleba is further heightened in present times of "fake news" – which, in Georgia's case, are even more troublesome, due to the targeted and particularly intense Russian propaganda campaigns.
We firmly believe that should this voice vanish, or should it become even slightly bent towards any form of bias, this will be a big blow to the Georgian society, which still undergoes the process of self-searching and finds many important issues and principles somewhat confusing and obscure.
Considering the above-said, we are deeply concerned with reports of possible changes in Radio Tavisupleba's leadership. We are addressing you, the members of the Broadcasting Board of Governors, with a request to prevent actions that would lead to detrimental transformations in Radio Tavisupleba's precise and sharp editorial balance, or cause it to even slightly lose that degree of impartiality, which makes it unique in Georgia's media landscape and which is the base of its prestige and reputation.
The Georgian society needs Radio Tavisupleba exactly the way it is – with a further strengthening of accents and principles that are already entrenched in its editorial policies.
Sincerely,
Zaza Abashidze, historian
Nutsa Aleksi-Meskhishvili, film director
Zaal Andronikashvili, literary critic
Diana Anfimiadi, poet, translator
Lia Bagrationi, artist
Beso Baratashvili, actor
Shalva Bakuradze, poet
Luka Bakanidze, writer
Ida Bakhturidze, women's rights activist
Natia Benashvili, artist
Levan Berianidze, human rights activist
Zaira Berelidze, art gallery owner
Nino Bekishvili, translator
Nino Bolkvadze, LGBT rights activist
Elene (Pepi) Bochorishvili, writer
Levan Bregadze, literary critic
Nino Burduli, actress
Ana Gabelaia, art curator
Nino Gamisonia, feminist, civil rights activist
Giorgi Gegechkori, artist
Giorgi Gvakharia, physician
Archil Giorgobiani, composer
Dalila Gogia, translator
Gia Gokieli, translator
Magda Guruli, art curator
Teona Dolenjashvili, writer
Lekso Doreuli, art critic
Nikolai Drozdov, moviemaker
Eka Eloshvili, sports manager
Gia Edzgveradze, artist
Giga Zedania, philosopher
Avtandil Varsimashvili, theater director
Vakhtang Visotski, architect
Vaniko Tarkhnishvili, actor
Levan Tutberidze, film director
Shota Iatashvili, poet
Dali Iashvili, translator
Eka Imerlishvili, feminist, researcher
Nato Ingorokva, poet
Aleksandre Kartozia, linguist
Iago Kachkachishvili, sociologist
Vakhtang Kakhidze, conductor, composer
Nestan-Nene Kvinikadze, writer
Rezo Kiknadze, musician
Darejan, Kikoliashvili, translator
Manana Kozakova-Tsuladze, actress
Aiunona Guruli, writer, translator
Maka Ldokonen, writer
Nikoloz Legashvili, human rights activist
Ana Lobzhanidze, human rights activist
Giorgi Lobzhanidze, writer, translator
Irakli Lomouri, writer
Giorgi Maisuradze, philosopher
Eka Mazmishvili, theater manager
Gogi Margvelashvili, theater director
Giorgi Margishvili, architect
Gogi Mikeladze, physician
Tamar Melikishvili, art critic
Dea Metreveli, philologist
Nata Murvanidze, actress
Gaga Nizharadze, psychologist
Gaga Nakhutsrishvili, poet
Merab Ninidze, actor
Lali Pertenava, art historian
Koka Ramishvili, artist
Zviad Ratiani, poet
David Robakidze, poet
Nino Sadghobelashvili, writer
Nika Samushia, translator
Ekaterine Togonidze, writer
Lia Tabatadze, human rights activist
Nino Tlashadze, human rights activist
Zaza Piralishvili, philosopher
Merab Pipia, translator
Keti Kantaria, translator
Archil Kikodze, writer
Karaman Kutateladze, writer
Beka Kurkhuli, writer
Nino Gvedashvili, human rights activist
Ghia Kancheli, composer
Paata Shamugia, poet
Eldar Shengelaia, film director
Shota Shvelidze, conflictologist
Irma Shiolashvili, poet
Aleko Shughladze, writer
Bela Chekurishvili, poet
Parna-Beka Chilashvili, translator
Temur Chkhetiani, poet
Keti Tskhakaia, actress
Aleko Tskitishvili, human rights activist
Koka Tskhvediani, artist
Levan Tsuladze, theater director
Temur Chichinadze, actor
Malkhaz Kharbedia, literary critic
Levan Khujadze, art manager
Kato Javakhishvili, poet
Kote Jandieri, writer
Kote Jincharadze, artist
Otar Jirkvalishvili, writer
Gvantsa Jobava, publisher


A slightly differently phrased online petition has been signed in a short time by over 1,000 Georgians.
In Support of RFE/RL's Georgian service

For English please scroll down
ქართული საზოგადოება და პოლიტიკა უკანასკნელ წლებში განსაკუთრებულად პოლარიზებულ მედიაგარემოში არსებობს. მრავალი წლებია, რადიო თავისუფლების ქართული რედაქცია თანმიმდევრულად არის პროფესიული და მიუკერძოებელი ჟურნალისტიკის ორიენტირი როგორც ახალგაზრდა ჟურნალისტებისათვის, ისე მისი ძველი მსმენელებისა და ახალი მედია-პროდუქტების – სატელევიზიო გადაცემების, პოდკასტების, ვებ-პლატფორმის – მომხმარებლებისთვის. რადიო თავისუფლების ქართული რედაქცია მსმენელებს და მოგვიანებით, მრავალრიცხოვან მაყურებელსაც თანმიმდევრულად აძლევდა შესაძლებლობას, დროულად გასცნობოდნენ როგორც მსოფლიოში, ისე რეგიონში მიმდინარე პოლიტიკურ და კულტურ პროცესებს.
ეს მედიასაშუალება ნდობით სარგებლობს მთელი საქართველოს მასშტაბით, რაც მის კონფლიქტის რეგიონებსაც მოიცავს. რადიოს ქართული რედაქცია 1953 წლიდან მაუწყებლობს და ყოველთვის იყო ინფორმაციის თავისუფლების მნიშვნელოვანი სიმბოლო რკინის ფარდის გამოღმა. მისი გავლენა საგრძნობლად გაძლიერდა მას შემდეგ, რაც 1990-იანი წლების ბოლოს საქართველოშიც გაიხსნა თბილისის ბიურო. რადიო თავისუფლების ქართულ სამსახურს 2005 წლიდან დავით კაკაბაძე ხელმძღვანელობს.
საქართველოსთვის პოლიტიკურად განსაკუთრებულ კრიზისულ სიტუაციებში, როცა მედიაგარემოსა და აქ მომუშავე უამრავი ჟურნალისტისთვის გაუსაძლისი პროფესიული პირობები შეიქმნა, რადიო თავისუფლების ქართული რედაქცია აშუქებდა მიმდინარე მოვლენებს და იყო დემოკრატიაზე და სამართლებრივ სახელმწიფოზე ორიენტირებული მოქალაქეების მოკავშირე. მედიაში გავრცელებული ინფორმაციის თანახმად, რადიო თავისუფლების ქართულ რედაქციას ამჟამად პრობლემები ექმნება სარედაქციო პოლიტიკის განსაზღვრის და საქართველოში სატელევიზიო პარტნიორების შერჩევის თვალსაზრისით.
თანამედროვე მსოფლიოში დღევანდელ დღეს მიმდინარე ჰიბრიდული მედია-პროპაგანდის პირობებში საქართველო განსაკუთრებით მოწყვლადია აქ არსებული ჯერ კიდევ საკმაოდ დაბალი მედია-სტანდარტებით მომუშავე პრესის, ვებ-პლატფორმების, ტელევიზიისა და რადიოს ამარა. ამავე დროს, სულ უფრო ხილული ხდება რუსული პოლიტიკის ე.წ. რბილი ძალის გავლენაც, რომელსაც ასაზრდოებს ბოლო წლებში განსაკუთრებით მომრავლებული პროპაგანდისტული და ანტიდასავლური მედია-ორგანიზაციები. შესაბამისად, ასეთ სიტუაციაში განსაკუთრებით სახიფათოა ქართული რედაქციის გამოცდილი და უაღრესად პრინციპული ხელმძღვანელობის დასუსტება.
რადიო თავისუფლების ქართული სამსახური არის მნიშვნელოვანი თავისი მიუკერძოებლობითა და პროფესიონალიზმით. სწორედ ეს ორი ფაქტორი განსაზღვრავს ამ რადიოს გავლენას, რომელიც მხოლოდ ციფრებში არ გამოიხატება.
ჩვენ, რადიო თავისუფლების ქართული რედაქციის მადლიერი აუდიტორია, უკიდურეს შეშფოთებას გამოვთქვამთ ქართულ რედაქციასთან დაკავშირებით გაჟონილ ინფორმაციასთან დაკავშირებით და მოგმართავთ, რომ დაუყოვნებლივ გატარდეს საქართველოშჲ არსებული გამოწვევების ადეკვატური პოლიტიკა, რაც უნდა გამორიცხავდეს რედაქციის დასუსტებას და დესტაბილიზებას.
In recent times, the social and political life of Georgia has been unfolding in an intensely polarized media environment. For many years, RFE/RL's Georgian service has consistently remained a beacon of professional and unbiased reporting for young journalists and old listeners alike, also for users of the new media products – TV programs, podcasts and web platforms. The Georgian service of RFE/RL has consistently offered its listeners and, later, its viewers, timely information about the political and cultural processes developing in the world and in the region. This media organization has the trust of all of Georgia, including its conflict regions.
The Georgian service of RFE/RL had been broadcasting since 1953 and has always represented an important symbol of freedom beyond the Iron Curtain. Its influence has tangibly increased since the late 1990s when the Tbilisi Bureau opened in Georgia. David Kakabadze has been leading RFE/RL Georgian service since 2005.
During political crises in Georgia, when media environment and many journalists here had to work under unbearable professional conditions, RFE/RL's Georgian service covered current affairs and remained an ally of the citizens, who are oriented towards democracy and the rule of law. According to recent media reports, the Georgian service is experiencing problems while determining its editorial policy and making decisions about its TV affiliates in Georgia. In the modern world, in which hybrid media propaganda is developing, Georgia is especially vulnerable, as the press, web-platforms, TV and radio here still operate in the environment of low media standards. At the same time, soft power of the Russian politics is becoming increasingly visible and feeds a growing number of propagandist and anti-western media outlets.
In these circumstances, it is especially fraught with danger to weaken the experienced and highly principled leadership of the Georgian service. RFE/RL's Georgian service is important because of its impartiality and professionalism. These two factors determine the influence of the Radio, which simply cannot be reduced only to numbers.
We, the grateful audiences of RFE/RL's Georgian service, express extreme concern regarding the leaked information about the Georgian service and are addressing you, so that the implemented policies are adequate to the current challenges Georgia faces. And this, in any case, should exclude a weakening and/or destabilization of the Service.