Boris Nemtsov in Solidarity with Radio Liberty Journalists in Russia


In a December 28, 2012 OnlineTV.ru interview with journalist Mikhail Sokolov, Russian opposition leader and former Deputy Prime Minister Boris Nemtsov discussed the importance of human solidarity in the face of injustice and repression.
Toward the end of a one hour long online TV interview, Boris Nemtsov said that many people had expressed their support for fired Radio Liberty journalists in Russia, just as in the spirit of solidarity they were supporting pro-democracy demonstrators who were being arrested by the Russian police.
Mikhail Sokolov, who interviewed Boris Nemtsov, was at the time one of the Russian journalists fired in September 2012 by the former Radio Free Europe / Radio Liberty (RFE/RL) American management. A team of several senior and mid-level managers at RFE/RL in Prague selected some of the most talented Radio Liberty journalists at the Moscow bureau who were then dismissed without any prior notice in a move that shocked human rights and free media supporters in Russia and in the United States.
In the 2012 online TV interview with Boris Nemtsov, Mikhail Sokolov shines as an experienced and unbiased political reporter who asks tough questions of his guest. Boris Nemtsov shows his intelligence, humor and kindness. He sharply criticizes President Vladimir Putin for destroying democracy and creating a highly corrupt and repressive regime, but he also offers a hopeful vision of Russia united around the principles of democracy and human solidarity.

The subject of Radio Liberty firings, which affected about 40 journalists, was brought up by Nemtsov. Sokolov does not show any bitterness about being fired by an organization to which he had devoted most of his professional life and he quickly changes the subject.
Most of the Radio Liberty journalists fired in 2012 were rehired in 2013 by the new RFE/RL management headed by Kevin Klose who was appointed by the Broadcasting Board of Governors (BBG), a federal agency in Washington. RFE/RL is a media organization with an international outreach funded by U.S. taxpayers. It is overseen by the BBG.
Boris Nemtsov was assassinated in Moscow near the Kremlin on February 27, 2015.
In this 2012 interview, Boris Nemtsov says that more and more Russians are showing solidarity with those who need help and are acting in the spirit of "one for all and all for one." Nemtsov noted that Solidarity is no longer just the name of a movement but is acquiring a real meaning in Russia.
"When Radio Liberty journalists were fired, large numbers of people indeed expressed their support for the journalists, and do it to this day," Boris Nemtsov said in December 2012.
"You, Mikhail, can confirm that many people who did not know you very well, still offer their moral support," Boris Nemtsov added.
"We are very grateful for their moral support," Mikhail Sokolov said.
"It's the same with us when we are arrested, large numbers of people support us. It's very important. Solidarity is very important," Boris Nemtsov responded.
Solidarity
The spirit of solidarity in the face of injustice and bureaucratic indifference was seen both in Russia and in Washington in 2012 and 2013.
BBG member Ambassador Victor Ashe led the fight to reinstate the fired Radio Liberty team. He was supported by BBG members Susan McCue and Michael Meehan.
They helped to hire Kevin Klose to lead RFE/RL. All three have since left the BBG and Kevin Klose retired from RFE/RL.
Ambassador Ashe received the Glasnost Award from a Russian human rights group for his defense of Radio Liberty broadcasters.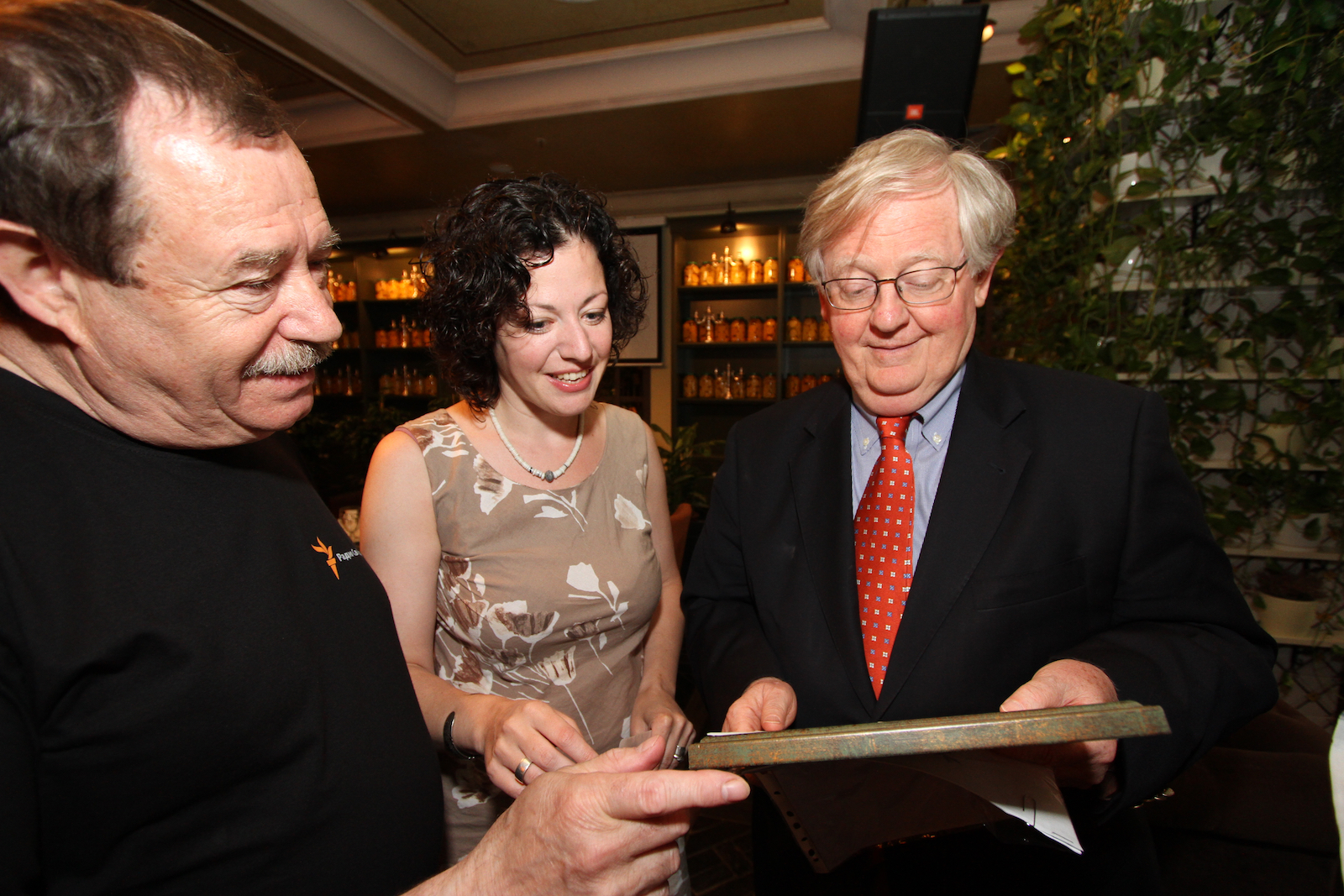 BBG Governor Ashe reads Glasnost Award in Moscow, June 2013. Standing next to him: Kristina Gorelik and Jefim Fistein.
(Photo – from left to right) Radio Liberty human rights reporter Kristina Gorelik, Broadcasting Board of Governors (BBG) member and Radio Free Europe / Radio Liberty (RFE/RL) Board of Directors Chairwoman (now former) Susan McCue, Radio Liberty Senior Adviser Jefim Fistein (2013), human rights defender Lyudmila Alexeeva, BBG member and RFE/RL Board member Michael Meehan (now former), RFE/RL Acting President and CEO (now former) Kevin Klose. May 2013.

Letters to the BBG and the U.S. Congress


In Russia, Boris Nemtsov was one of many prominent Russian opposition leaders who had sent letters in 2012 and 2013 to the Broadcasting Board of Governors and the U.S. Congress, protesting against the firing of Radio Liberty journalists. Others who showed solidarity with Radio Liberty's fired Russian team included former President Mikhail Gorbachev, former Prime Minister Mikhail Kasyanov, former Vice Speaker of the Russian Parliament (Duma) Vladimir Ryzhkov and human rights activist Lyudmila Alexeeva.
Statement by Mikhail Gorbachev


Glasnost is threatened in Russia and other countries. Journalists and press are being increasingly attacked.

Glasnost helped break the resistance of conservative reactionary top bureaucracy, when its representatives attempted to turn back Russia's development.

Today, when people openly show their will to influence the government's policy and participate in forming their destiny, glasnost's importance grows.

Radio Free Europe/ Radio Liberty's management decision to dismiss almost all of the Russian service staff looks especially strange in this context.

In times of severe censorship Radio Svoboda (RFERL Russian Service) made calls for democratization and glasnost a tenor of its programmes.

It is hard to get rid of an impression that RFERL's American management is prepared to make an about-turn.

Mikhail Gorbachev
To the Broadcasting Board of Governors


Today when the authoritarian regime of Mr Putin has increased the pressure on
independent media in Russia and began new attacks on freedom of expression and on democracy movement in Russia, the U.S. management of Radio Free Europe/ Radio Liberty has made the decision to stop its medium-wave broadcasting. Moreover in one day about 40 journalists, website editors and technical staff were fired – almost the entire personnel in Moscow.

During this difficult for democracy in Russia period RFE\RL Russian Service served as one of the few remaining independent media sources providing exceptionally fair and objective coverage of Russian political life.

We were shocked by the decision of the officials of RFE\RL. This decision will cause tremendous harm to the political media freedom in Russia and therefore we are expressing our deep concern.

The purge in Moscow bureau has badly damaged the reputation of RFE\RL as a free international media working in traditions of democratic standards.

We recommend the Broadcasting Board of Governors in Washington to revise the RFE\RL management decision and restore medium-wave broadcasting and the Radio Liberty Moscow team.

Political Leaders of Russian Republican Party of People's Freedom

Mikhail Kasyanov (Prime Minister of Russia in 2000-2004)

Boris Nemtsov (Deputy Prime Minister of Russia in 1997-1998)

Vladimir Ryzhkov (Vice-Speaker of State Duma in 1995-1998)
Statement of Yabloko Leaders


Russian United Democratic Party "Yabloko" is deeply concerned over the situation which surrounds RFERL Russian Service. RFERL Moscow bureau leading journalists mass firings threatened the very existence of Radio Svoboda as objective media of high quality.

The official reason – switching to new multimedia technologies and quitting medium wave broadcasting – doesn't withstand criticism.

If this was the actual reason, RFERL's management wouldn't have fired the Internet team in the first place. This team made Radio Svoboda website one of the most competent and highly quoted political resources in the Russian segment of the Internet.

To the best of our judgment, a bureaucratic mistake took place, which is turning into the other – political – mistake. Bureaucrats supervising mass media were making their narrow decisions, without considering the political consequences, which are indeed political. The Russian audience has lost the information source which it trusted throughout many decades. It is obvious that mass media reputation is the reputation of its journalists.

Russian politicians and human rights activists have lost the channel of delivering their opinion to citizens in the conditions of censorship.

In our perspective, there is still a chance of correcting this situation, preventing the bureaucratic mistake from becoming political.

Sergei Mitrokhin

Grigory Yavlinsky
In February 2013, Boris Nemtsov and other leaders of the democratic opposition in Russia signed a letter to Radio Free Europe/Radio Liberty newly-appointed acting president Kevin Klose, warning that the civil society in Russia "has been deprived of an important and reliable source of information, which Radio Liberty has been for decades."


2013 Letter In Support of Radio Liberty Journalists Signed by Boris Nemtsov
To Mr Kevin Klose

President of RFE/RL

Dear Mr. Klose

In the last few years Putin's authoritarian regime intensified its offensive on Russian media. Total censorship was introduced in federal and almost all regional TV stations. On a daily basis the government exercises direct "political leadership" of the electronic and print media under the authorities' control as well as of the commercial companies affiliated with them. Under different pretexts, the authorities try to influence the editorial policies of non-state owned media. Dozens of journalists and media managers have been fired and banned from their profession. Many opposition media have been closed or are about to be closed.

In this precise moment the civil society has been deprived of an important and reliable source of information, which Radio Liberty has been for decades, as well as of its analyses and responsible commentaries. Broadcasting on AM has been interrupted. A significant number of its staff, many of whom enjoyed deserved authority and respect both in the professional media environment and among a large audience, has been dismissed.

We are fully aware that the responsibility lies with the Russian authorities, who are consistently tightening up the legislation, both in order to erect new obstacles for the work of Radio Liberty and other radio stations which are not under the control of the Russian ruling group, and later to create a pretext for the final termination of their activity.

However we have serious reasons to believe that the management of Radio Liberty did not exploit all the opportunities to continue its full fledged broadcasting and that it has not exhausted all the legal means to preserve the radios' ability to reach a significant Russian audience.

The Coordination Council of the opposition calls on the management of Radio Liberty to make every possible possible effort in order to resume a full fledged broadcasting of the radios' programs.

We declare our readiness to facilitate in any possible way the return of Radio Liberty on the Russian airwaves, and we are also ready to provide the radio and its staff any assistance that might be required and that will be in our power to provide.

Signatures

A. Illarionov,B.Nemtsov, A.Dolgikh, A.Piontkovsky, G.Kasparov, V.Naganov, A.Pivovarov, G.Alburov