OPINION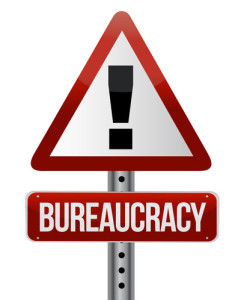 US Government International Media
A Myopic Agency View
Broadcasting Board of Governors Information War Lost

By The Federalist

Haroon K. Ullah is the chief strategy officer for the Broadcasting Board of Governors (BBG). He previously worked at the US Department of State.
In a February 21, 2018 opinion piece to the San Francisco Chronicle, Mr. Ullah decries a recent decision by YouTube to label content the Voice of America (VOA) and other government-funded media as "government sponsored content:"
YouTube's war on reputable information, By Haroon K. Ullah; February 21, 2018. Updated: February 21, 2018 4:57pm; San Francisco Chronicle.
Mr. Ullah writes,
"…When a viewer clicks on the content from these outlets, they will see those words ("government sponsored content") on the screen. Thus, people will be more likely to doubt the message they are seeing."
The question is: for the BBG, why so?
We observe:
The BBG is an agency of the United States Government. So is the Voice of America, its main component outside of the vast BBG bureaucracy itself. Other entities that comprise the agency are all fully supported by US taxpayer funds.
In recent years, some VOA officials in particular have tried to sell a false narrative that the agency is "an independent news company." That is simply not true, even if there is a "firewall" between the agency and the US Government. BBG and VOA officials and reporters are still US Government federal employees collecting government salaries. Over its 70+ year history, this agency has never been, is not now and likely never will be independent. To all appearances, no one in US Government wants this agency spinning willy-nilly through the universe, doing its own thing, without mechanisms for oversight and accountability.
The BBG and its entities rely 100% on taxpayer funding authorized by the Congress and approved by the White House. They do not derive revenue from advertising as would US commercial media and to a large degree even domestic semi-public broadcasters, NPR and PBS.
Attempting to be disingenuous of the agency's nature is not the high road to credibility.
Mr. Ullah believes that labeling the agency's YouTube content as government sponsored would negatively impact on the agency's credibility and raise doubts about what people are seeing.
To use VOA as an example, it has been around for 70+ years. If you believe the agency's audience numbers (somewhere around 270-million weekly) you would think that it has some credibility somewhere with someone.
Once again, if the numbers are true. And they very well may not be, realistically. The agency counts as its audience anything that is seen on other media in the United States and abroad. Much of that content does not meet the criteria of the VOA Charter, which is US law, and some of it violates the law, such as one-sided VOA political attacks on Senator Bernie Sanders and future President Donald Trump during the 2016 presidential election campaign.

And you would have to ask:
What has the agency been doing for these 70+ years if not building its audience and solidifying its credibility?
By shying away from being transparent as to its government status that would seem to do more to question the agency's credibility than making it above reproach.
If the agency has been a reliable source of news and information as it states in the VOA Charter there should be no hesitation in relying on that as the agency's core foundation (among this and the other provisions of the VOA Charter).
Mr. Ullah makes what we consider a huge leap by claiming this is a step in the direction of censorship. If YouTube was making such a move in fact that would be something to be concerned about. That's not what is on the table at present.
When you consider the dysfunction this agency is known for, you get the very clear impression that the agency wants to slide by giving audiences less than complete information about itself organizationally. That cannot be a good thing.
If anything, Mr. Ullah's observation leans in the direction of seeing the agency as losing its competitive and qualitative edge in the global media marketplace. We note that the agency now has to provide "journalism training" for its broadcast employees. Former employees would tell you that you came to the agency trained, not for training.
There are other signs that the agency has lost its way, as often reported by BBG Watch in the agency's slippage in the category of breaking or developing news and unprecedented partisan bias in the last two years. If the agency can't or won't stay on top of major news events and maintain objectivity and neutrality in reporting on US politics, the natural tendency is for global publics to look elsewhere: more often than not to the British Broadcasting Corporation (BBC).
It is up to the agency to maintain a high standard of performance in its mission.
YouTube appears to be taking this step as the result of the exponential proliferation and intrusion of "fake news" as a form of disinformation and misinformation. Some of it is state-sponsored. It is seen as having impact on shaping public or global opinion. It is drawing distinctions to be sure but it is not telling the BBG what it can or cannot post. But that is the fear that Mr. Ullah may be linking to the action by this Internet giant.
What To Do?
The task for the BBG is to make its content unassailable and to drive home fact-based news and information.
Instead of looking elsewhere to complain, its focus should be on itself and the quality or lack thereof of its programming content.
This is not the time to cut this agency any slack. The top priority of its bureaucrats is to survive when to outward appearances it should not in its current construct.
The BBG needs to be held to a higher standard. If it cannot meet, maintain or exceed those standards, it is more than an ample reason to reformulate US Government international media.
For further reading:
The Charm School, by Nelson DeMille, Warner Books, New York, 1988. As the saying goes, "What is past is prologue." A work of fiction, it sounds more non-fictional in relation to present day events.
The Federalist
February 2018