BBG Watch Commentary
Voice of America (VOA) may not have enough resources to report all news, but we want to set the record straight. There are enough resources to post multiple VOA reports on Canadian pop singer Justin Bieber, court room celebrity Amanda Knox, a Canadian dreams study, and the British royals.
It is not primarily a "resource-issue," as VOA Director David Ensor claims. It is primarily a bad management/bad employee morale/misguided anti-VOA Charter programming policy issue.
We want to make three points perfectly clear.
1. VOA reporters and other rank and file employees are not at fault here. They are intimidated by the senior management and helpless. The vast majority of VOA reporters wants to cover important news stories as required by the VOA Charter, but they can't because news coverage policy is determined at the senior executive level and imposed on them against their wishes and better judgment. They are afraid of losing their jobs and afraid to speak out.
2. Management's argument that it does not have enough resources to cover important news stories is false and misleading.
3. Every respectable news organization, even BBC, has some tabloid or fluff journalism and human interest stories, but most of these stories on the VOA website get hardly any Facebook recommendations or Tweets while truly important news stories are being ignored.
On Friday, Saturday and Sunday (January 31, February 1, and February 2 as of 7:00 PM EST) VOA did not produce a separate/exclusive report on President Obama's most extensive comments to date (3 and a half minutes) on Ukraine and did not post the video of his Friday's online exchange with an American audience available from the White House website.
We have put together a list of VOA reports, some of them with video, that under the programming and editorial policy set by VOA executives, VOA reporters and contract employees were told to produce and offer worldwide audiences in the last few days.
Video of President Obama Answering a Question about Ukraine at the Virtual Road Trip with the U.S. President
Voice of America did not use President Obama's video comments about Ukraine, either on its English news website, or websites of more than 40 of its language services (except VOA Ukrainian Service).
No exclusive/separate news report on President Obama's comments on Ukraine was produced by VOA English News for worldwide English audiences and for translation into 40-plus VOA languages.
President Obama's comments about Ukraine got 177 words in one VOA report that was not about his Ukraine-related statement but about other issues. Its headline did not suggest that the report had to do anything with President Obama.
Meanwhile Justin Bieber got several exclusive headlines and exclusive VOA reports in the last few days. While some of these reports were from Reuters, others were originated by VOA One of these VOA reports had 437 words and included a video.
The VOA report on a new Canadian study analyzing nightmares and bad dreams had 971 words and had numerous photos and audio. Two days later, this report was showing only 3 (three) Facebook "Likes."
VOA's top executives seems to like all things Canadian. For that matter, they seem to like the British Empire. They had posted dozens of reports on the VOA English website on the British royal wedding in 2011 (27 reports) and the British royal baby christening in 2013 (5 reports). The total number of British royal family related VOA reports, paid by U.S. taxpayers, might be in the hundreds if VOA foreign language translations are also counted.
[aside] caption = Voice of America's Coverage of British Royals in 2011 and 2013
alignment = none
width = 630px
collapse_state = collapsed
bg_colour = #CEECF5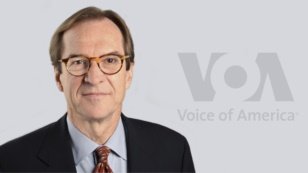 Voice of America Director David Ensor. Critics say that VOA news reporting under him and VOA Executive Editor Steve Redish has declined and nearly collapsed.
U.S. taxpayers paid for these programs by the Voice of America (VOA) while many human rights-related news stories and important U.S. foreign policy pronouncements by the White House, the State Department, and members of Congress went unreported on VOA websites in recent months and years.
Years and months later, these reports on the British royalty posted on the VOA English website show zero or very few Facebook "Likes" or any other indication of any notable audience engagement through social media.
IF YOU ARE A U.S. TAXPAYER YOU MUST CHECK THIS OUT
1.
2.
3.
4.
5.
6.
7.
8.
9.
10.
11.
12.
13.
14.
15.
16.
17.
18.
19.
10.
Royal Wedding: William & Kate Voice of America (VOA) English website, April 20, 2011 8:50 AM
21.
22.
23.
24.
25.
26.
27.
VOA on British Royal Christening, October 2013
Among five reports on the VOA website on the royal christening in Britain posted on October 23 and 24, 2013, none has more than 20 Facebook "Likes" as of October 28, 2013, one had zero Facebook "Likes" and another one had three.
Zones: Breaking News , Europe
October 23, 2013 12:08 PM
……..was born on July 22. In the arms of his mother as she left the the palace's Chapel Royal, George was dressed in a long cream satin robe that was a replica of an 1841 gown made for the christening of Queen Victoria's eldest daughter. Kate, a style icon whose outfits often increase sales of similar garments, wore an off-white, ruffled skirt-suit, made by British fashion house Alexander McQueen, and pillbox hat by British milliner Jane Taylor ….
Tags: Britain , duchess catherine , Kate Middleton , prince george , Prince William , royal christening
Zones: Europe
Reporters: Reuters
October 23, 2013 8:20 AM
……..William and Kate's decision is a break with the tradition of choosing royal dignitaries to take on the ceremonial role, and a continuation of their effort to portray a more informal, modern image to austerity-hit Britons. After the christening, guests will attend a private tea at Clarence House, hosted by Prince Charles and Camilla. Hollywood photographer Jason Bell has been tapped to take official photos of the event, that will include a "historic multi-generational photograph" of the queen
Tags: Britain , monarch , prince george , royal christening
Zones: Europe
Reporters: VOA News
October 23, 2013 12:14 AM
Carla Babb Prince George, the son of the Duke and Duchess of Cambridge, is being christened in Britain on Wednesday. In a break from tradition, the christening of the world's most famous baby will be as low key as possible. Three months ago, Prince William and his wife Catherine shared their bundle of joy with the world. And just as the royal couple broke with tradition ….
Tags: British royal family , christening , Prince William , Princess Kate , royal baby , royal christening , royalty
Zones: Europe
Reporters: Carla Babb
October 22, 2013 9:59 AM
Reuters A British photographer known for his portraits of rock stars and Hollywood actors was named on Tuesday as the official photographer of the world's newest celebrity – Prince George. Prince William and his wife Kate have chosen Jason Bell to photograph the christening on Wednesday, October 23, of their son, the third-in-line to the British throne, a palace statement said. Bell, 44, is an award-winning photographer best known for portraits of celebrities such as musician Paul McCartney, footballer David Beckham ….
Tags: Britain , christening , prince george , royals
Zones: Europe , Arts & Entertainment
Reporters: Reuters
October 23, 2013 12:19 PM
a central London chapel, where he made his first public appearance since his birth in July. Prince George was seen in the arms of his father, Prince William, as the elder prince and his wife Kate arrived at the Chapel Royal in St. James's Palace for Wednesday's traditional Anglican Christian ceremony. The infant was wearing a white satin gown, a replica of one made for Queen Victoria's eldest daughter in 1841. In a private ceremony inside the chapel ….
Zones: World News , Europe
[/aside]
During the time the most reports on Bieber, Amanda Fox and a Canadian dreams study were being posted, VOA English website failed to report or was late and perfunctory in reporting not only on President Obama's comments about the situation in Ukraine but also on various statements on Ukraine by Vice President Biden, Secretary of State John Kerry, White House Press Secretary, State Department Spokesperson, U.S. Embassy in Kyiv, U.S. Senators Menendez, McCain, Murphy and other U.S. officials and politicians.
It is all a matter of editorial policy and priorities set by top VOA executives.
January 31st, 2014
Waking up in the morning after having a bad dream at night might not be the best way to start the day, but, a terrifying nightmare can rock you awake from a sound sleep, leaving you scared and confused.