USAGM Watch Commentary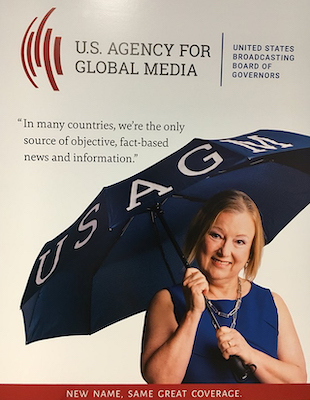 Voice of America (VOA) Director Amanda Bennett has objected in a statement to a Centers for Disease Control and Prevention (CDC) "internal CDC documents instructing the agency's media relations office to refuse media requests from 'anyone associated with Voice of America,' citing White House tweets accusing VOA of spreading Chinese propaganda." An internal CDC e-mail, dated April 30, 2020, included this advisory to a CDC public relations specialist: "NOTE: as a rule, do not send up requests for Greta Van Sustern [sic] or anyone affiliated with Voice of America because of this: https://www.whitehouse.gov/articles/amid-a-pandemic-voice-of-america-spends-your-money-to-promote-foreign-propaganda/." Greta Van Susteren has been doing pro-bono reporting for VOA but is not a VOA employee. VOA officials and other VOA journalists are federal government employees. Some VOA journalists work as U.S. government contractors. There is no evidence that Greta Van Susteren has aired any Chinese government propaganda, but other VOA programmers have done it many times in recent months without providing balance or countervailing facts and evidence.
Even though Amanda Bennett referred in her VOA press release to "White House tweets," the CDC e-mail only refers to a statement on the White House website and does not mention any White House tweets. A director of a government-funded and managed news organization, such as the Voice of America in the U.S. Agency for Global Media (USAGM), and her staff, should be precise in what they communicate to the public about other U.S. government agencies and about their own outlet.
Despite the VOA Director's statement, both the CDC and the White House are right in this case, although the CDC should not have issued a blanket restriction but instead provided its officials and scientists with an advisory that in granting interviews to the Voice of America they should be aware of recent Chinese propaganda in some VOA programs and should try to set the record straight and counter such propaganda if there is an appropriate opportunity to do so. There is no evidence that Greta Van Susteren has aired Chinese government propaganda, but other VOA programmers have.
The Voice of America has repeatedly posted online without any challenge lengthy videos of Chinese regime officials making unfounded accusations against the United States without VOA providing at the same time any balance or context. VOA has also been posting online Iranian regime propaganda without effective challenge and balance, according to Iranian-American activists, independent U.S. experts, and high-level State Department officials.
VOA reposted online in recent months without balance other Chinese propaganda videos and several Russian videos. VOA, under Amanda Bennett's watch, has in effect provided multiple times a platform for Chinese officials to spread their propaganda and disinformation.
The White House and the CDC are also right that VOA has been posting and promoting COVID-19 data with official Chinese government numbers which many experts and journalists have dismissed as being falsified and misleading. In publishing these numbers VOA has not added to them any warnings and disclaimers, although some other VOA reports questioned the accuracy of Chinese government's coronavirus statistics. COVID-19 charts and tables posted on the VOA website and some other VOA news reports accepted Chinese official numbers without any questioning. Such one-sided VOA news reporting, lacking sufficient context and balance, violates the VOA Charter.
Bennett, who was appointed to her position during the Obama administration, denies charges that she is allowing Chinese, Iranian and other foreign propaganda to seep into VOA programs. She insists that her firing and disciplining of several strongly anti-communist VOA Mandarin Service journalists after they conducted in April 2017 an interview with a Chinese whistleblower, which she ordered them to shorten, was caused by their insubordination and her desire to maintain high journalistic standards. They deny these charges and have challenged her actions against them. Some of the journalists have pointed out that one of the U.S. companies controlled by Bennett's husband is conducting educational business in China which depends on good bilateral relations.
Bennett has been repeatedly criticized by both Chinese American and Iranian American political refugees, community activists and scholars of tolerating propaganda and biased VOA reporting.
Brian Hook, the US special representative for Iran and a senior adviser to Secretary of State Mike Pompeo, published recently an op-ed in New York Post under the title "Why are US taxpayers funding a 'Voice of the Mullahs' in Iran?" No other VOA director has been a target of such multiple and repeated public criticism from U.S. immigrant communities and from within the U.S. government.
Here is a VOA Mandarin Service video as proof that the Voice of America has been broadcasting Chinese regime propaganda and other types of foreign propaganda.
VOA under Director Bennett has also posted online other lengthy foreign propaganda videos without any attached balance or context, including videos showing burnings of American and Israeli flags.
The U.S. Agency for Global Media (USAGM), which oversees VOA, has a new CEO Michael Pack, who was nominated by President Trump two years ago but not confirmed by the U.S. Senate until last week. His confirmation was opposed by Democrats in the Senate and by some of Bennett's friends and former associates, some of whom published articles in her defense in the Washington Post, a paper once owned by her husband and for which she had written in the past. While we were not able to get a confirmation, it seems doubtful that Pack was consulted on and cleared off on Bennett's statement about the CDC restrictions.
We believe that the CDC should lift any restrictions on Voice of America journalists on the assumption that the organization will soon undergo management reforms and VOA will stop being misled by Chinese and other foreign propaganda.
---
VOICE OF AMERICA PRESS RELEASE
VOA Director's Statement on CDC's Media Interview Policy Excluding VOA Journalists
We were shocked to read the internal CDC documents instructing the agency's media relations office to refuse media requests from "anyone associated with Voice of America," citing White House tweets accusing VOA of spreading Chinese propaganda. VOA, a federally-funded independent news organization, strongly rejects the accusations and calls on the CDC to immediately withdraw the instructions. The CDC documents were released this week in response to a Knight First Amendment Institute's FOIA request. For a federal agency's public affairs office to categorically deny in advance interview requests from VOA journalists, including our colleague Greta Van Susteren, based on a White House opinion statement referring to an Associated Press story about COVID-19 shared by the VOA newsroom as "propaganda," is even more troubling. VOA issued a public response to that charge on April 10th – the same day as the White House statement was issued. A copy of our statement is here: https://www.insidevoa.com/a/a-statement-from-voa-director-amanda-bennett-/5367327.html Since this memo denying VOA journalists access to CDC officials was issued on April 30, 2020, it is impossible to immediately discern its effect on our coverage of the pandemic since that date across all of our newsrooms that report in 47 languages to audiences in nearly 100 countries. However, efforts such as those outlined in the CDC memo can result in the kind of chilling effect on our journalism that we regularly see in the markets we broadcast to that have no free press – including in China and Russia. As with any other major media outlet, VOA has clearly outlined editorial standards and a robust corrections policy. If the CDC – or any other organization – believes there are any errors in any VOA news stories, we encourage them to contact us immediately for a swift and thorough review so that any such errors can be corrected.
VOA reaches a weekly global audience of more than 280 million people in 40+ languages in nearly 100 countries. VOA programs are delivered on multiple platforms, including radio, television, web and mobile via a network of more than 2,200 media outlets worldwide. VOA's seasoned journalists are
experts
on topics trending in the United States and around the world. The Voice of America is funded by the U.S. Congress through the U.S. Agency for Global Media, an independent federal agency.
END OF VOICE OF AMERICA PRESS RELEASE
CDC 30 APR 2020 EMAIL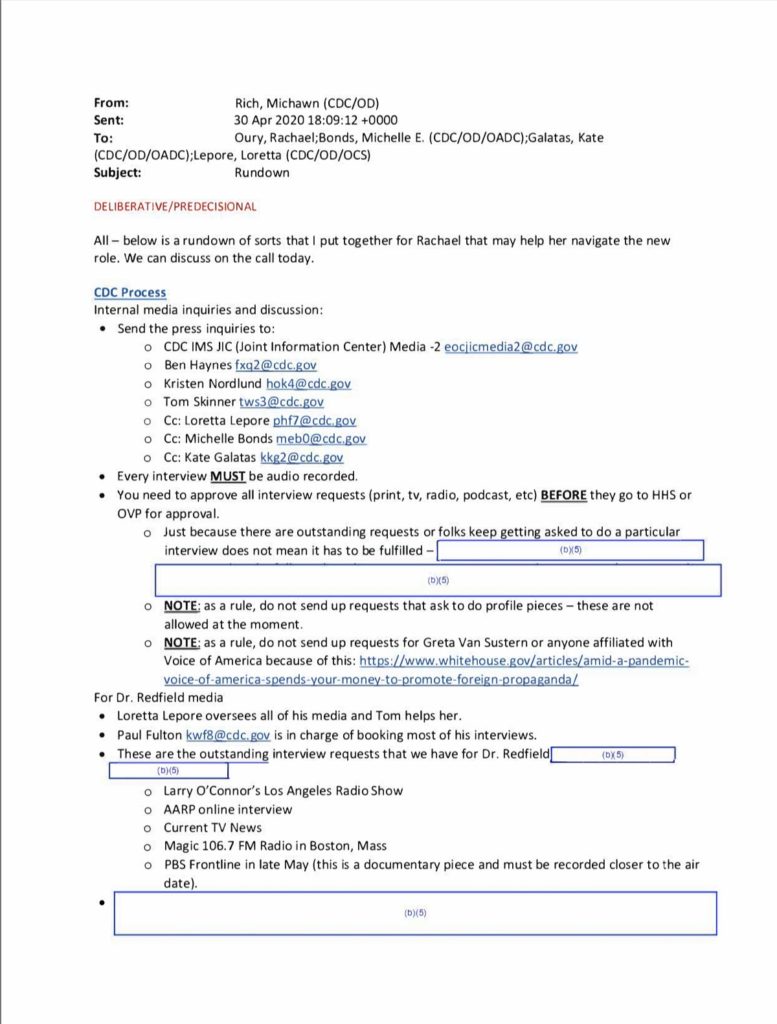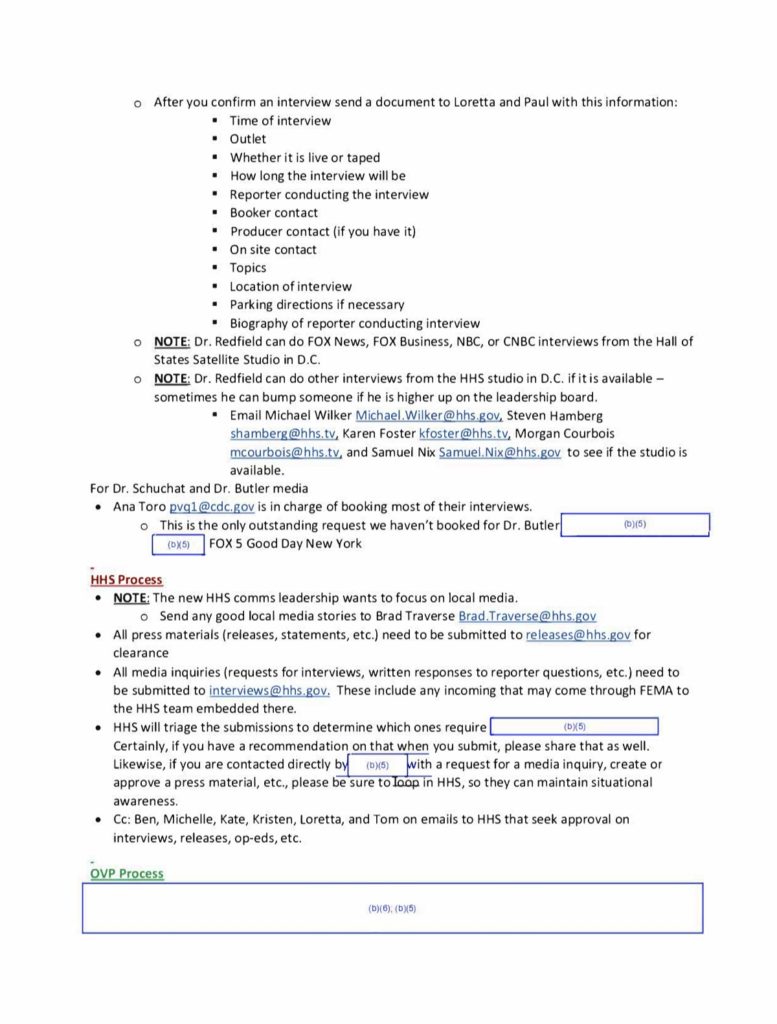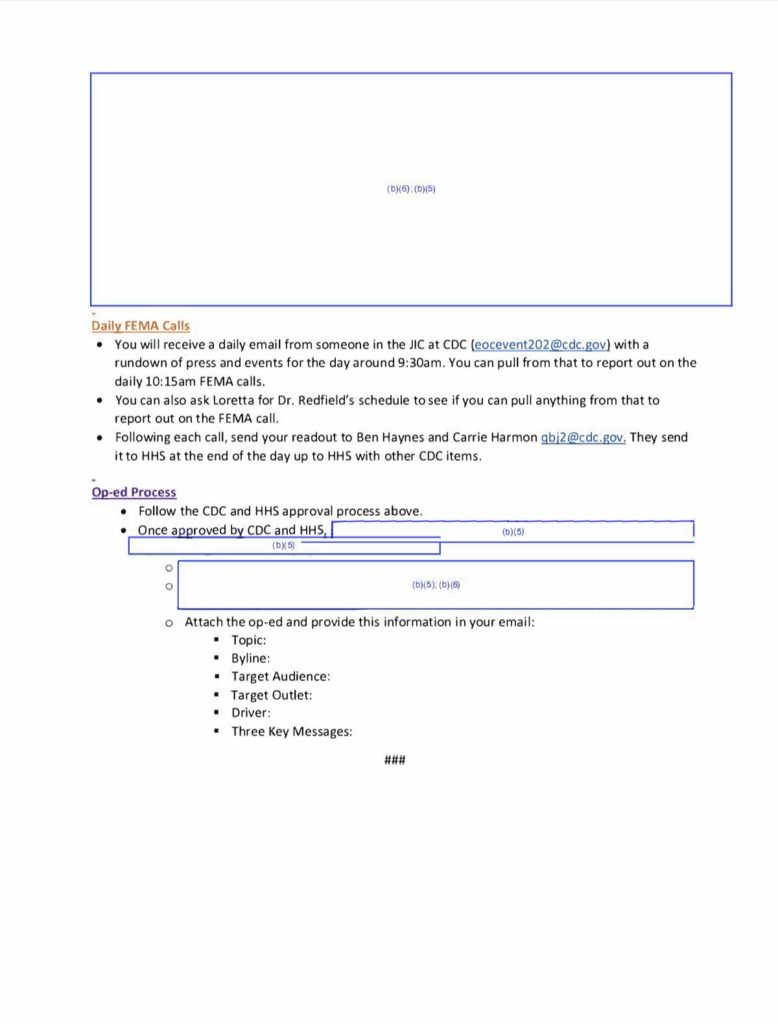 END OF CDC 30 APR 2020 EMAIL