BBG Watch Commentary
No kidding.
Russia's RT and SPUTNIK, Germany's Deutsche Welle (DW), BBC and nearly every other news organization that counts all beat U.S. taxpayer-funded, Broadcasting Board of Governors (BBG)-run Voice of America (VOA) on the Clinton nomination story even though it was a U.S. news of major importance and interest to VOA's international audiences. In 2013, then Secretary of State Clinton and ex officio member of the Broadcasting Board of Governors called the BBG "practically defunct." She may very well be the next President of the United States. Or it may be Donald Trump.
VOA was late and behind other domestic and international news providers in reporting online on Hillary Clinton securing enough convention delegates to get the Democratic Party nomination as the party's candidate for the office of the president of the United States.
Instead of preparing for this development (the news was expected for some time) and posting its own original Voice of America report for the worldwide audience, VOA (English) News went with the AP report and posted it online on its voanews.com website. Even though it was a wire service story, VOA posted it quite late. AP was keeping the delegate count and originated the news today as Hillary Clinton secured enough convention delegates to give her the presidential candidate nomination.
On the potential foreign policy impact alone, this was a major news story for international audiences and the Voice of America was late. VOA did not give the story a top billing and quickly replaced it on the VOA mobile news site with a gorilla story of no major significance.
Among international media outlets which beat VOA on the Hillary Clinton story were two Russian news, propaganda and disinformation channels, SPUTNIK and RT.
SPUTNIK was first at about 8:27 PM ET.
The Russians know how to attract an audience with promptly reporting news, including American news; VOA does not. VOA should have shined in reporting on this kind of U.S. political news story with a major international impact, but VOA did not, as it has been the case with many other similar U.S. and foreign news stories in recent years. Having new BBG CEO John Lansing, new VOA director Amanda Bennett and new VOA deputy director Sandy Sugawara did not make any difference in this case.
RT, BBC, and DW followed SPUTNIK almost immediately in reporting the AP Democratic Party convention delegate count. DW even had a video ready for its news report on Hillary Clinton. That's what serious and well-managed news organizations do.
VOA did not post the AP Clinton story until 9:00 PM ET on its desktop website. The Clinton story was posted even later on VOA's mobile site. It was not on the mobile site at 9:00 PM ET.
To add insult to injury, the AP Clinton story on the VOA mobile website was almost immediately displaced by the story of gorilla killing/mother of child victim not charged with child endangerment, which was not a wire service report used by VOA but was originated by VOA News. VOA has strange priorities when it comes to choosing which news stories its reporters and newsroom writers cover on their own.
The gorilla story (the mother not being charged with endangering her child who several days ago fell into a gorilla enclosure at the Cincinnati zoo; the gorilla was killed and the child survived unharmed) was at least 10 hours old when VOA posted it online at 9:30 PM ET. The story of the mother not charged in a gorilla incident broke in the United States Monday at about 10 AM ET. It was reported live in the morining on CNN and other U.S. television networks. It's incredible that late in the evening VOA would displace the Clinton story with this old and quite insignificant report as the top U.S. news item in the "USA News" lineup on the VOA mobile news site.
Needless to say, RT, SPUTNIK, DW, and BBC kept their original Clinton stories at the top of their news lineups on their websites. VOA did not on its mobile site.
The VOA's regular desktop site did keep the Clinton story at the top of "LATEST NEWS" on the right side of the website, but the main featured story on both the mobile and desktop VOA sites remained "Islamic State Gets Tougher on Residents During Ramadan." The Clinton story was not made the first featured item, but then VOA did not have its own original news report to post.
Likely the VOA newsroom was in Monday evening low staff mode, despite the oncoming news of Clinton formally achieving the delegate figure, BBG Watch was told. Why put up an original VOA story when they can just use AP and post it whenever you feel like it?, a frustrated journalist commented. One VOA reporter who is ashamed of what VOA has become as a news organization, simply said: "I give up."
That's what what is left of VOA. That's what international audiences have come to expect from VOA.
SPUTNIK on Hillary Clinton
BBC on Hillary Clinton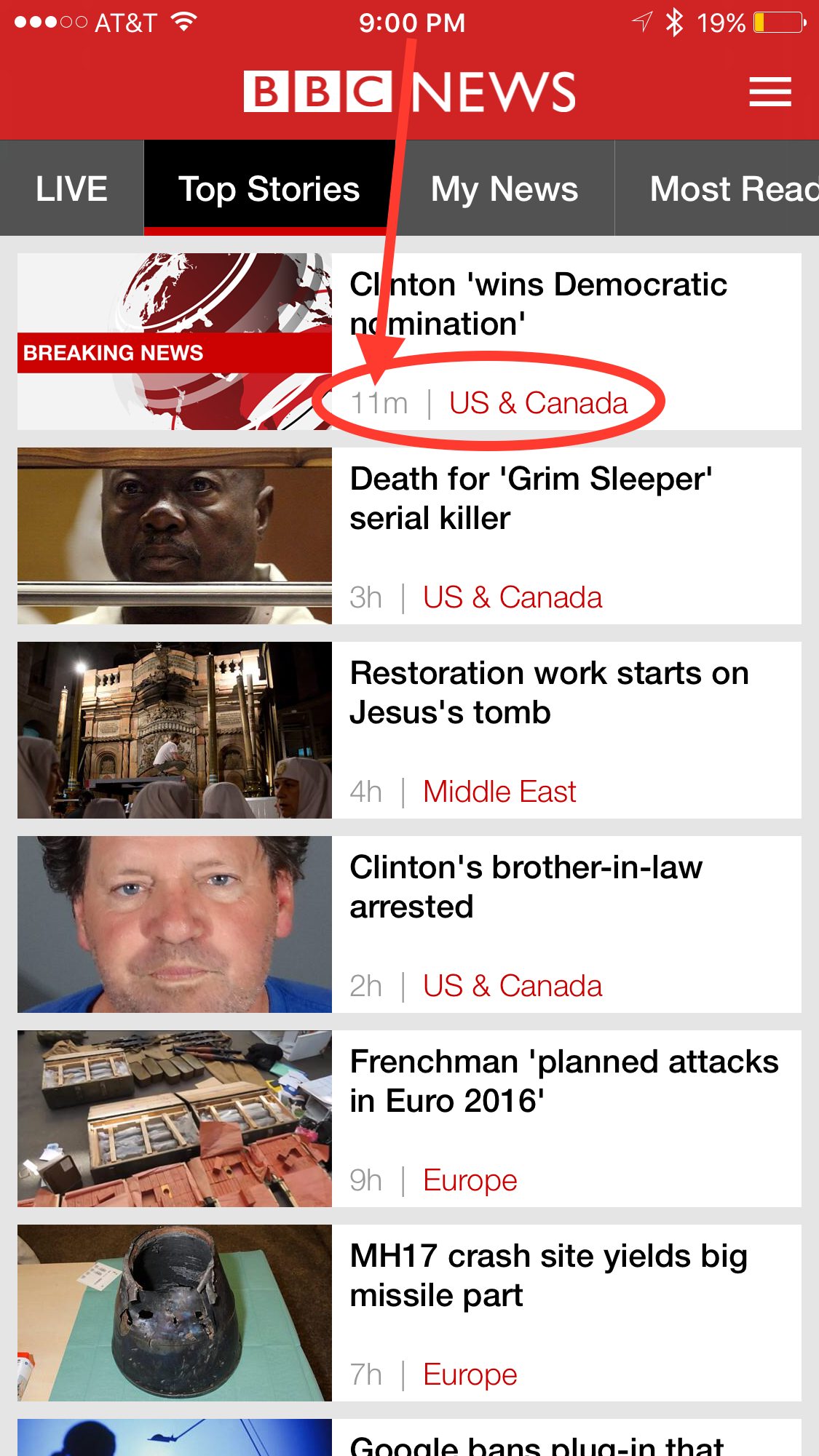 DW on Hillary Clinton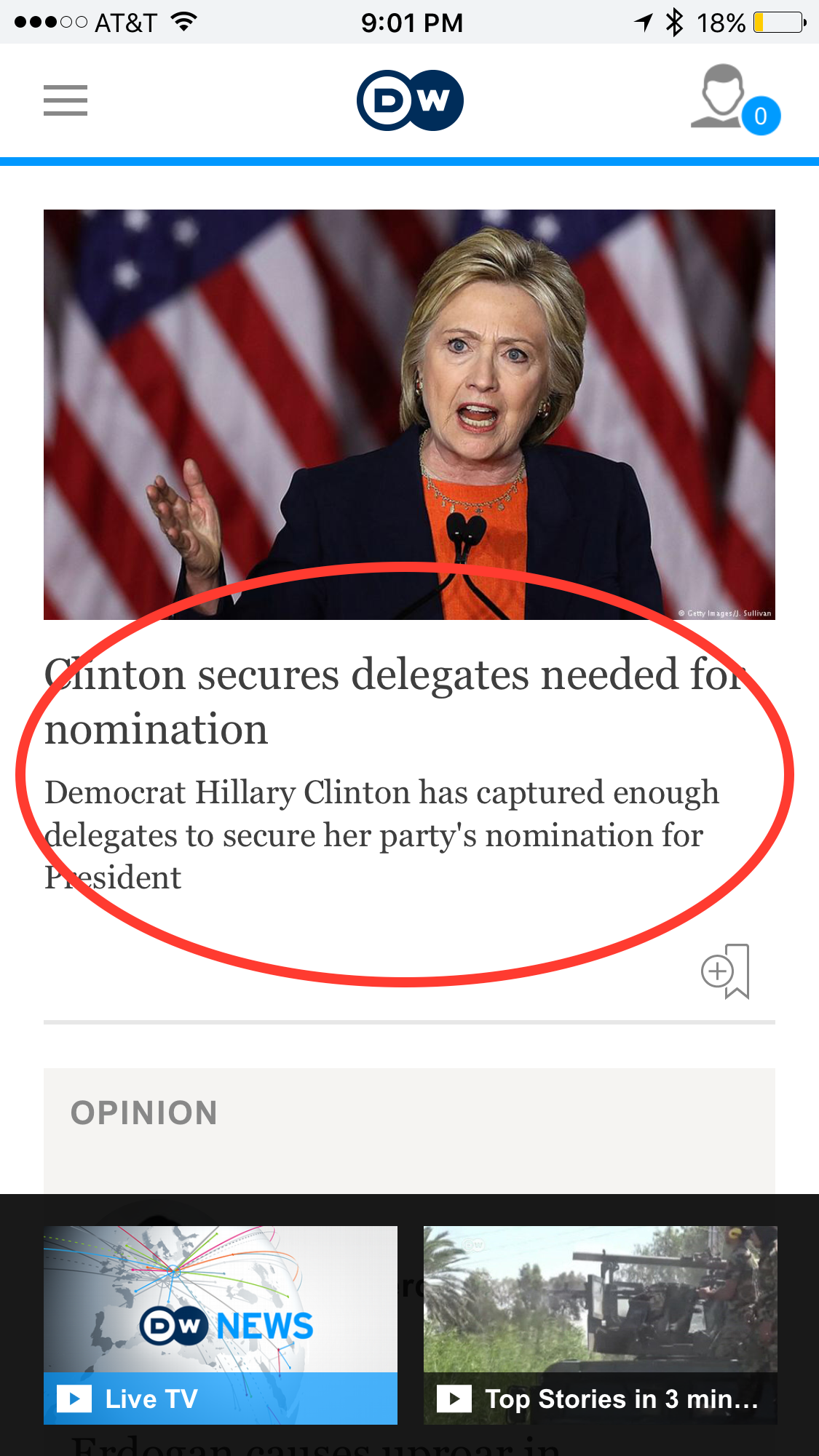 VOA Mobile Site on Hillary Clinton and Gorilla Story (first)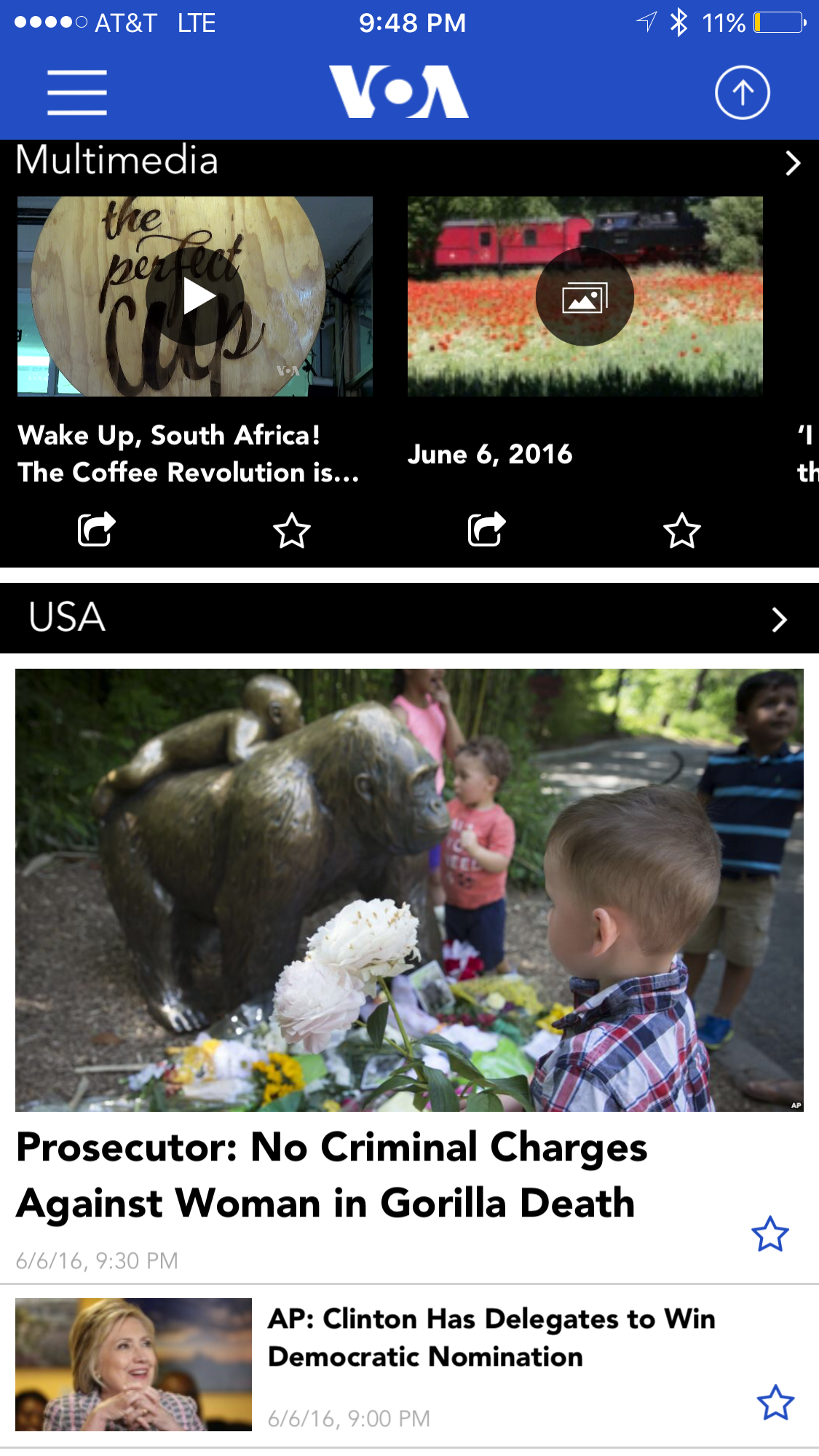 VOA Desktop Site Hillary Clinton (AP) Story Placement (late)