BBG Watch Commentary
Here are a few comments on the poor quality video from Voice of America (VOA) director Amanda Bennett's swearing-in ceremony, speech and Q&A. The video, in which large segments during questions from the audience are so dark that they are practically invisible, was posted on the Broadcasting Board of Governors (BBG) website. Pulitzer Prize-winning journalist Amanda Bennett was sworn in on April 18th as the 29th Director of the Voice of America. She delivered an excellent speech which made a good impression on VOA rank and file employees and was generally well received.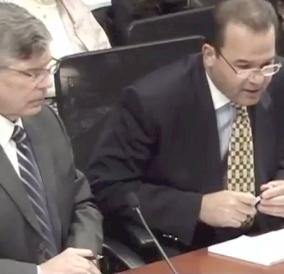 Featured Image Above: BBG Swearing-in Ceremony for new VOA Director Amanda Bennett IBB Video Screen Shot 2016-04-22 at 9:02 PM
Many of VOA radio and TV broadcasts suffer from similar technical problems.
The BBG's International Broadcasting Bureau (IBB) is responsible for providing technical support to Voice of America broadcaster. IBB's recent failures included inability to restore power in the building for many hours after a contractor cut an electrical cable and repeated outages of the digital storage and processing equipment used daily by VOA broadcasters.
We commented: "When something goes wrong at the Broadcasting Board of Governors (BBG), which happens often, it's always somebody else's fault. It's never the fault of current BBG executives in BBG's International Broadcasting Bureau (IBB)."


Jeffrey N. Trimble is IBB Deputy Director. André Mendes is Chief Technology Officer/Chief Information Officer. They are both longtime agency employees and executives. Their boss, BBG Chief Executive Officer and Director John Lansing, joined the agency in September 2015.

Comments

Most of these comments are from former agency employees who had provided technical support to VOA radio and TV broadcasters.

"Who's responsible for the dismal lighting in this piece?

Sometimes it pays to hire a pro."


"WHY does ANYONE really care WHAT they are doing today? They have run the place in the ground."


"There is a Sony BRCZ700 on stage to shoot the audience that is remotely controlled. In the past TV would bring in portable trees to light the audience and lower stage extension. I think the honest truth is that our former colleagues just don't care anymore."


"Many of us do care, as we invested 20, 30, even more years of our lives into VOA. It's also every taxpayer's problem."


"Good lighting is a combination of art and science.

If the employee morale is low, the art of lighting suffers. Maintaining high employee morale requires proper staffing and effective management, which are certainly not evident in this poorly lit piece."



BBG's annual budget has increased from $645 million in FY 2006 to $745 million in FY 2016 a 16% increase.
The combined budget of BBG's International Broadcasting Bureau and BBG's Office of Technology, Services, and Innovation is $242 million in FY 2016. These two offices, which are artificially separated but represent and report to the same bureaucracy, account for 32% of BBG's entire budget. VOA got $218 million or 29% of the BBG's FY 2016 budget.