BBG Watch Commentary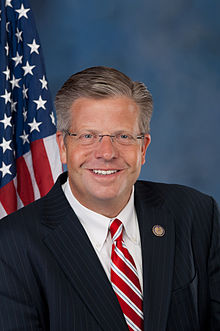 In their yet another attempt to hold on to their positions and budgets, International Broadcasting Bureau (IBB) executives yet again have gotten Broadcasting Board of Governors Chairman and BBG members in trouble with members of the U.S. Congress by proposing cuts and reductions to broadcasts and other programs that serve U.S. national security and strategic interests.
In a letter to BBG Chairman Jeff Shell obtained by BBG Watch, U.S. Representative Randy Hultgren (R -IL) had inquired about the proposal to close Radio Free Europe / Radio Liberty (RFE/RL) Balkan Service and Radio Free Iraq.
"I believe that the services represent a valuable United States asset as an independent voice of the United States in the regions of the world in which the United States Government has strategic interests," Congressman Hultgren wrote to BBG Chairman Jeff Shell.
Congressman Hultgren also noted in his letter that many countries targeted by these RFE/RL services have government-imposed media restrictions. The letter mentioned the closure of 44 media outlets in Iraq.
Congressman Hultgren urged Chairman Shell and BBG members not to take any further action on possible plans to close these broadcast services until a complete review by Congress can be performed.
U.S. Senator Roger Wicker, R-Miss., a leading Senator on the Commission on Security and Cooperation in Europe, has written a similar letter the Broadcasting Board of Governors Chairman, urging him to continue operating Radio Free Europe / Radio Liberty's Balkan Service and Radio Free Iraq.
See: Wicker pushes to keep foreign radio services open — IBB wants them cut to keep its own budget and positions, BBG Watch, March 12, 2014.
In the past, cuts to such services had been first proposed to BBG members by the International Broadcasting Bureau executive staff, which managed to expand the number of IBB positions in the last seven years by 37 percent while cutting numerous programs, programming positions and broadcast frequencies at the Voice of America (VOA), Radio Free Europe / Radio Liberty (RFE/RL), Office of Cuba Broadcasting (OCB – Radio and TV Marti), Radio Free Asia (RFA), and Middle East Broadcasting Networks (MBN – Alhurra TV and Radio Sawa). IBB has has the largest budget (34%) among BBG entities.
IBB executives had gotten BBG members in trouble with the Congress before when they proposed cuts to broadcasts to China and Tibet or failed to stop massive firing of Radio Liberty journalists in Russia in 2012. The blame was attached to the BBG and its members, while IBB executives actually responsible for many of these crises hid and kept a low profile. But by making themselves indispensable to BBG Chairman and BBG members, they make it very difficult for the boards to remove them. They are also protected as federal government executives. But some have been detailed away from managerial positions or left government service.
In 2008, IBB executives proposed elimination of all Voice of America direct radio and satellite television broadcasts to Russia. The decision, approved the the BBG board, was implemented just days before the Russian invasion of Georgia.
Yet part-time BBG boards find it difficult to resist such proposals from IBB executive staff and, with a few exceptions, rarely communicate directly with BBG-employed journalists and broadcasters. The discredited IBB management team has been changed, however, recently under Chairman Shell's renewed BBG board and a search for a permanent agency CEO has begun.
Many fear, however, that IBB will continue to divert resources from programming to the bureaucracy even under the new board and a new future CEO, as it represents the only central source of money and influence.
The bureaucracy has continued its growth under many previous boards, while more and more programs were being eliminated and U.S. media outreach aboard and its effectiveness greatly diminished. Critics say that IBB has been killing U.S. international broadcasting for years.
Many critics have suggested that U.S. international media outreach can only be reformed by abolishing the IBB and preserving the independence of individual BBG entities, each one with a special and different focus. IBB bureaucrats, however, would like to bring them all under central control, which is not what the U.S. Congress intended, being afraid of exactly such an outcome.
Top IBB executives and their executive staff have no direct link to programs being produced or the counties these programs serve, while some senior managers at VOA are seen as either distant or hostile toward employees. Even until today, IBB and Voice of America leading bureaucrats have not provided VOA Ukrainian and Russian services with additional resources to regularly update their social media pages — something more members of Congress need to be aware of.
We thank Congressman Hultgren for his intervention, his letter to BBG Chairman, and his concern for supporting freedom of the press and protecting U.S. strategic interests in unstable regions of the world. Many members of Congress know that U.S. strategic interests are best served by using the power of information rather than initiating costly military actions if those can be avoided with a wise long-term investment in independent and uncensored journalism. Radio Free Europe / Radio Liberty has done this successfully for many years and contributed greatly to the winning of the Cold War.
Rep. Randy Hultgren Letter to BBG Chairman Shell on Cuts to RFE RL Programs – PDF