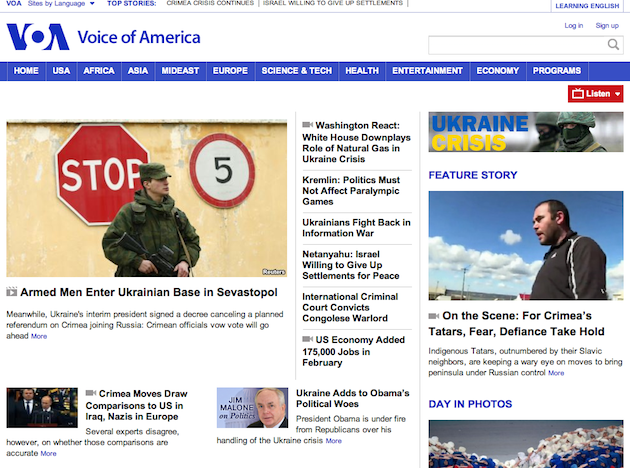 BBG Watch Commentary

As of 8:00 PM EST Friday, Al Jazeera, BBC, Russia's RT and Voice of Russia, and many other major international media outlets have already reported that Malaysia Airlines 'has lost contact' with a plane carrying 239 people.
BBC reported on the missing plane well before 7:00 PM EST.
Poorly-managed U.S. taxpayer-funded international media outlet, the Voice of America (VOA) was still not reporting this news as of 8:06 PM EST.
In recent weeks, VOA has missed numerous Ukraine and Russia related news stories or was late and superficial in reporting on them.
There has been some improvement in VOA English news reporting on Ukraine and Russia recently due to intervention of the oversight Broadcasting Board of Governors (BBG), but on Thursday VOA again failed for many minutes to post a headline and even a brief summary of President Obama's special statement on Russia's military intervention in Ukraine.
VOA streamed the presidential statement live online, but after it was finished it took VOA approximately another 18 minutes to even post a first headline and only one sentence on what Obama said in his statement.
VOA language services were likewise late in their reporting on President Obama's White House remarks on Ukraine.
VOA journalists and other critics blame VOA's top management and its executive editor for the news organization's inability to plan for and execute multimedia breaking news coverage. They also complain of extremely poor employee morale due to behavior of some key executives.
UPDATE: As of 8:20 PM EST, a headline about the missing plane finally appeared on the VOA English homepage, well after BBC, Al Jazeera, RT and others have reported this news. A short VOA news item is still not repeated on the VOA Asia News Page as 8:30PM EST. That page still has not been updated.
As of 9:30PM EST, VOA also still did not include the missing Malaysia Airlines plane among its "Top Stories" or provided any image to illustrate its short report or homepage headline, while nearly all other major international media outlets did it almost immediately.
These news reporting and web management problems at VOA have continued for several years under the organization's current leadership. VOA is funded by U.S. taxpayers, but its management has changed the focus from hard news to reporting more on the British royal family, Canadian pop star Justin Bieber, a News York dog show, and posting online similar light feature stories.
Last year, Voice of America embarrassed itself by its poor coverage of the Asiana Airlines crash at San Francisco International Airport. VOA had posted online six news reports in October 2013 on the British royal baby christening, but later failed to report on various statements on Ukraine by Vice President Biden, Secretary of State John Kerry, and key members of Congress. Reporting on Ukraine has improved somewhat only very recently due to pressure from critics and members of the broadcasting Board of Governors. Meanwhile, some experienced VOA correspondents have left citing hostile work environment.
China's CCTV coverage of San Francisco plane crash puts Voice of America to shame, BBG Watch, July 7, 2013.
This time, Voice of America was also late in reporting on the Malaysia Airlines story, but its poor coverage last year was especially inexcusable because the crash happened in the United States.
This is what initially appeared in a late-filed report on the VOA English website about the Malaysia Airlines missing plane. Malaysia Airlines Flight From Kuala Lumpur to Beijing Is Missing, VOA News
VOA News

March 07, 2014

Malaysia Airlines says it has lost contact with a flight from Kuala Lumpur to Beijing carrying 239 passengers and crew.The airline says on its Facebook page that it lost contact with Flight MH370 about two hours after it took off from the Malaysian capital early Saturday morning local time.

It gave no other information but says it is working with the search and rescue team to locate the aircraft.

The plane is a Boeing B777-200.

The most recent accident involving a Boeing 777 was the Asiana Airlines crash back in July at San Francisco International Airport. That crash left two people dead.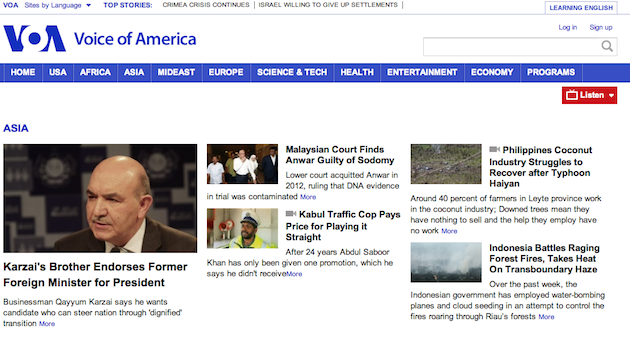 Sat, Mar 08, 2014
Source: Al Jazeera News (Middle East)
Sat, Mar 08, 2014
Source: BBC World News (UK)
Sat, Mar 08, 2014
Source: RT News (Russia)
Sat, Mar 08, 2014
Source: Voice of Russia (Russia)
Sat, Mar 08, 2014
Source: DW (Germany)
In addition to lacking a system for fast breaking news reporting, VOA management has not developed a system for comprehensive updating of news pages on VOA English-language website.
As of 9:00PM EST, Voice of America Asia News Page still has not been updated and shows no news about the Malaysia Airlines missing plane.