BBG Watch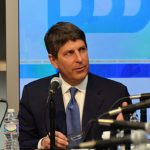 BBG Watch has learned that Ted Lipien, Director of the independent NGO Committee for U.S. International Broadcasting (CUSIB – cusib.org), met in Washington this week with Broadcasting Board of Governors (BBG) Chairman Jeff Shell to discuss issues related to U.S. international broadcasting and other media outreach. The meeting was part of an ongoing dialogue between CUSIB and BBG board members.
This was a fourth such meeting between CUSIB directors and Chairman Shell who welcomed public input into discussions about U.S. international media outreach. Previous meetings Chairman Shell and CUSIB were held in New York, San Francisco and Miami. CUSIB Executive Director Ann Noonan often attends BBG board meetings and speaks out on a variety of issues.
CUSIB members also met this week in Washington with members of Congress and congressional staffers to discuss the pending legislation to reform the U.S. overseas media agency. Former BBG Governors, Ambassador Victor Ashe and Blanquita Cullum, Ted Lipien and Gary Marco met with Senate and House staffers who drafted the bipartisan bill and had meetings with Senator Roger Wicker of Mississippi and House Foreign Affairs Committee Chairman Rep. Ed Royce who is one of the principal co-sponsors of the reform legislation.