BBG Watch Media Commentary
On April 19, 2017, reportedly on orders of the senior management of U.S. taxpayer-funded, U.S. government-run Voice of America (VOA) led by VOA Director Amanda Bennett and her deputy Sandy Sugawara, VOA Mandarin Service journalists were forced, against their wishes and advice, to shorten a live interview with Chinese whistleblower billionaire Guo Wengui who had promised to reveal to VOA details of corruption among Chinese communist officials and their espionage and influence buying activities in the United States. Audiences in China were furious with what they saw was censorship by VOA's senior management and their caving in to pressure from the Chinese government. They left thousands of angry comments on social media. According to reports from VOA Mandarin Service journalists, VOA's credibility was severely damaged in China and Chinese web traffic plummeted.
In another highly controversial employee morale-busting move, the senior management put five VOA Mandarin Service journalists (VOA Mandarin Five) on forced administrative leave with pay and later threatened some of them with firing, while senior BBG and VOA managers believed to be responsible for the decision to shorten the Guo Wengui interview and to limit the scope of questions were reportedly not investigated or disciplined.
Some of the most prominent China scholars in the U.S. came to the VOA Mandarin journalists' defense and wrote an open letter to John F. Lansing, Broadcasting Board of Governors (BBG) CEO and Amanda Bennett's and Sandy Sugawara's boss. As far as we know, three VOA Mandarin journalists, including Service Chief Dr. Sasha Gong, are still being prevented by the management from returning to work.
Voice of America Director Amanda Bennett insists that she was only concerned about protecting universal journalistic standards at VOA. Broadcasting Board of Governors CEO John F. Lansing reportedly said that accusing VOA management of caving under pressure from the Chinese government was beyond ludicrous.
Top BBG and VOA executives, who are Obama administration era holdover appointees, apparently don't think that they have done anything wrong, failed to provide leadership and guidance, made any mistakes, or damaged VOA or its employees in any way. They constantly exalt in BBG and VOA press release and statements their own achievements as the agency's leaders and managers.
VOA Mandarin Service Chief, Sasha Gong, who is among those VOA journalists still without a job and fighting her forced suspension, has a new op-ed in The Washington Times describing how dangerous it is to work for the agency in charge of U.S. international media outreach to China and other countries ruled by autocratic and authoritarian regimes.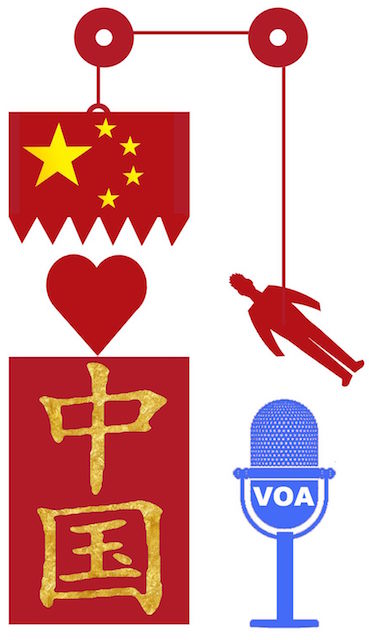 Illustration on the hazards of being a Chinese-language reporter with VOA by Alexander Hunter/The Washington Times