Alex Belida and Sonja Pace, former senior news executives and foreign correspondents with the Voice of America, believe the United States International Communications Reform Act of 2014 (H.R. 4490) "will end the Voice of America as the world has known it for over seven decades — as a trusted and reliable source of news."
BELIDA and PACE: The bill acknowledges VOA's "valuable brand identity and international recognition," but then mandates that VOA be reduced to reporting news about "the United States, its policies, its people, and the international developments that affect the United States." VOA is also mandated to "produce news and related programming that is consistent with and supports the broad foreign policies of the United States."

Under its current Charter, VOA already reports extensively about the United States, U.S. policies, institutions, politics, economics, society, arts and culture and does so on a daily basis. However, if this bill becomes law, VOA's role will be diminished to the point of potential irrelevance. One can only assume this is what the bill's supporters intend.

The clear winners, it seems, will be the non-federal grantee entities Radio Free Europe/Radio Liberty (RFE/RL), Radio Free Asia (RFA) and the Middle East Broadcast Network (MBN). Under the new Freedom News Network they will be given the global mandate for local and regional news and a clearly activist role with a mission that includes wording such as: "strengthen, help and promote."

While the final bill does not spell it out specifically, there are clear hints of a future expansion of the Freedom News Network at the expense of VOA. The bill states simply that "additional brands may be created as necessary," – a covetous eye no doubt cast on VOA's highly regarded Africa services, Persian Service, Latin America service and others. If that comes to pass, look for nothing less than VOA's disappearance from the world's airwaves, TV screens and mobile phone platforms and the inevitable job losses within VOA.
READ MORE: Death Knell in Fine Print, by Alex Belida and Sonja Pace, USC Center on Public Diplomacy.
BBG Watch Commentary
Many current and former Voice of America employees believe that VOA has already ceased to be a trusted and reliable source of news due to mismanagement and elimination of broadcasts and journalistic positions while the ineffective and discredited bureaucracy has grown tremendously during the last decade and still continues to divert resources from VOA's core broadcasting and news mission.
Many VOA journalists, especially those working in VOA language services, also believe that anything is better than the current centralized arrangement with the bureaucracy of the Broadcasting Board of Governors (BBG) — the International Broadcasting Bureau (IBB) — in charge of U.S. international broadcasting (media), USIB or USIM, and ineffective VOA executives running the Voice of America. In their view, a more defined mission for VOA under the VOA Charter might save it from a complete management meltdown and elimination by Congress.
The latest example of the current dysfunctional state of USIM is the management's failure to provide leadership and resources to the VOA Kurdish Service to update its website and social media pages in the midst of a major humanitarian crisis in Iraq. This would have never happened under most previous Voice of America directors and senior executives when the Voice of America was once part of the United States Information Agency (USIA).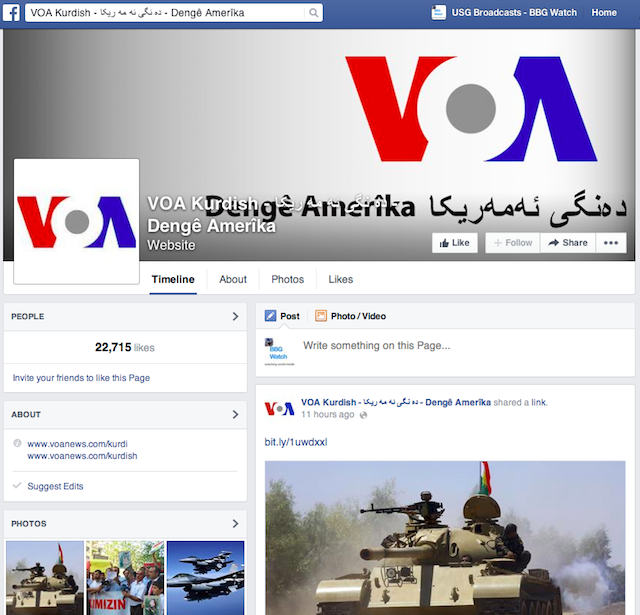 The VOA Kurdish Service has not been updating its online news during the last few critical days sometimes for up to 11 hours. The Broadcasting Board of Governors, its International Broadcasting Bureau and the Voice of America's senior management has not increased the service's shortwave radio broadcasts (the senior management even wanted to cut them completely at the end of June 2014) while tens of thousands of Kurdish-speaking refugees under attack from Islamic State fighters are stranded in the mountains of northern Iraq and being supplied with humanitarian aid by the U.S. military.
Belida and Pace acknowledge "that the current BBG suffers from inherent structural flaws and must be reformed," but they propose to centralize USIM with the Voice of America playing a leading role under a single CEO. What would prevent then other elements of the Broadcasting Board of Governors from being infected by the dysfunctional VOA and IBB management which two weeks ago wanted to eliminate VOA Kurdish shortwave transmissions, failed to arrange for online and radio expansion of news coverage targeting Kurdish refugees and made Kurdish speakers wait for online news from VOA for up to 11 hours?
Most VOA journalists have not been as privileged as some of the VOA English correspondents or VOA English newsroom reporters and writers. When VOA language services were shut down, many lost their jobs or were forced to retire. They did not have Foreign Service assignments. For decades until the arrival of the Internet, they were denied access to wire services by senior VOA program managers. Current VOA language service staffers have much more to lose if Congress defunds VOA or fails to legislate management reforms.