BBG Watch Commentary
Voice of America (VOA) was not only late in reporting on U.S. election results, not updating its Facebook and Twitter pages, and not reporting U.S. election news at all in its online radio newscasts all evening, but when it finally reported long after other media at about midnight that Republicans had won control of the U.S. Senate, VOA English news website offered no analysis of what this win means for the United States and for President Obama.
Meanwhile, the German international broadcaster Deutsche Welle (DW) has already posted its analysis of the results of U.S. mid-term elections. Obviously someone is still working at DW, but at VOA reporters appeared to have retired for the night.
As of 1:40 AM ET, VOA English website news has not been updated with U.S. election news for nearly an hour. VOA Facebook and Twitter pages have not been updated for more than an hour.
This is all what VOA managed to post on the Republican U.S. Senate victory as seen at 1:40 AM ET. The VOA report shows that it was last updated at 12:55 AM ET.
Republicans Take Control of US Senate

VOA News

Last updated on: November 05, 2014 12:55 AM

Republican candidates won enough seats in Tuesday's U.S. congressional elections to capture control of the Senate.

Democrats had held 55 of the Senate's 100 seats, but Republicans gained at least seven of them with wins in Arkansas, Colorado, Iowa, Montana, North Carolina, South Dakota and West Virginia.

A third of the Senate was up for reelection Tuesday, including the Kentucky seat held by Senate Republican leader Mitch McConnell from Kentucky. He earned a sixth term in office.

To become Senate majority leader

McConnell beat his Democratic rival, Alison Lundergan Grimes. It was an ugly race, with both sides struggling to outspend the other, and polls showing Grimes leading McConnell as late as last week.

"She earned a lot of votes, and she earned my respect," McConnell said late Tuesday. "It took a lot of guts to take on a race like this. Because of the business we're in, it also meant she'd take some heat. I admire her willingness to step into the arena and fight as hard as she did."

With Republicans in control, McConnell will become Senate majority leader. He will have the authority to decide which bills to bring up for a vote.

President Barack Obama said Senate Democrats faced what could be the toughest races since 1958, when Republicans lost 13 Senate seats under then-President Dwight Eisenhower.

Republicans also expanded their solid majority in the House of Representatives, giving them full control of Congress during Obama's final two years in office.

Given Obama's low approval ratings, numerous Democratic officeholders declined to invite the president to campaign for them, and often cited instances in which they disagreed with him, such as on health care or energy issues.

With control of Congress, Republicans could raise new disputes with Obama over his signature legislative achievement, health care reform, which has allowed millions of people to secure insurance coverage they could not previously afford.

Many Republicans view it as excessive government involvement in people's health care and call for repeal of the law.

Attacks on Obama

Republicans also have attacked Obama's handling of the Ebola crisis and called for approval of an oil pipeline from Canada through the central U.S., and a curb on government regulation of businesses.

Some opposition lawmakers have also disputed the president's handling of Russia's intervention in Ukraine and U.S. airstrikes against Islamic State militants in Iraq and Syria.

In the United States, the two main political parties are feuding over spending and tax policies and immigration reforms.

Obama has vowed to set new immigration rules by executive order by the end of the year, after the House did not act on comprehensive reforms approved by the Senate.

Some Republicans already are saying they will seek to block the president from unilaterally changing the country's immigration policies to allow millions of migrants who entered illegally to stay in the United States.

VOA's Mike O'Sullivan contributed to this article.
The following comment was posted by a U.S. reader under this VOA report:
by: Ed from: Virginia
November 04, 2014 11:03 PM

"Sorry VOA — but I and others are watching TV, and the BBC. Where is your live coverage? What a shame that this country can't get more than a few stories on the Voice of America's front page."
As of 2:00 AM ET Wednesday, the main VOA report on U.S. elections still has not been updated. At 1:44 AM, VOA finally posted a good foreign policy analysis by its State Department correspondent Scott Stearns.
Republican Control of Congress Could Change Obama Foreign Policy

Scott Stearns

November 05, 2014 1:44 AM

STATE DEPARTMENT—With Republicans set to take control of the U.S. Senate early next year following the results of Tuesday's mid-term elections, President Barack Obama may face a different foreign policy landscape during his last two years in office.

Republican control of both houses of Congress would limit the president's room to maneuver on two of his biggest foreign policy goals, said American University professor Guy Ziv.

"This will create much more difficulty for President Obama to make the kind of progress that he's wanted to see in both the Iranian negotiations – Iran's nuclear negotiations – and the Israeli/Palestinian peace process. Both of those issues have regrettably been used over the years as a partisan football on Capitol Hill," Ziv said.

ran, nuclear program

Talks on Iran's nuclear program are scheduled to end later this month with international negotiators working to convince Iran to limit its atomic activities in exchange for easing some economic sanctions.

Many Senate Republicans are wary of a deal that allows Tehran to continue enriching any uranium, but Obama already has the authority to waive U.S. sanctions without congressional approval.

Cato Institute analyst Justin Logan said that could change as Republicans move to more forcefully confront Iran.

"There's some prospect that a large Republican wave and takeover of the Senate could raise the prospect of sanctions bills against Iran without that waiver authority," Logan said. "But that requires Congress to sort of take responsibility for the policy and leave its fingerprints on the policy. And historically they've been very wary of doing that."

Republican Senator John McCain has led his party's criticism of the slow U.S. support for moderate rebels in Syria and may push for a more active military role, said Atlantic Council analyst Robert Manning.

"I think on the security side, you are likely to see Senator McCain taking over the Armed Forces Committee in the Senate, and I think that may be contentious in terms of defense spending and some of our military activities in the Middle East and elsewhere," Manning said.

While the U.S. has started a program to train and equip Syrian rebels, the issue is not likely to go away given the fight against Islamic State militants.

"There's a program in place. It is not being conducted the way Senator McCain would like it to be conducted," said Logan, of the Cato Institute. "So I think the change here might really be how the conversation goes, what sorts of hearings happen, and how Republicans in the Senate can effect the press coverage, what is said about the president's policies."

State Department

State Department Spokeswoman Jen Psaki said U.S. diplomats cooperate equally with whomever controls Congress.

"The State Department is a nonpartisan building and one where we work with Democrats and Republicans, so we will continue to move forward with that in mind," Psaki said.

As for Secretary of State John Kerry's tenure, there were press reports during this campaign quoting Obama administration sources criticizing his foreign policy pursuits being "untethered" from the president.

Psaki said the White House is "making pretty clear he will be here."
Previous BBG Watch reporting and commentary
BBG Watch Commentary
Voice of America midnight (12:00AM ET 11-5-2014) radio newscast – not a word about U.S. elections

Voice of America Radio On Demand-Online World News 12 Midnight 11-5-14 Downloaded 12:40 AM
This Voice of America (VOA) radio "Latest Newscast" available online from the VOA website after 12 Midnight, November 5, 2014, not only does not have any U.S. elections news, it has no U.S. news other than a White House reaction to a military crisis in an African country. The VOA 12:00 AM ET newscast is almost entirely focused on African news. There is no U.S. or Asian news in this VOA newscast. No mention of key U.S. elections.
11:45 PM – BBC, CNN, FOX, CNBC and RT reported Republican Senate Majority – Voice of America has not
Update: Far behind other major U.S. and international media, VOA English News finally updated its headline around 12:00 AM ET to show that Republicans won control of the Senate.
The following comment was posted on the Voice of America website:
Ed from: Virginia
November 04, 2014 11:03 PM

"Sorry VOA — but I and others are watching TV, and the BBC. Where is your live coverage? What a shame that this country can't get more than a few stories on the Voice of America's front page."
BBG Watch received these comments from former Voice of America correspondents:
"This is truly embarrassing — clearly a decision was made to simply
write the election story and carry desk stories through the evening.
No live programming, unless they come up with something in the next
two hours, which I doubt. What can one say? BBC had correspondents
in various locations (Iowa, etc) — VOA had disk write-thrus, and one piece
I saw from Jim Malone, which was obviously canned long in advance.

What a dark mark on VOA. Makes me glad I am no longer there."
"I am simply floored. It's like Ensor and Redisch
said 'let's just cover this one from the desk.'

How utterly depressing and embarrassing for VOA,
and for this country."
"I think it would be quite instructive
for Mr. Lack and others to contrast
the live BBC show with the performance of the VOA site, and VOA in
general."
"BBC just wiping the plate clean — look at all the talent/analysts they had."
"Needless to observe, but BBC is wiping VOA in the dirt with wall to wall digital/web and live TV coverage."
11:00PM ET – U.S. election night – hardly any Tweets from Voice of America English News
The last three VOA English News Tweets at 11:07 PM ET are four hours, two hours, and 40 minutes old.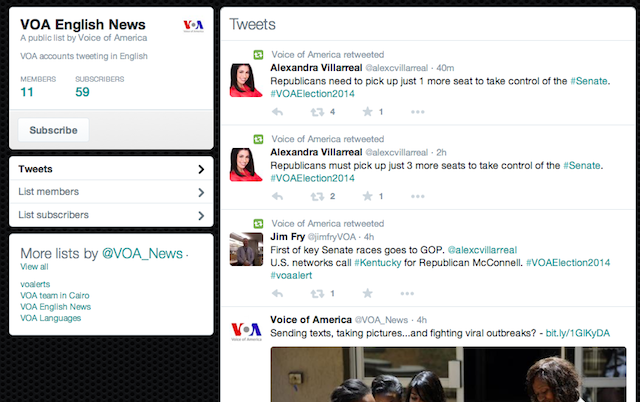 In addition to slow updating of Voice of America (VOA) English news website, VOA English news Twitter, and absolutely no U.S. election coverage on VOA radio in the last few hours, VOA English Facebook page is also not being updated with U.S. election results.
VOA has just posted some U.S. election photos on VOA English Facebook page, but the last substantive VOA English Facebook U.S. election related posts are now six and ten hours old.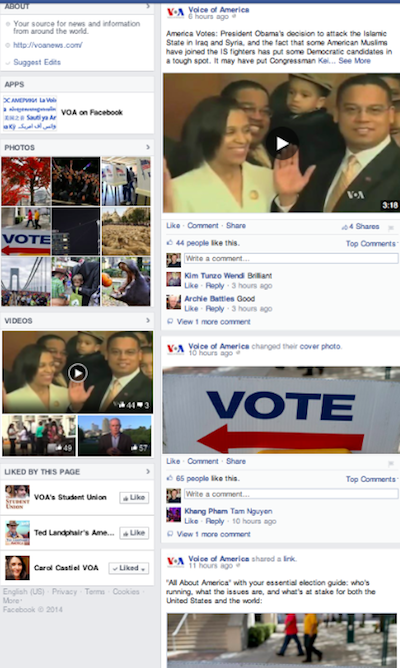 10:00PM ET 11-4-14 VOA LATEST, ON-DEMAND, ONLINE RADIO NEWSCAST. This Voice of America English newscast downloaded shortly after 10PM ET on U.S. election night, November 4, 2014, did not have a single U.S. news item and no U.S. election coverage whatsoever.