BBG Watch Commentary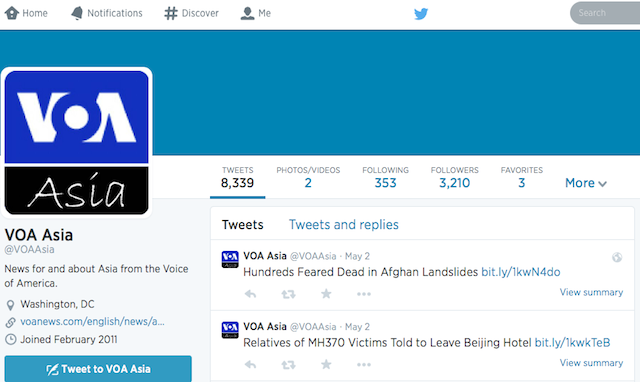 Executives in charge of the International Broadcasting Bureau (IBB), which operates radio transmissions for the Broadcasting Board of Governors (BBG), have once again shown their contempt for loyal radio listeners of many years, as well as for Voice of America (VOA), Radio Free Asia (RFA), and Radio Free Europe / Radio Liberty (RFE/RL) journalists and broadcasters who prepare shortwave radio broadcasts, which IBB just announced it wants to terminate at the end of the day on June 30, 2014 in a massive and in most cases complete cut affecting many countries without free media: Belarus, Caucasus, Iran, Tajikistan, Turkmenistan, Uzbekistan, Azerbaijan, Iraq (Kurdish), Cambodia, Laos, and Vietnam.
All shortwave frequencies will also be eliminated for Voice of America English radio broadcasts to Asia, VOA English teaching programs, and VOA programs to Bangladesh as of June 30, 2014, an internal VOA memo said.
The VOA memo also promised to give radio listeners in Asia less than 24 hour notice [Emphasis added by us.] of the dropping of shortwave radio broadcasts and promised that from now on, VOA will go all digital in Asia.
INTERNAL VOICE OF AMERICA MEMO: "Let's break the news about this change to our audiences starting Sunday night. I doubt specific frequencies are critical to announce. The important point to make for our listeners is that we encourage their continued listening through local affiliates, and on the web at voanews.com."
VOA Asia programmers had no clue as of most of the day Friday that shortwave radio transmissions of their VOA English broadcasts to Asia will end on Monday.
Thank you shortwave listeners of Daybreak Asia and China Focus. I had less notice we're off the air than many of you. #blindsided

— Jim Stevenson (@VOAStevenson) June 29, 2014
#VOA will abruptly cease English language shortwave #radio transmissions to #Asia after tomorrow (Monday).

— Steve Herman (@W7VOA) June 29, 2014
For millions of listeners, shortwave radio is the only means to hear Daybreak Asia, today it's for the last time… http://t.co/cBMvtCfgyA

— Jim Stevenson (@VOAStevenson) June 29, 2014
#VOA English language via shortwave to Africa will continue. Broadcasts in 6 other languages also silenced this week.

— Steve Herman (@W7VOA) June 29, 2014
Shortwave radio cutbacks also affect @RFERL and #@RadioFreeAsia. Requested by @BBGgov and approved by Congress.

— Steve Herman (@W7VOA) June 29, 2014
Despite private social media outreach by individual VOA broadcasters like Jim Stevenson and Steve Herman, all digital strategy for VOA Asia does not look very good. The official VOA Asia Twitter account has not been updated since May 3, 2014 (today is June 29, 2014) and it has, as of today, only 3,210 Twitter Followers.
After spending millions of dollars on their "digital projects" and destroying VOA's news reporting, IBB and VOA executives have delivered the VOA English News Twitter account that has fewer followers (106K as of June 29, 2014) than the UN Peacekeeping Force Twitter (126K as of June 29, 2014). Even the State Department Twitter account has close to one million followers (962K as of June 29, 2014); some members of Congress have more than VOA English News; BBC, CNN, and NYT have several million each. Russia's RT Twitter has 679K Twitter followers as of June 29, 2014.
The Voice of America's niche has always been providing news to the most disadvantaged and most oppressed nations and communities around the world, but IBB and VOA executives are trying to change this model and turn VOA into a regular, commercial global news outlet like CNN. Their plan is not working. The U.S. Congress wants to reform the entire agency, but especially the International Broadcasting Bureau and the Voice of America.
In the meantime, audiences in Asia and the Middle East are about to lose their VOA shortwave radio broadcasts without any prior announcement. That's how much these IBB bureacrats think about radio listeners.
ALSO READ: PCJ Radio making fun of Voice of America and BBG executives on radio cuts to Asia and Middle East, BBG Watch, June 29, 2014.
ALSO READ: Bureaucrats gave listeners little time to learn about shortwave cuts by VOA, RFA, and RFE/RL, BBG Watch, June 28, 2014.