BBG Watch Commentary
Who is "BBG Chairman Joh Lansing"?, as a recent Broadcasting Board of Governors press release described him. The press release has been now online for four days.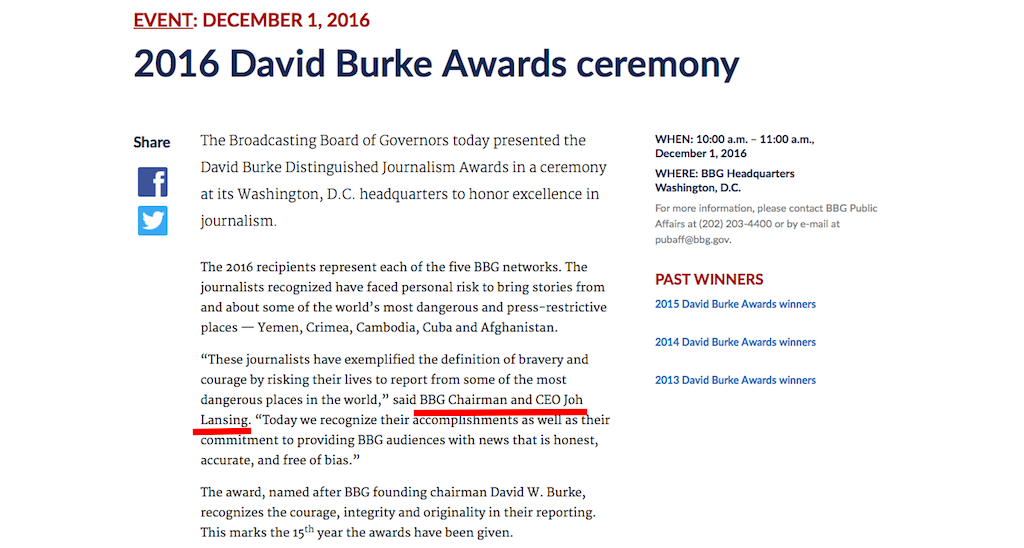 No, his name is not Joh Lansing, but John F. Lansing. He is not BBG (Broadcasting Board of Governors) chairman, but its CEO and director. The BBG is a highly dysfunctional federal agency, which Washington Post columnist Joe Davidson described under John Lansing's tenure as "regular bottom feeder…going backward" in employee engagement and employee assessment of senior leaders.
Getting the name and the title of the agency's head is bad enough, but the fact that the mistake in the press release has not been corrected after more than four days of being online shows that the agency is truly dysfunctional and lacks effective leadership or, as then former Secretary of State and herself a BBG Board member Hillary Clinton put it in 2013, this agency is "practically defunct." Several VOA and BBG journalists and other employees have pointed out the press release mistakes to us, but none was planning on alerting John Lansing or his senior executive staff. This speaks volumes of how the agency is managed.
The press release in itself may not have a lasting significance, although it is indicative of the lack of good leadership and management that plagues this agency. Some of the other recent slip-ups at the BBG are far more disturbing and even harder to believe that such things could happen when the West is under the assault by Russian and ISIS propaganda. Sadly, it is all true. If anyone needs proof that an irredeemable U.S. federal agency is still headed by a top official who lacks critical experience to be in charge of U.S. public diplomacy outreach and does not read his own press releases, all they need to do is to watch some of the agency-produced "news" videos.
The agency is running U.S. international media outreach, including the Voice of America (VOA). Its annual budget is $777 million (FY 2017). The U.S. House of Representatives has already passed last week a bipartisan amendment that would abolish the agency's ineffective part-time oversight board. The Senate is expected to pass it and President Obama will most likely sign the legislation, the National Defense Authorization Act for Fiscal Year 2017, containing the amendment pertaining to the BBG.
But this still leaves the agency for the time being under its executive head, CEO and Director John F. Lansing, a former private entertainment TV manager who has never before managed a federal agency, was never in charge of international news outreach or U.S. inter-cultural communications abroad, and never before worked in U.S. foreign policy or U.S. public diplomacy fields.
There is potentially good news.
Under the new proposed legislation, President-elect Donald Trump will have a chance to name Mr. Lansing's successor, but the selection process may take many months. For the time being, the agency is expected to continue to drift under its bloated and ineffective bureaucracy, to which John Lansing and Voice of America director Amanda Bennett are adding new positions as quickly as they can.
To make things worse, despite their dismal performance, senior bureaucrats nevertheless continue to get effusive praise from Mr. Lansing, outgoing BBG Chairman Jeff Shell, and VOA director Amanda Bennett.
Examples of lack of leadership and mismanagement abound. Sadly, under Mr. Lansing's and Ms. Bennett's watch, the Voice of America produced a hit video against Donald Trump, in which the future U.S. president was called "dog", "pig" and other insulting names. In violation of the VOA Charter, which is U.S. law, neither Donald Trump nor any of his supporters were given a chance to respond to this attack presented in the VOA video with foreign language subtitles and English-language audio.
The VOA video was available through social media to anyone, including U.S. voters. While VOA eventually removed the video under pressure from critics, it took the management several days to remove it. Similar one-sided attacks were presented in VOA programs against Bernie Sanders (D-VT) and Senate Democratic leader Sen. Harry Reid (D-NV).
Sloppy BBG Press Release
We have waited several days in the vain hope that someone among the fabulous superstars in the ranks of BBG/VOA management team would notice and take corrective action, but it seems that several days later John F. Lansing is still being identified in a BBG press release as BBG Chairman [sic] Joh [sic] Lansing.
Chairman?
Joh -pronounced "Jah…" as if choking on the "n"?
The press release wrongly identifies John F. Lansing as BBG Chairman. He is not BBG Chairman. The current outgoing BBG Chairman is Jeff Shell. John Lansing is BBG CEO and Director. His first name is John. We are not aware that he had changed his name or that his title was changed, because it couldn't be.
But why would John Lansing's own staff at the agency try harder if, despite all the evidence to the contrary, Mr. Lansing, Ms. Bennett and BBG chairman Jeff Shell heap effusive praise on the senior BBG bureaucrats, calling them "fantastic," "fabulous," even "amazing." One BBG member used the term "superstars."
One observer commented: "'The place wouldn't be what it is today without that group,' Jeff Shell said. He managed to accidentally stumble on the truth."
"It's Romper Room in that place. Desperately in need of adult supervision. Let's hope the new legislation will help," said one former BBG employee
Sloppiness and bias, so typical of this agency these days under John Lansing and VOA director and deputy director Amanda Bennett and Sandy Sugawara, are an affront to many of its hard-working journalists whom the BBG press release rightly honors. As one former senior agency official observed: [Criticism of the BBG's leaders] "is in no way to demean the many fine journalists, engineers and technicians and even many administrative staff who did their best. But the rewards and accolades of service soon seemed to go, more and more, to the 'watchers' rather than the 'doers.'"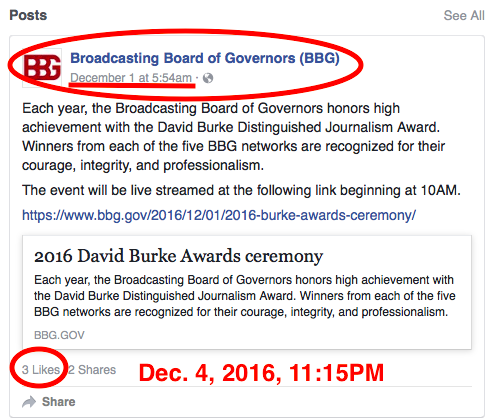 The fact that the BBG Facebook post for this BBG press release got only three "Likes" (3) in several days tells a lot what BBG employees think of their management, not to mention the fact that the agency and its misleading upbeat pronouncements have absolutely no resonance in the wider world.
How can even employees who were rightly honored share a Facebook post with a link to a press release so sloppily written by the BBG executive staff? It is an embarrassment for anyone who is proud of his or her work to have to work under such management.
We are sorry also to point this out, but it seems to us that neither Mr. Lansing, BBG's outgoing chairman Jeff Shell, Ms. Bennett, Ms. Sugawara nor any single BBG board member is regularly looking at the VOA websites.
If they did, perhaps we would not have VOA videos referring to Donald Trump as "dog" and programs smearing the reputation of Bernie Sanders and Sen. Harry Reid without them being given a chance by to defend themselves in the same programs, as required by the VOA Charter and VOA Journalistic Code.
We are also disappointed that senior BBG and VOA leaders chose to ignore earlier warnings pointing out that a Russian Tank Cat video produced by VOA was lifted from a video distributed earlier on Russian propaganda media outlets RT and Ruptly where it was originally placed before VOA decided to pick it up. It is one of many such Russian government propaganda videos designed to whip up patriotic fervor among the Russians and to present Russia abroad as a friendly country that does not threaten anybody with violence and annexations of territory. The broken Voice of America was once again taken for a ride by the Russian propagandists.
The Broadcasting Board of Governors and the Voice of America need leadership that understands foreign propaganda and can defend the United States from it rather than unwittingly helping Russia spread its propaganda abroad, as well as in this country.
Enough is enough.





SEE the original Russian SPUTNIK and Russian RT tank cat propaganda videos.


SPUTNIK Russian tank cat propaganda video was published on November 3, 2016.





RT video was posted on YouTube on November 6, 2016.