BBG Watch Commentary
Broadcasting Board of Governors (BBG) CEO and Director John Lansing, a successful former entertainment TV executive but with no prior experience in government, international news media or foreign policy, brags about watching the "exceptional team" during his one year tenure at the federal agency "achieve strong audience growth, give life to exciting new content opportunities, particularly in digital and mobile media, push for industry-leading ways to achieve impact in our programming, as we collectively work to inform, engage and connect with people in support of freedom and democracy."
"VOA's Extremism Watch is on the frontlines of investigative reporting," said Voice of America Director Amanda Bennett, who while being an award-winning (Pulitzer Prize) journalist has had no prior experience in running large international news media organizations. With support from John Lansing and the BBG Board, she has pushed for one-sided panels, such as the one with young American Muslims, which violate the VOA Charter and the VOA Journalistic Code because they lack balance and often produce false claims, which are then repeated without challenge in VOA news reports and press releases.
"[VOA's Extremism Watch] enhances our coverage of violent extremism and terrorism," Bennett insisted in a recent press release. This is one of many such claims coming from BBG executives, which on closer examination are unsupported by facts and audience research.
Critics point to a starkly different reality of the Voice of America (VOA) and Radio Free Europe / Radio Liberty (RFE/RL) repeating Russian and Chinese propaganda, contributing to the personality cult of various dictators, and posting fluff videos to increase "Likes" while initiatives that should produce impact, such as the VOA Extremism Watch Desk, show absolutely zero audience engagement for nearly all of its Facebook posts, even when terrorist attacks are taking place on American soil, as they did last weekend.
Former Broadcasting Board of Governors member, radio journalist Blanquita Cullum, has called some of these one-sided VOA and RFE/RL reports with unchallenged foreign propaganda claims "disgraceful and shameful."
Audience engagement at the Voice of America is in most cases dismal. Take a look at the number of "Likes" and "Comments" for several recent VOA Extremism Watch Desk Facebook posts. There is none for the vast majority of these posts.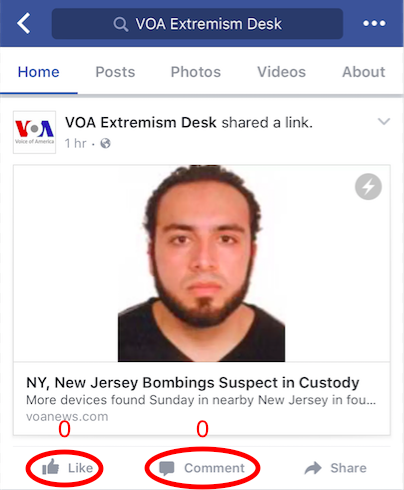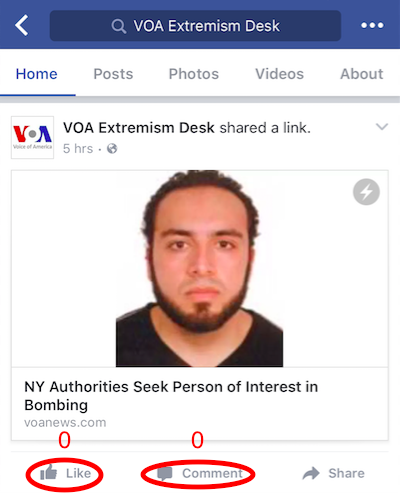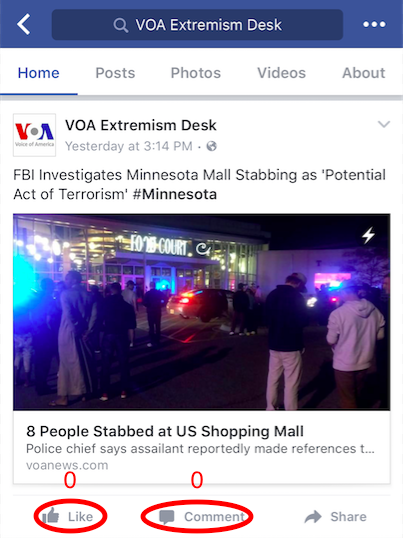 Even though the VOA Extremism Watch Desk was reposting to Facebook VOA News reports on the latest terrorist attacks in the U.S., while getting no audience engagement of any kind for these posts, the actual VOA Extremism Watch Desk website was not being updated even on Monday.
As of Monday, September 19, 2016, 6:30 PM ET, there are no reports on the VOA Extremism Watch Desk website about the terrorist attacks in New York City and in Minnesota. The latest story on the VOA Extremism Watch Desk website is from Sunday.
The VOA News homepage was being updated, but VOA was behind other major U.S. and international media organizations in reporting on the weekend terrorist attacks. One of the changes that happened under BBG CEO Lansing and VOA Director Bennett was the disappearance from the VOA website of story time stamps, which were introduced after criticism from BBG Watch through the intervention of BBG member Matt Armstrong. The numbers of Facebook "Likes" have also disappeared from the redesigned VOA website under the new management. This helps VOA to cover up being late in posting news stories and to obscure the lack of any significant audience engagement for VOA News English reports and VOA reports in many other languages.
The main VOA News English Facebook page has more "Likes" for its posts but almost no comments, which may indicate that the "Likes" are bought with Facebook ads, but they produce no real audience engagement.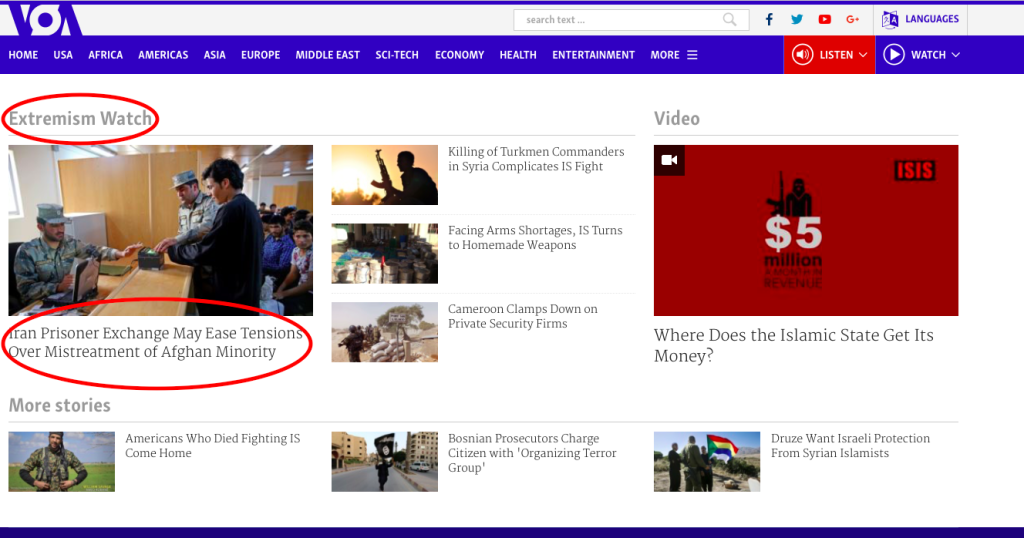 Even on the VOA News homepage, it was clearly seen at 7:00 PM ET Monday that the VOA Extremism Watch Desk reports on its website were not being updated. The window to the right on the VOA News homepage shows three dated VOA Extremism Watch reports.
The Voice of America may have not yet concluded that the stabbings in Minnesota and the bombings in New York City qualify as extremism, but a more likely explanation is that VOA and its BBG parent agency are in a state of complete dysfunction, mismanagement and chaos under well-meaning but inexperienced and ineffective top executives being assisted by failed managers whom they failed to replace.
VOA News reported Sunday that the leader of the Somali community in Minnesota told VOA Somali Service that the suspect in the stabbing attacks, Dahir Adan, "was known to the community," was working as a part-time security officer, and was a "smart and reliable person." VOA was also quoting the leader of the Somali community as saying that "he thought the stabbings had no links with terrorism [emphasis added by BBG Watch], despite a claim by an Islamic-run news agency that the attack was carried out by a 'soldier of the Islamic State'." Such reporting of self-serving and naive claims without any significant challenge has been frequent on the VOA Extremism Desk website.
Ironically, one of the recent VOA Extremism Watch Desk posts is titled: "Is Islamic State Losing Ground But Winning the War of Ideas?"
###
BROADCASTING BOARD OF GOVERNORS PRESS RELEASE
August 12, 2016
WASHINGTON, D.C. — The Voice of America boosted its coverage of extremism and terrorism this week with the hard launch of a new webpage on its Central News website, voanews.com.
VOA's Extremism Watch desk monitors news related to extremism around the world. It takes an in-depth look at the stories behind the headlines to give audiences what most Western media do not report.
"VOA's Extremism Watch is on the frontlines of investigative reporting," said VOA Director Amanda Bennett. "It enhances our coverage of violent extremism and terrorism. The desk shares information with other U.S. government civilian broadcasters — Radio Free Europe/Radio Liberty, the Office of Cuba Broadcasting, Radio Free Asia and the Middle East Broadcasting Networks — to provide audiences around the world in-depth analysis, while adhering strictly to the VOA Charter, which mandates accurate, balanced and comprehensive reporting."
The Extremism Watch desk works closely with all of the Voice of America's 44 language services to tell the full story as it translates and pursues reports in Urdu, Pashto, Turkish, Kurdish and other VOA broadcast languages for worldwide radio, television and social media distribution in English.
About VOA
Voice of America reaches a global weekly audience of more than 187 million people in more than 40 languages. VOA programs are delivered on satellite, cable, shortwave, FM, medium wave, streaming audio and video and more than 2,350 media outlets worldwide. It is funded by the U.S. Congress through the BBG.
###
VOA/BBG PRESS RELEASE
June 29, 2016
What is it like to be a young Muslim in America?
"It definitely is a struggle — not only being a Muslim, not only being a Muslim American — being Somali, being black, being young — there're a lot of identities that you have to reconcile," said Mohamed Hussein of the Somali American Youth Foundation in Virginia, one of the panelists in a discussion broadcast by the Voice of America on Tuesday from the Newseum in Washington.
"Being Young and Muslim in America" was moderated by the VOA Afghanistan Service's digital managing editor, Akmal Dawi in the wake of the carnage in Orlando that has left lingering questions about how young Muslims are assimilating into the American mainstream. "We've heard from pundits, we've heard from experts, we've heard from political figures about what Muslim Millennials feel, think, need and want," said VOA Director Amanda Bennett. "Through this panel discussion with these Muslim Millennials themselves, we were able to understand the tensions they feel and the hopes they have."
"When a Muslim does something like that [i.e., carryout a mass shooting like the recent attack in Orlando], it's all over the media. But when a Westerner does the same thing, it doesn't have the same impact," said Morsal Mohamad, president of the Afghan Students Association at The George Washington University.
"A lot of these people who give a bad name to Islam don't even come to the mosque," said Mohamed Hussein, executive director of the Somali American Youth Foundation, who also appeared on the panel.
"I think that oftentimes people try to split it [i.e., the Muslim community] into moderate Muslims and conservative Muslims, but there is a lot of diversity past that. And I think that that's one of the nuances that gets lost in discussions about Islam in the U.S.," said Oya Rose Aktas, a research assistant at The Washington Institute for Near East Policy and another panelist on the program.
"I also think that focusing on cyber radicalization kind of loses sight of the bigger picture," Aktas added. "You have to focus more on community groups; you need to focus more on human interactions; you need to focus more on making sure that people are living fulfilling, satisfying lives outside of the Internet."
Othman Altalib, a board member at the ADAMS Center, one of the largest Muslim organizations in the United States, said that most U.S. Muslim groups have not been able to effectively counter the Islamic State's appeal to disaffected youth. "Let's get our youth involved in the community," he said. "We should lead by example," added Mohamad, citing the need for Millennial Muslims and Muslim leaders in the United States to serve as "examples to follow."
Hussein noted that the U.S. Muslim community is diverse and that each person brings a different experience based on his or her country of origin. He said mosques and Muslim community centers engage worshipers in conversations about democracy in America, and added that they approach voting as the best way to express free will and preserve freedoms. "We don't tell them who to vote for," he said.
"Our common American experience is what unites all of us living in this country," said Akbar Ayazi, director of VOA's South and Central Asia Division. "No matter what god we believe, what faith we follow; no matter what background we have, no matter where we come from — we have one thing in common and that's our humanity. We all pursue the same ideal, which is the American dream."
The event was streamed live on multiple VOA language platforms, reaching audiences around the world. More than 67,000 people watched on the VOA Central News Facebook page alone. In addition, #YoungMuslimVOA trended on Twitter throughout the broadcast.
About VOA
Voice of America reaches a global weekly audience of more than 187 million people in more than 40 languages. VOA programs are delivered on satellite, cable, shortwave, FM, medium wave, streaming audio and video and more than 2,350 media outlets worldwide. It is funded by the U.S. Congress through the BBG.
Through its eight services on radio, television and the Internet, VOA's South and Central Asia Division broadcasts news and information about America and the world to regions that are vulnerable to extremism and terrorism. The division's Afghanistan Service reaches roughly 40 percent of the country's adult population with programming in Dari and Pashto. The Azerbaijani Service reaches audiences in Azerbaijan and neighboring provinces in Iran. The Bangla Service serves Bangladesh and the Bangla-speaking Indian states of West Bengal, Assam and Tripura as well as several Arab and Muslim countries. VOA Deewa broadcasts to the Pakistan-Afghanistan border region, where more than 50 million Pashtuns live. The Urdu Service serves Pakistan and diaspora communities. The Kurdish Service reaches more than 30 million Kurds living in the Middle East and Eurasia. Turkish Service programming is vital to a nation where press freedom increasingly is restricted. The Uzbek Service reaches audiences in Uzbekistan, Central Asia and Afghanistan. And the newly established Extremism Watch Desk also supports VOA's mission by enhancing the agency's in-depth coverage of extremism around the world.
###
BBG CEO John Lansing's Perspective

From: IBB Notices Admin
Sent: Wednesday, September 14, 2016 2:12:22 PM
To: IBB Notices Administration
Subject: Year in Review & Looking Forward
Dear Colleagues,
Today marks my one year of service at the Broadcasting Board of Governors, and I continue to be impressed by the dedicated group of people who work here in the Cohen Building, across our five BBG brands, and around the world.
Over the past year I have watched this exceptional team achieve strong audience growth, give life to exciting new content opportunities, particularly in digital and mobile media, push for industry-leading ways to achieve impact in our programming, as we collectively work to inform, engage and connect with people in support of freedom and democracy.
Together, we have achieved a lot.
The ICC – Strategic Coordination
One of the most impactful things we did last year was form the U.S. international media Coordinating Committee (ICC) to facilitate strategic coordination across the BBG's five networks and the IBB. There have been substantive improvements in favor of our key audiences based on this coordinated and strategic approach from Russia to China, Iran, Cuba, North Korea and covering CVE. The ICC now meets twice a month with me to discuss further collaboration and jointly worked with the IBB to develop and submit our FY 2017 and FY 2018 budgets.
Measuring BBG's Impact on Key Audiences
Equally important, together we are growing our focus on achieving impact through our journalism. BBG reaches an audience of 226 million weekly, which only goes to show the hunger for our accurate and reliable content around the world. But it is also clear that reach is not enough – we need our journalism and programming to impact the lives of our audiences and their communities as well. That is why I was so pleased when, in February of this year, we hosted an Impact Summit where research directors of each BBG network came together and agreed upon an enhanced Impact Model to evaluate all BBG content.
Aggressive Push into Digital / Mobile / Social
We also made several advancements to increase access and engagement on social/mobile platforms to reach younger, more urban audiences, future leaders and influencers. There already was a lot of work being done in this area before I arrived, but I am proud to say that we are pushing the envelope significantly further. In just a few weeks, we will convene a Social Media Summit to look at best practices across BBG, establish baseline expectations, and promote future growth in mobile / social media across our networks.
Putting Our Audiences First – On Their Terms
And we continue to create and scale up innovative and compelling new content and reporting that is making a difference around the world. For instance:
— MBN's multi-platform Raise Your Voice initiative is connecting audiences in the Middle East as they fight back against ISIS recruitment
— OCB's aggressive push to open up Cuba to Internet freedom
— RFA's powerful investigative stories halting the construction of faulty health clinics by North Korea in Africa
— RFE/RL's collaborative success story with an expanded Current Time on all platforms and aggressive DIGIM strategy
— VOA's collaboration on Current Time, and its successful launch of the Global Town Hall in Somalia
And there is so much more being done across our networks, and at the IBB, that I simply do not have space to list them all here.
None of these advancements would be possible without your tireless support, commitment, and mission-driven energy – whether you are contributing to the team at IBB or serving in any of the many responsibilities at our networks. It is YOUR work that earns our audiences' respect as a trusted source of news and safe access to a free Internet.
Yet, while this has been a remarkable year and we made many strides, there is still more we need to do to continue to transform our global operations to succeed in today's rapidly evolving media environment. I look forward to working alongside you for the next year to do just that.
But, for the moment, I only wish to say this: I am proud to come to work every day and work alongside all of you to achieve our important mission. The BBG team is an extraordinary one, and I thank you for welcoming me.
With sincere gratitude,
John F. Lansing
CEO and Director
Broadcasting Board of Governors