BBG Watch Commentary
UPDATE: After BBG Watch posts were published and after the sex-before-jail report stayed on the Voice of America French to Africa Service website for five days as its number one "USA News" story, the VOA report, which was a word-for-word reposting of an AFP report with a misleading photo provided by VOA, was finally removed from the VOA website altogether and the service started to update its U.S. news more frequently.
The Voice of America (VOA) French to Africa Service posted on Friday as its top USA News story a four-days-old AFP report about an American couple in Florida which kept the police waiting to arrest them at their mobile home because "they wanted to make love one more time." As of 1:00 PM Monday, this days old AFP report is still Voice of America's top USA News story in French.
The Voice of America, U.S. taxpayer-funded ($200 million annually) multi-language and multi-media news outlet for audiences abroad, has discovered that sex sells.
Because it has been mismanaged for many years–with public resources diverted to its bureaucratic federal agency, the Broadcasting Board of Governors (BBG) rather than used on solid journalism–the Voice of America in many cases is no longer capable of timely coverage of significant news. VOA English News and many of VOA's foreign language services have minuscule following on social media when compared to such giants as BBC and even Russia's RT.
Some of BBG's non-federal entities, such as Radio Free Europe / Radio Liberty (RFE/RL), are slightly better managed, but they are also experiencing management problems as well as interference from the BBG bureaucracy. When not hampered by BBG bureaucrats and starved for resources, at least some of these so-called "surrogate" entities, which also include Radio Free Asia (RFA) and Middle East Broadcasting Networks (MBN), deliver highly-sought uncensored news and commentaries to countries without free media. According to the 1976 VOA Charter, the Voice of America should be doing the same, but with a focus on international and U.S. news, U.S. foreign policy, and American society and culture. The Voice of America is a federal entity of the U.S. government funded by the U.S. Congress, but many say it is confused about its mission, largely because of poor leadership. VOA news in English and in other languages are often late, not updated and increasingly trashy.
During the debate of Democratic presidential hopefuls in Las Vegas, NV last week, VOA English News correspondents got one or two re-tweets (six was the highest number; most of their tweets had none); a BBC reporter got dozens of re-tweets; one of his tweets during the debate was re-tweeted more than a hundred times. As it is often the case, VOA was late in posting on its websites and social media even on the debate's U.S. foreign policy issues.
But while unable to engage audiences on social media with serious international news reporting and U.S. news coverage, VOA English and foreign language services increasingly turn to sensational stories.
On Sunday, VOA English posted on Facebook a four-days-old video of the Russian bear trapped in a shopping mall in Khabarovsk. The VOA video was poorly produced and failed to note where and when the incident occurred (it happened four days earlier). Worst of all, VOA mindlessly repeated the official Russian version, promoted by RT four days earlier, that the Russian police had no choice in killing the bear. BBC, also earlier, had questioned that claim.
But in terms of shamelessly trying to increase social media stats while actually distorting U.S. news and America's image abroad, nothing recently beats Voice of America French to Africa Service posting on its website as its top U.S. news item this report about an American couple in Florida which kept the police waiting to arrest them at their mobile home because "they wanted to make love one more time." The Voice of America French to Africa Service posting was in fact a re-posting of an Agence France Press (AFP) news report from the United States which is by now four-days-old but is still number one U.S. news item on the VOA site.
This number one Voice of America U.S. news story on the French to Africa website has been in place for many days since 6:20 PM Friday, October 16, 2015. It is still number one U.S. news item on the VOA news site as of 1:00 PM Monday, October 19. The incident happened five days ago.
The French news agency AFP and many French-language news outlets worldwide had the story four days ago. The Voice of America French to Africa Service report posted Friday is in fact a word-for-word reposting of a four-days-old AFP news report. It is still number one USA news story on the VOA French-language website as of Monday noon.
VOA French to Africa Service frequently re-posts online entire AFP reports, often choosing the most salacious ones. If a report turns out to have erroneous information, it is often not corrected by the service. Some of these AFP reports on the VOA website are already outdated by the time they are posted. According to some sources, the service has better-edited radio and TV programs to Africa. The service is showing better Facebook stats than many other VOA services. Many of its posts show zero comments, at least on the website, but there are comments, "Likes," and "Shares" on the French to Africa Facebook page.
As of 3:30 PM Monday, the Facebook post on the "making love" story is showing 243 "Likes," 29 "Shares" and six comments.
#USA: un couple résiste à son arrestation pendant six heures pour faire l'amourPlus de détails ici : http://bit.ly/1Pnrjzu Rendez-vous sur www.voaafrique.com

Posted by VOA Afrique on Sunday, October 18, 2015
We are not opposed to fun or to some human interest stories on the Voice of America. Every serious news organization needs them to limited degree. They have to be tastefully done, usually in a tongue-in-cheek fashion. BBC does this splendidly. There are no excuses, however, for the Voice of America, which is funded by U.S. taxpayers, for posting as its number one USA News story an AFP report which is four-days-old and has zero news value and does not offer any deeper understanding of U.S. society or culture. The Voice of America now employs may poorly-paid and poorly-supervised contractors, but we do not know whether a contractor or permanent VOA French to Africa Service staff reporters and editors were responsible for posting the faire l'amour story from a French news agency. Employing and exploiting contractors, while at the same time cutting English and foreign language broadcasts, has allowed BBG bureaucrats to expand their ranks.
Because of poor management and inadequate funding, the Voice of America is essentially nine-to-five, Monday-through-Friday news operation and even then it often fails to be timely or comprehensive in its news reporting. The VOA Newsroom is largely deserted at night and on weekends. BBG, IBB and VOA supervisors and managers mostly do not work on weekends because they don't want to and nobody has asked them to do it. Including their so-called $10,000 "bonus men," they don't even bother to look at VOA websites, although it is not at all certain that they would be able to spot these embarrassing stories and news reporting mistakes.
Unlike AFP, VOA French to Africa Service used a Reuters photo of an American mobile home that has nothing to do with the story or the location. This is worse than a high-school journalism class newspaper. One could wonder jokingly that perhaps the Voice of America wanted to show that this is what happens to a mobile home when an American couple makes love, but the impression abroad is likely to be quite different.
The VOA French caption says: "Un mobile home dans un parc où d'autres maisons de ce genre ont été détruites par une tornade à l'ouest de Shawnee, Oklahoma, 19 mai 2013." ("A mobile home in a park where other houses of this kind were destroyed by a tornado west of Shawnee, Oklahoma, May 19, 2013.") This old photo posted by Voice of America has nothing to do with the Florida story.
The Russian bear video posted on Sunday on the VOA English News Facebook page was also four days old.
But bears and sex seem to be some of the few topic still getting VOA some attention on social media.
As of Monday noon, VOA's faire l'amour report is showing 1,100 Facebook Shares. On the other hand, it also shows zero Tweets and zero comments from readers.
Since a few weeks ago, the Broadcasting Board of Governors ($740 million annual budget from the U.S. Treasury) has new CEO John Lansing. He needs to move fast to clean up this mess.
In any dysfunctional organization, righting the ship would mean getting rid of failed executives and managers, but Voice of America and the BBG's International Broadcasting Bureau (IBB) executives and managers responsible for the meltdown of the agency are U.S. federal government employees. They earn high salaries and have job protections.
Reforming the agency will not be easy. Many doubt that it can be done without a complete restructuring imposed by the administration and the Congress.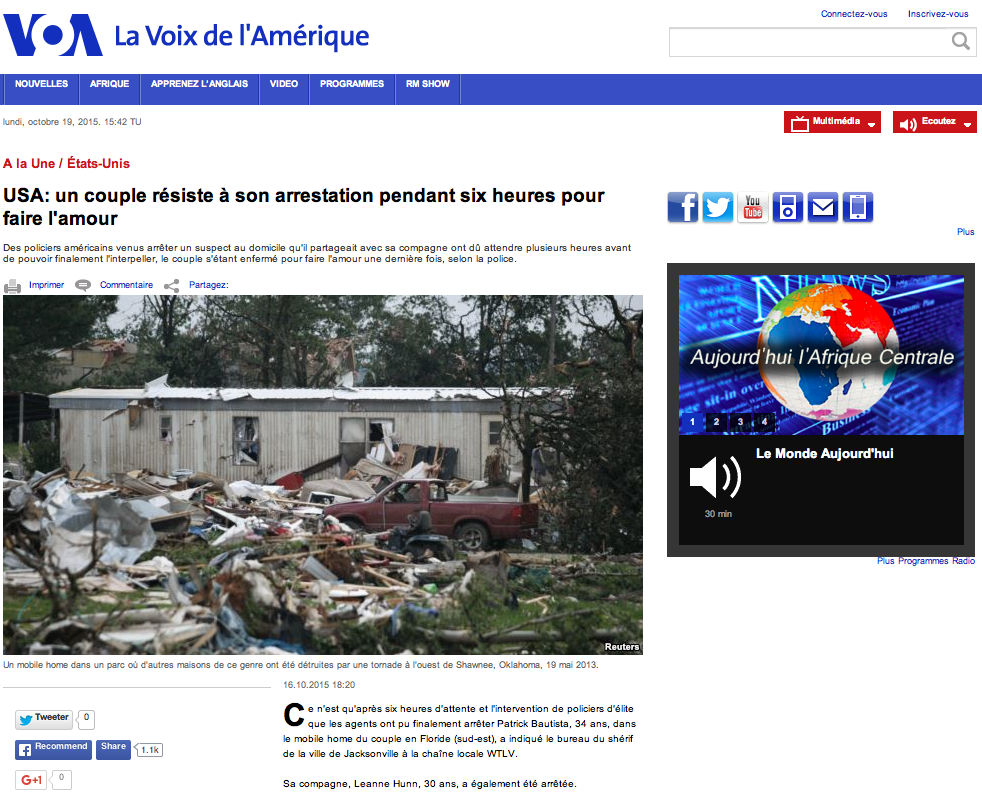 Voice of America French to Africa Service
A la Une / États-Unis
USA: a couple resists arrest for six hours to make love
Des policiers américains venus arrêter un suspect au domicile qu'il partageait avec sa compagne ont dû attendre plusieurs heures avant de pouvoir finalement l'interpeller, le couple s'étant enfermé pour faire l'amour une dernière fois, selon la police.
US police coming to arrest a suspect at the home he shared with his partner had to wait several hours before they could finally detain the couple which wanted to make love one last time, according to police.
16.10.2015 18:20
October 16, 2015, 6:20PM


Ce n'est qu'après six heures d'attente et l'intervention de policiers d'élite que les agents ont pu finalement arrêter Patrick Bautista, 34 ans, dans le mobile home du couple en Floride (sud-est), a indiqué le bureau du shérif de la ville de Jacksonville à la chaîne locale WTLV.
Only after six hours of waiting and the intervention of elite police agents that the police could finally arrest Patrick Bautista, 34, in the couple's mobile home in Florida (southeast), the sheriff's office in the city of Jacksonville told the WTLV local station.
Sa compagne, Leanne Hunn, 30 ans, a également été arrêtée.
His girlfriend, Leanna Hunn, 30, was also arrested.
Munis d'un mandat d'arrêt pour cambriolage à main armée, les agents se sont présentés au domicile mercredi soir pour interpeller Patrick Bautista. A l'intérieur du mobile home, ce dernier et sa compagne n'étaient pas armés mais ils ont refusé de sortir.
Armed with a warrant for his arrest for armed robbery, officers arrived at the home on Wednesday night to challenge Patrick Bautista. Inside the mobile home, he and his companion were not armed, but they refused to come out.
Pendant les négociations avec la police, Leanne Hunn a dit aux agents qu'ils accepteraient de sortir "mais qu'elle voulait faire l'amour une dernière fois" avec lui, a rapporté la chaîne WTLV.
During negotiations with police, Leanna Hunn told the officers they would come out, "but she wanted to make love with him one last time," WTLV reported.
Les agents ont finalement décidé d'appeler les policiers d'élites du SWAT pour faire sortir le couple.
The officers finally decided to call the elite police SWAT team to force the couple to leave the home.
Ils ont été inculpés pour séquestration, après avoir retenu une femme chez eux contre sa volonté, et sont accusés d'avoir résisté aux forces de l'ordre sans opposer de violence.
They were charged with kidnapping, after keeping a woman at home against her will, and non-violent resisting of law enforcement.
Avec AFP
With AFP