BBG Watch Commentary
To see comments about Voice of America's English News election coverage, some of them from former Voice of America English foreign correspondents, click on one of the small icons at the bottom of the Facebook post from Dan Robinson or on his name at the top. Robinson is a former VOA Chief White House Correspondent, former foreign correspondent and former language service director. He retired from VOA earlier this year.
Here are excerpts from some of the comments from him and his former colleagues at VOA:
Bill Wyatt "This is disgraceful. These so-called newsroom managers need to stop dissecting how to make things better, when it is they who made things this bad."
Gary Thomas "It's like VOA has already given up – and much of the blame belongs squarely in the 3rd floor offices of ineffectual VOA director David Ensor and the bully of a managing editor Steve Redisch. Those two should be frog-marched right out of the building in a walk of shame between massed ranks of VOA employees."
Dan Robinson "Digital First or not, VOA failed to show its best face to the world. It was lame, and embarrassing."
Gary Thomas "We got off on the last lifeboats as the ship sinks. I feel sorry for the poor souls still left on board."
The Voice of America management wants the world to believe that it was OK not to have a single VOA English radio news item on U.S. elections in evening newscasts, only one short VOA English online report on the election results with very few and late updates, no live coverage of the elections on VOA English radio channels which were playing music most of the night, and not updating VOA English News Facebook and Twitter for many hours during the evening because one senior VOA English correspondent was doing Q and As on the U.S. elections with high value affiliates on radio and TV.
Just how many "high value" affiliates did this one VOA English correspondent have Q and As with during the evening and where were they? Does that mean that other radio, Internet, Facebook, and Twitter audiences do not deserve proper news coverage with frequent updates, live radio and live online video/TV coverage? Apparently not.
A former senior Voice of America foreign correspondent called election coverage by VOA in English "absurd and disgraceful state of affairs." VOA has an annual budget of $196.4 million (FY13) and 1121 employees, not counting hundreds of contract employees.
Some of VOA's foreign language services may have provided better coverage of U.S. elections, but many were also observed not updating their websites and Facebook and Twitter pages during the evening.
The Voice of America management, however, had a much more upbeat description of what VOA did on election night. The following segment appeared in a Broadcasting Board of Governors (BBG) press release. The bipartisan BBG board oversees VOA and other U.S. taxpayer-funded media outlets serving international audiences.
The Voice of America teamed up with radio and TV affiliate stations around the world to provide enhanced coverage of this year's midterm elections in each of its 45 languages, producing multiple TV packages on the elections and special coverage targeted to specific audiences. VOA journalists explained to global audiences the gravity of the elections, and brought them up-to-date news and analysis throughout the election process.

Prior to the elections, VOA National Editor Jim Malone penned the All About Americablog explaining the midterm elections. Election-day coverage included online updates on results and breaking news, with posts on social media in English and across VOA language services. VOA covered the broad span of midterm election news, including ballot initiatives, foreign policy implications of the results, and other aspects of the race.

VOA invited expert analysts on multiple shows to answer these questions of interest to overseas audiences. VOA State Department Correspondent Scott Stearns provided analysis of what the GOP victories mean for U.S. foreign policy.

In addition, VOA coordinated with partners and affiliates to bring live footage of the democratic process to the world. VOA broadcast live interactives before, during, and after election day with its partners across the globe, including RTHK and D100 in Hong Kong; 938LIVE in Singapore; Panamericana in Bolivia; Dozhd and Russian Business Channel (RBC) in Russia; and many others. In Nigeria, in addition to using VOA commentary, Channels TV highlighted a VOA story on Ebola's impact on the midterm elections to connect the crisis in West Africa with the U.S. vote. Numerous TV affiliates carried VOA programming across Eurasia, Africa, Asia and Latin America, where VOA's Spanish Service covered the midterm elections with its Washington Bureau Strategy for partner stations in the Americas.

VOA also went out into the field, to give audiences a closer look at the voting process. In one case, VOA Somali went into the polling stations in Minnesota and did a live program with Somalia, including Q&A with voter at the polls. Election day reporting in the field also included original video of voters and politicians in Iowa and Texas to provide a closer look at the issues and show democracy in action.

As of 3:20 AM ET, Wednesday morning, November 5, 2014, VOA's online "NOW PLAYING: Live audio" of VOA radio was playing non-stop music instead of providing news reports or analysis of U.S. elections results. The same was true during Tuesday evening. VOA radio newscasts available online Tuesday evening did not even mention U.S. elections and did not have any U.S. domestic news.
Continuous music on the main VOA English online radio channel on the morning after the U.S. elections.
Voice of America midnight (12:00AM ET 11-5-2014) radio newscast – not a word about U.S. elections

Voice of America Radio On Demand-Online World News 12 Midnight 11-5-14 Downloaded 12:40 AM
11:00PM ET – U.S. election night – hardly any Tweets from Voice of America English News
The last three VOA English News Tweets at 11:07 PM ET are four hours, two hours, and 40 minutes old.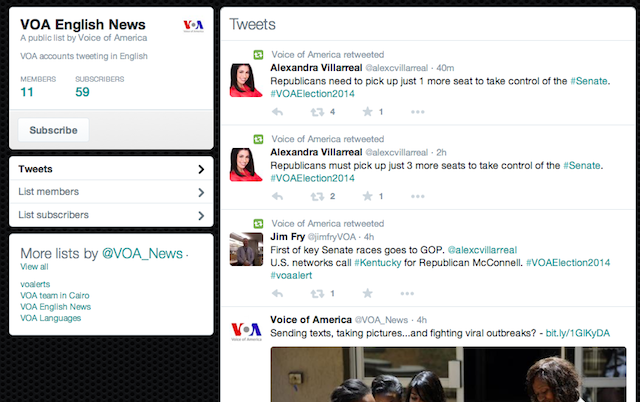 In addition to slow updating of Voice of America (VOA) English news website, VOA English news Twitter, and absolutely no U.S. election coverage on VOA radio in the last few hours, VOA English Facebook page is also not being updated with U.S. election results.
VOA has just posted some U.S. election photos on VOA English Facebook page, but the last substantive VOA English Facebook U.S. election related posts are now six and ten hours old.