BBG Watch Commentary
The mismanaged and ailing Broadcasting Board of Governors (BBG) and its mission are not even mentioned once in the White House FY 2019 Budget Summary document, but the agency still run by Obama administration era holdover officials was hit with a $24 million cut in President Trump's proposed budget for FY 2019, almost certainly because it ceased to demonstrate its relevance and good governance to the administration and the U.S. Congress.
For the upbeat view presented by the BBG's senior management see:
.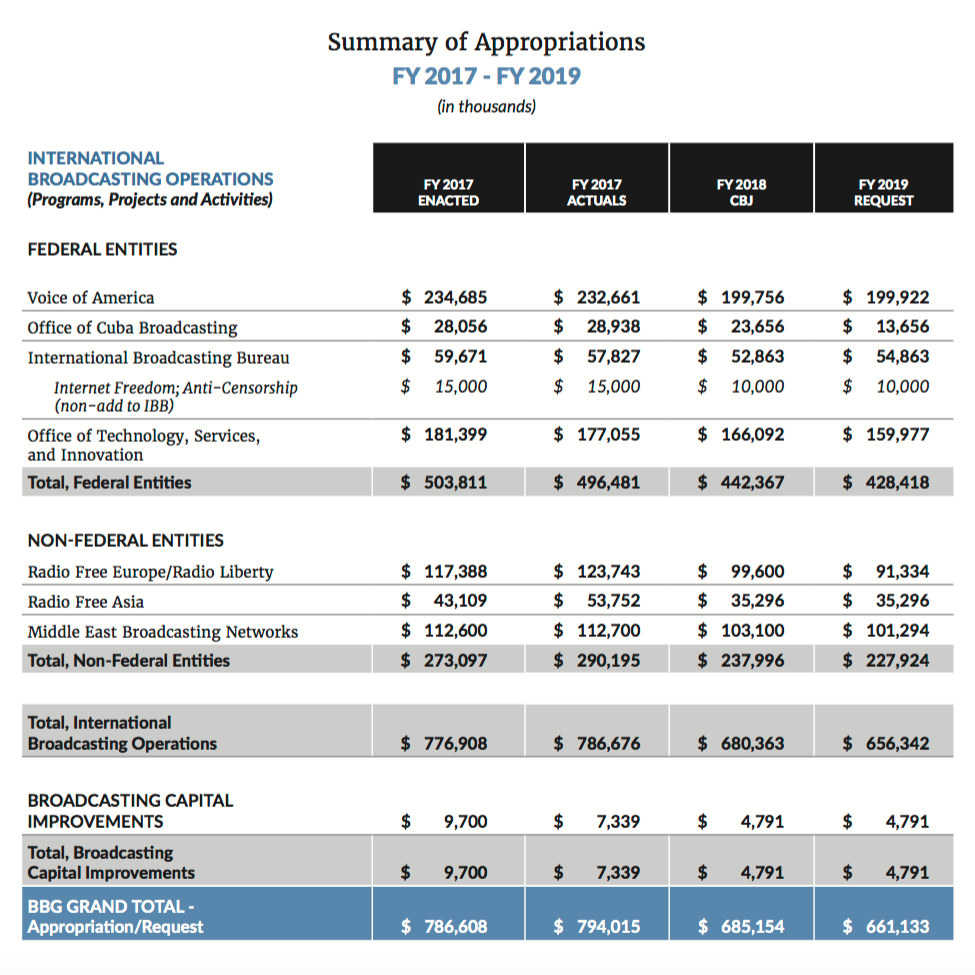 The $24 million cut comes after close to $109 million dollar proposed cut for the BBG in FY2018 Congressional Budget Justification (CBJ) as compared to the BBG's FY 2017 Actuals.
For Fiscal Year (FY) 2019, the Trump administration's budget request for the Broadcasting Board of Governors (BBG) is $661.1 million, as compared to $685 million in FY 2018 CBJ and $794 million in FY 2017 Actuals. This represents a cut of $133 million between FY 2017 and FY 2019.
A significant responsibility for this cut belongs to the current BBG senior management team led by BBG CEO John F. Lansing. It also falls upon the BBG Board appointed by President Obama which selected John Lansing and consented to his appointments of top leaders at the Voice of America (VOA) and Radio Free Europe/Radio Liberty (RFE/RL). Led by director Amanda Bennett and her deputy Sandy Sugawara, some Voice of America reporters have shown unprecedented displays of personal bias and partisanship in their reporting, while senior and some mid-level managers became embroiled in programming controversies in programs to China and Iran. RFE/RL's senior management is embroiled in a major conflict with some of the organization's best journalists, several of whom have left the organization in protest against management practices. The BBG continues to be the agency with the lowest employee morale in the federal government. Some of the former VOA directors who have served under Republican administrations told BBG Watch that the current partisanship in VOA programs represents a threat to Voice of America's existence.
A BBG management team represented by BBG Deputy Director Jeffrey N. Trimble received a chilly reception during a recent meeting at the White House with officials of the National Security Council (NSC). According to other participants in the meeting, which included some current and former BBG employees, advisors to President Trump were not at all impressed with some of the commentary on the BBG strategic plan.
The summary of the Fiscal Year 2019 Budget posted online on the White House website does not mention the Broadcasting Board of Governors nor its mission even once.