BBG Watch Commentary
With Broadcasting Board of Governors (BBG) member Matt Armstrong calling House Foreign Affairs Committee bipartisan bill to reform the Voice of America (VOA) "less than inarticulate" (sic) and rebuking members of Congress for being "overly harsh" and "not fair" in criticizing mismanagement at the U.S. taxpayer-funded international media outreach entity, it was no surprise that VOA had failed to report to Russia and other countries on the passage on May 22 in the U.S. House of Representatives of another important legislation designating August 23 as a "Black Ribbon Day" to commemorate the victims of both Soviet communist and Nazi terror.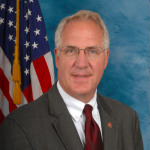 Congressman John Shimkus of Illinois, the co-chairman of the House Baltic Caucus, sponsored the resolution and effectively shepherded its passage in the House. The legislation, part of a National Defense Authorization Act (H.R. 4435), will now be taken up by the Senate. Rep. Shimkus introduced the Black Ribbon Day resolution in July 2013, and about 50 co-sponsors signed on. The Joint Baltic American National Committee, Inc. (JBANC) and other organizations actively joined in supporting it.
JBANC noted in a press release that its appeal to Congress to pass this resolution "highlighted the ongoing violations of Ukraine's sovereignty and Putin's concurrent aggression, a haunting reminder of Hitler's and Stalin's maneuvers leading to the outbreak of the Second World War."
JBANC reported that over the past several years the European Parliament, Council of Europe, Canada's Parliament, as well a number of countries in Europe have passed similar Black Ribbon Day resolutions to achieve a historical "reconciliation based on truth and remembrance."
"In passing this legislation, the United States Congress unambiguously asserts that the victims of the most destructive regimes in history will not be forgotten and will be remembered by future generations as well," Joint Baltic American National Committee said in a press release. JBANC represents the Estonian American National Council, Inc., the American Latvian Association in the U.S., and the Lithuanian American Council, Inc.
US House of Reps passes "Black Ribbon Day" legislation recognizing Victims of Soviet Communist & Nazi regimes http://t.co/rRjcUpR8Jx #Baltic

— JBANC chatter (@JBANCchatter) May 24, 2014
@LTUworld @JBANCchatter @RepShimkus About time and highly appreciated by all who were there during those trying times. @ZygisPavilionis

— PAOTZE☆B.O.Strategy☆ (@FauziPewarisPG) May 24, 2014
The passage of the "Black Ribbon Day" resolution in the U.S. House of Representatives was a significant step that should have been reported by the Voice of America to many countries, but especially to Russia, Ukraine, Iran, China, Tibet, and North Korea among the most obvious.
Such reporting by VOA from the United States would have been especially appropriate in light of Russia's annexation of Crimea, the Kremlin's attempts to whitewash Stalin's crimes, and ongoing propaganda onslaught against the U.S. by Russian state media.
Under prior VOA management teams, the passage of such a resolution by the House of Representatives would not have been ignored, at least not by VOA's Russian and Ukrainian services. VOA executives have failed to provide these services with adequate resources and help to enable them to cover such U.S. news stories and to frequently update their news websites and social media pages.
Last year, Radio Free Europe / Radio Liberty (RFE/RL), which is also overseen by the BBG, had reported on the European Day of Remembrance for Victims of Stalinism and Nazism, originated in the 1980s.
August 23, 2014 will mark the 75 anniversary of the signing of the Hitler-Stalin Pact, also known as the Molotov-Ribbentrop Pact, that led to the outbreak of World War II and Soviet invasion (September 17, 1939) and annexation of eastern Poland, which included large Ukrainian and Belarusian populations. As a result of the Hitler-Stalin Pact, the Soviet Union also annexed the Baltic nations of Lithuania, Latvia, and Estonia. They remained under Soviet occupation for 50 years.
Ignoring the "Black Ribbon Day" resolution is one of numerous news reporting failures by the Voice of America It was made worse by a recent assurance from a single BBG Governor, Matt Armstrong, that bipartisan congressional criticism of mismanagement at VOA is "dated" and that appropriate reforms are already being carried out to address any previous problems.
In his public remarks last week to VOA staffers, Armstrong was referring to bipartisan legislation, the United States International Communications Reform Act of 2014 (H.R. 4490), passed unanimously by the House Foreign Affairs Committee to reform and recast US Government international broadcasting. He called the bill's language "inappropriate."
The bipartisan bill to reform U.S. international media is available on the US House of Representatives House Foreign Affairs Committee website: Reforming U.S. International Broadcasting.
When BBG Governor Armstrong called the language of the bipartisan reform bill "less than inarticulate" (sic) and even "inappropriate," he was also sending a message to Voice of America executives, employees, members of Congress and congressional staffers that most of the criticism of the agency's management in legislation was "overly harsh" and "not fair."
Nothing could be further from the truth. Because of numerous failures by senior executives, the Voice of America continues to miss significant news stories related to Russia and Ukraine that come from the White House, the State Department, the U.S. Congress, Washington think tanks, human rights organizations, and various other U.S. groups and communities.
The VOA Charter, passed by Congress and signed into law on July 12, 1976, by President Gerald Ford, says:
VOA will serve as a consistently reliable and authoritative source of news. VOA news will be accurate, objective, and comprehensive.

VOA will represent America, not any single segment of American society, and will therefore present a balanced and comprehensive projection of significant American thought and institutions.

VOA will present the policies of the United States clearly and effectively, and will also present responsible discussions and opinion on these policies. (Public Law 94-350)
VOA executives, defended by BBG Governor Armstrong, are ignoring the Charter almost on a daily basis by failing to report on significant U.S. news, formulation of U.S. policies, and debates about these policies, while offering the world dozens of reports on the British royal family, Justin Biebier, and zombie videos.
Among other things, VOA had failed to report on President Obama's statements to commemorate two specific acts of 20th century genocide: the mass murder of Armenians in 1915 and the Holocaust.
VOA English News also had failed to report on a visit to Ukraine and Armenia by a bipartisan congressional delegation led by House Foreign Affairs Committee Chairman Ed Royce and Ranking Democratic Member Eliot Engel. These two lawmakers were the ones who with 13 co-sponsors introduced the bipartisan bill designed to reform the management of the Voice of America and the rest of U.S. international media entities, including its particularly dysfunctional and overblown bureaucracy within the International Broadcasting Bureau (IBB).
Calling the agency that still mistreats its journalists "good" (it refuses to rehire illegally dismissed Radio and TV Marti broadcasters despite many years of extreme personal hardships and has one of the lowest employee morale ratings in the entire federal government), and claiming that the agency is on "a right trajectory," sends a really bad and misleading signal. When it is made obvious that at least one BBG member thinks U.S. lawmakers are not capable of writing a bill ("less than inarticulate" sic), such comments may prompt them to vote for defunding the Voice of America rather than trying to reform it. One such defunding proposal has already been announced by Rep. Matt Salmon (R-AZ), the first ever in the history of the Voice of America and its many directors.
But according to agency sources, Governor Armstrong was definitely not speaking on behalf of the entire BBG Board. He reportedly violated BBG Chairman Jeff Shell's specific instructions not to comment on pending legislation. Shell reportedly told the BBG Board and senior staffers that they should not be speaking either in favor or against the bipartisan bill but should try to do the best job under any legislative setup passed by Congress and signed by the President.
Sources also told BBG Watch that Chairman Shell and other BBG members are still extremely concerned by mismanagement and news reporting failures at the Voice of America and do not believe these problems are being successfully resolved. It is true that Chairman Shell and the renewed BBG Board have initiated some management reforms at the IBB. But Shell and the majority of Board members believe that only some of the structural reforms proposed in Congress can cure the agency.
The latest example that significant management shortcomings are not being addressed despite Governor Armstrong's assurances to the contrary is the VOA's failure to notice the House of Representatives passage of a resolution that challenges many of the current propaganda claims coming from the Kremlin and its media. Even Governor Armstrong admitted that Voice of America programs should offer foreign audiences news that counter propaganda with the truth.