BBG Watch Commentary
In a report on the New York LGBT Pride March on Sunday, June 26, the U.S. taxpayer-funded Voice of America (VOA), charged with media outreach abroad for the United States, failed to call the Orlando shooting an act of Islamist or any other type of terrorism, did not mention the murderer's, Omar Mateen's, declared oath of loyalty to ISIS, or even once used his name.
The VOA report calls the Orlando terrorist act a "mass shooting" in which 49 people died. There is no reference in the VOA report to beheadings of LGBT individuals by ISIS and throwing them to their deaths from rooftops or to their persecution, imprisonment and executions in Saudi Arabia, Iran, and some other Muslim countries.
This type of sanitized reporting is still common at the Voice of America, even though at the meeting on Thursday of the Broadcasting Board of Governors (BBG) in Washington, DC, CEO and Director John F. Lansing said that "Impact is undoubtedly the driving force behind the diverse work we do at the BBG."
At the same meeting, Voice of America director Amanda Bennett, who has been on the job for about six months, said that VOA's mission is "to be an objective news source in countries where they have they have no other" and "becoming an authentic voice of America's diaspora communities, both enabling us to link back effectively with the countries where these people have come here from, and also telling one of America's most compelling stories, and that is the stories of the people who make up this country." The Orlando terrorist's family came to the United States from Afghanistan.
BBG Chairman Jeff Shell, and BBG CEO John Lansing who has been with the BBG since September 2015, insist that the agency is on a roll [poor quality BBG video starts at 36:14], reforming itself and making progress. Amanda Bennett has ordered anti-bias training for VOA reporters after U.S. blogs raised accusations of bias by VOA reporters and commentators against Bernie Sanders and Donald Trump.
But in a devastating critique of the Broadcasting Board of Governors, former Republican BBG member Blanquita Cullum called a recent VOA video on Islamist terrorism "flawed and dangerous."


Rep. Ed Royce (R-CA), Chairman of the House Foreign Affairs Committee, said in February of this year that the BBG is a broken agency and is "losing information war to ISIS and Putin."
A small group of VOA Central English Newsroom reporters had announced late last year that "countering violent extremism," while a worthwhile endeavor for other U.S. government agencies, would violate their journalistic integrity. Despite their protests, the management launched "Extremism Watch Desk" in the VOA newsroom, but it seems to have had little impact on VOA English news reporting on terrorism.
As posted on the BBG website, "The Broadcasting Board of Governors is an independent federal agency supervising all U.S. government-supported, civilian international media. Its mission is to inform, engage and connect people around the world in support of freedom and democracy. BBG networks include the Voice of America, Radio Free Europe/Radio Liberty, the Middle East Broadcasting Networks (Alhurra TV and Radio Sawa), Radio Free Asia, and the Office of Cuba Broadcasting (Radio and TV Martí). BBG programming has a measured audience of 226 million in more than 100 countries and in 61 languages."
BBG's annual budget is $777.8 million (FY 2017 Budget Request), of which $224.4 goes to the Voice of America.
Many reports on the VOA's main English news website show practically no audience engagement. More than two hours after it was posted, VOA report on the New York LGBT Pride March had only one (1) Facebook "Recommend/Share." Even though BBG executives claim a strong commitment to communicating with foreign audiences and online engagement, this VOA report has not been open for comments.
A recent article on how the U.S. is trying to defeat ISIS online, published by The Hill, a top U.S. political website and newspaper, read by the White House and lawmakers, failed to mention the Broadcasting Board of Governors and focused instead on the recently set up Global Engagement Center, housed at the State Department and led by retired Navy SEAL Cmdr. Michael Lumpkin, a former top Pentagon official.
President Obama also does not mention the Broadcasting Board of Governors when discussing U.S. efforts to counter ISIS ideology and propaganda.
VOICE OF AMERICA (VOA)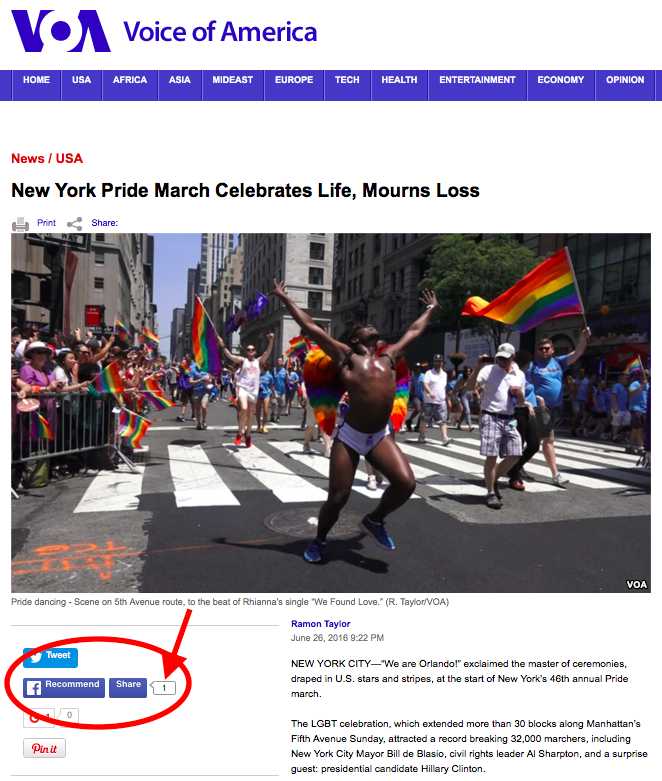 Reposted from the Voice of America, voanews.com, website. Last accessed Sunday, 11:00 PM ET, June 26, 2016.
Pride dancing – Scene on 5th Avenue route, to the beat of Rhianna's single "We Found Love." (R. Taylor/VOA)
Ramon Taylor
June 26, 2016 9:22 PM
NEW YORK CITY—"We are Orlando!" exclaimed the master of ceremonies, draped in U.S. stars and stripes, at the start of New York's 46th annual Pride march.
The LGBT celebration, which extended more than 30 blocks along Manhattan's Fifth Avenue Sunday, attracted a record breaking 32,000 marchers, including New York City Mayor Bill de Blasio, civil rights leader Al Sharpton, and a surprise guest: presidential candidate Hillary Clinton.
Behind tightly secured barricades, more than one million attendees packed the street's sidewalks. To the beats of Rihanna and Calvin Harris, waving countless rainbow flags, they sang, danced and cheered the parade's participants. "We found love in a hopeless place…"
For an afternoon, New York City was a safe and hopeful place – and a proud moment for all.
"This is a celebration for everybody who cannot express themselves every day," said Miami, who was marching in her first parade.
"It's not just about LGBT, it's about everyone," added her friend Nill.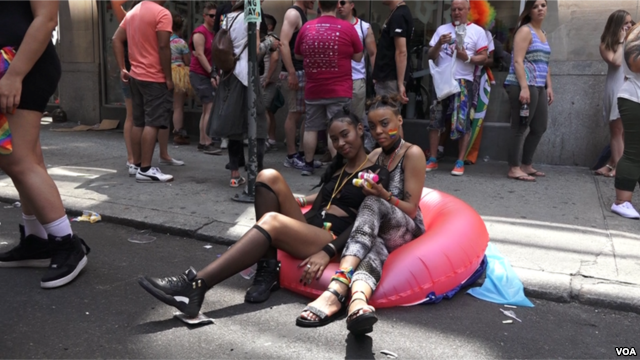 Miami (left) and Nill wait their turn on 40th street, before joining the pride march. More than 32,000 marchers and 400 groups participated. (R. Taylor/VOA)
Winter Murray, who traveled from Connecticut, said being among such an accepting group was a special feeling.
"It's nice to have a place where you can come and be yourself and just see everyone else who is also very true to themselves," Murray said.
Orlando remembered
But between cheering and dancing, this year's march took on extra significance. Parade goers and participants from around the world mourned and remembered the 49 mass shooting victims two weeks ago at Pulse, a gay nightclub in Orlando.
"How many more have to die?" exclaimed a group of marchers staging a "die-in" — lying still on the scorching asphalt.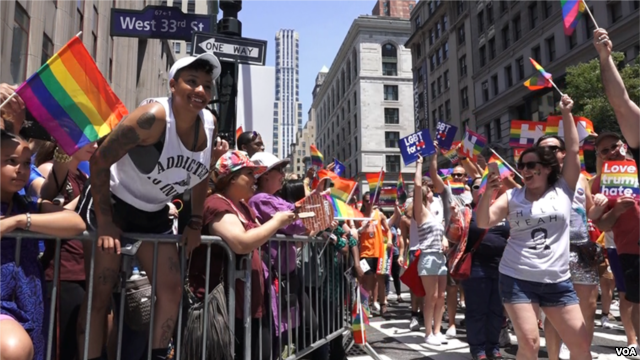 Kori Ligon, a member of the U.S. Army, says the aftermath of the Orlando mass shooting has brought her closer to her family. (R. Taylor/VOA)
Nick Shamp, who traveled from Connecticut with his boyfriend, said he cried at the site of tributes dedicated to Orlando victims.
"A person saw me and he was like, 'you're being too serious,' and I'm just like, 'well, that happened and it's hard,'" explained Shamp, recounting his conversation with a stranger.
"He was like, 'well, you need to stay proud and you need to stay strong,' so now it's just overwhelming positivity."
It was precisely that feeling – positivity and acceptance – that extended in the days after the shooting to the family of Kori Ligon, an LGBT member of the U.S. Army.
"It actually brought me closer to the people that support me for my lifestyle choices," Ligon said. "Me and my family have gotten much, much closer. They're more accepting now."
Today, the struggle continues for LGBT communities worldwide to gain equal rights and live free from fear of persecution and discrimination. For many of them, from both near and far, Sunday's parade served as a beacon of hope and a message of enduring love.
"We encourage Russian speaking people to go out of the closet and not be afraid of persecution that is happening back home," said Maasim Khimchamka, an asylum seeker from Belarus.
"That's the biggest message," he added, "not to be afraid."