A Guest Commentary From A Former Voice of America Journalist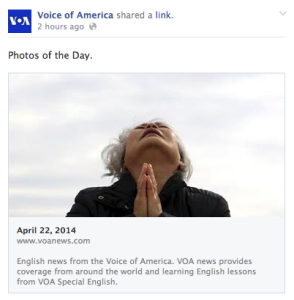 I looked at the Voice of America (VOA) English website today and saw that VOA did not send a correspondent with Vice President Biden on his trip to Ukraine and failed to report on several key aspects of his visit, including a meeting with human rights and other civil society activists.
VOA Ukrainian and Russian services did not do much better because VOA management and the International Broadcasting Bureau (IBB) have not provided them with extra help to promptly post comprehensive news reports and to update their social media pages. (Their Facebook and Twitter are sometimes left without any updates for more than eight hours at a time.)
The VOA English news website also had nothing on a visit to Ukraine by a U.S. Congressional delegation headed by House Foreign Affairs Committee Chairman Ed Royce (R-CA) and Ranking Member Eliot Engel (D-NY).
I noticed, however, that VOA re-tweeted an Al Jazeera tweet about a pro-Russia group in eastern Ukraine demanding resignation of the government in Kyiv. VOA would have done better re-tweeting two Deutsche Welle (DW) in-depth news analyses about Vice President Biden's trip to Ukraine, since VOA had none.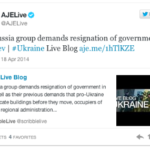 I also looked at the Voice of America English News Facebook page and found this curious item touting VOA English lessons in less than grammatical English.
"English news from the Voice of America. VOA news provides coverage from around the world and learning English lessons from VOA Special English."
What are "learning English lessons"? Is VOA News learning English? It's either "learning English" or "English lessons." One can even write "English learning lessons" or "Learning English" capitalized as a title. But: "VOA news provides coverage from around the world and learning English lessons from VOA Special English" sounds very strange to native English speakers. This sentence has been repeated on the VOA Facebook page multiple times, which makes me wonder whether VOA executives even bother to visit VOA websites and its main social media platforms. Does Voice of America have any editors or have they all joined the executive ranks?
But the most curious thing about this Facebook post is not English language usage but the fact that it elevates teaching English to the level of VOA mission, putting it on an equal footing with news reporting and even giving English lessons more emphasis.
I'm not saying that some teaching of English while presenting information about America would be inconsistent with the Congressionally-approved VOA Charter. But teaching English is not mentioned in the Charter, while news reporting and explaining U.S. policies clearly are.
VOA Charter

"VOA will serve as a consistently reliable and authoritative source of news. VOA news will be accurate, objective, and comprehensive.

VOA will represent America, not any single segment of American society, and will therefore present a balanced and comprehensive projection of significant American thought and institutions.

VOA will present the policies of the United States clearly and effectively, and will also present responsible discussions and opinion on these policies." (Public Law 94-350)
News is mentioned twice in the first two sentences. "Significant American thought and institutions" are mentioned in the second paragraph, and "the policies of the United States" are mentioned in the third paragraph.
There is a place at the Voice of America for teaching English in certain types of programs, but it is hardly VOA's main mission as envisioned by the U.S. Congress.
I think I know why teaching English, multiple reports on the British royal family and a zombie video or similar puff pieces have become so important for VOA executives while they de-emphasize VOA news reporting.
Besides the obvious, that they do not pay attention to the VOA Charter, Congressional intent, or even the stated mission of the Broadcasting Board of Governors (BBG), VOA executives want to get an audience the easy way.
They know that under the current IBB strategic plan and program delivery options, local placement of news programs is often not possible because it is often subject to local censorship. Reporting uncensored news can ruin all local placement opportunities. Therefore, instead of pursuing VOA's news mission mandated by Congress, VOA executives are opting for easy audience-building solutions, such as English lessons. They can then brag together with IBB executives how their audience is growing under their "strategic plan."
Teaching English is more associated with U.S. cultural diplomacy or public diplomacy than with VOA's news mission. Some U.S. Embassies promote English teaching. VOA has had its "Special English" programs for years and used them successfully to advance its news mission. Until recently, however, English teaching programs were not presented as one of VOA's primary goals and were never designed before to draw major resources away from news reporting. I doubt that U.S. taxpayers and U.S. Congress want to give VOA millions of dollars to teach English — something that commercial outfits, including American companies, can also easily do abroad and make make a profit. This is how rudderless Voice of America has become.
There is no doubt that one can more easily build a large audience with English lessons than with news, especially if VOA news is censored by local regimes by not allowing it on local media outlets. For example, Voice of America Facebook News Page has only 564 thousand "Likes" (BBC World News has 5.5 million; RT 1.5 million), whereas VOA Learning English Facebook Page has 838 thousand "Likes." Even there, these ungrammatical English sentences appear.
VOA should by all means continue its English teaching programs and its VOA Learning English Facebook Page, but this should not be done at the expense of news reporting. Zombie videos, multiple reports on the British royal family, and reports on obscure 1980s British music bands can be safely abandoned.
In the process of destroying news reporting, by among other things using bullying tactics to force talented journalists to leave, VOA executives also have given up all editing standards. If they want to teach English, they could at least make sure that VOA English usage is correct.
So while VOA is teaching English in the big way, VOA executives are not sending a VOA correspondent with Vice President Biden to Ukraine, fail to arrange for adequate news coverage from VOA Newsroom, and do not provide sufficient resources to VOA Ukrainian and Russian services to make it possible for them to update their news websites and social media pages in the midst of a major international crisis, in which the United States is deeply involved and global security and international order hang in the balance. To me, it's a sign of a rudderless Voice of America.