BBG Watch Commentary
Was this Facebook item posted by Russian propaganda channel RT, Russian disinformation news agency SPUTNIK or somebody else?
The answer may surprise you.
"With over 40% youth unemployment in Italy, could extending EU sanctions on Russia hurt the Italian people?"
The intro to the Facebook post was intriguing. What message was it designed to send.
And the report itself — was it an accurate, balanced, comprehensive, highly informative, and in-depth probing analysis?
The blog article did not really explain why these sanctions were imposed and what they were supposed to achieve.
Is the RFE/RL article perhaps a bit one-sided, or is it an example of outstanding and uncompromising journalism?

SPUTNIK and RT

SPUTNIK: "The trade turnover between Russia and Italy is continuing to … The decrease of exports to Russia has become one of the factors leading to the continuation of the economic crisis and rising unemployment in Italy."


We know what RT's motto is. It is "QUESTION MORE."



ANTONIO FALLICO on RT: "It's unclear why the United States, knowing that Russia isn't some unimportant country, would resort to this sort of provocation. So Ukraine is undoubtedly just a pretext, it can't be the real reason. Does the US believe that Ukraine means less to Russia than the Falkland Islands to Argentina? It's really unclear, because either the US acts very irresponsibly, or it is fully aware of what it's doing and willing to have a full-scale confrontation. Let's not forget how WWI started: no one was expecting it, but it happened. So when I say we need to spare no effort in order to prevent WWIII, I mean it and I'm ready to work on it."
Convergence?
Perhaps thanks to Radio Free Europe / Radio Liberty we are seeing some kind of a journalistic "Convergence" between Putin's Russia and the West. Those who are familiar with the decline of communism know what the theory of "Convergence" was. It was wishful thinking, propaganda and an apology for keeping corrupt and oppressive regimes in power for as long as possible.
Would such an article have been written during the Cold War when RFE and RL had a highly engaged oversight board and strong leaders, or if more recent former RFE/RL president Kevin Klose were still in charge?
The answer to that question is "No."

Is There Another Side to RFE/RL's Story?

RFE/RL


BRUSSELS — It was supposed to be a done deal: European Union envoys had been expected to approve a six-month extension of sanctions against Russia over its interference in Ukraine, as agreed by EU leaders last month.

But the Italian ambassador upended that plan at a meeting on December 9, telling the others that Rome wanted more debate on the matter.

A high-ranking EU diplomat told RFE/RL that EU ambassadors would not discuss the sanctions at their December 10 meeting. That means the issue is unlikely to be resolved this week, dragging the discussion closer to an EU summit on December 17-18, the holiday recess, and the January 31 deadline for a final agreement to prolong the sanctions through July 31, 2016.

So far only Rome has spoken out, but diplomats suspect countries such as Hungary, Austria, Greece, and Cyprus may be in the same camp.

Italian Prime Minister Matteo Renzi was among the leaders who agreed on the sanctions extension at a meeting on the sidelines of a G20 summit in Turkey on November 16 — so why the unexpected change of heart?

EU sources say that Renzi may have been driven by one of the following motives, or a combination of all three:

1. He wants to put pressure on EU member states from the east to be more helpful on another crucial issue facing the 28-member grouping — migrants — in the run-up to the EU summit next week.

2. He wants to show the Italian business community and Russia — whose foreign minister, Sergei Lavrov, is visiting Italy on December 10-11 — that he is fighting to the end, not just giving in to the EU majority.

3. He dislikes European Council President Donald Tusk and wants to annoy him, knowing that the former Polish prime minister cares deeply about the issue and is determined to keep sanctions against Russia in place.

Some Questions
The RFE/RL blog post, as written, raises a few questions.
What about a threat to security and stability of the post-World War II order in Europe?
What about refugees from Crimea and eastern Ukraine which is still under attack by rebels and the Russian army?
What about the Tatars and the Ukrainians in Crimea being persecuted by Russian authorities?
What about all the human rights abuses and the Russian violation of Ukrainian sovereignty?
Is it enough that RFE/RL does indeed cover such questions in other reports on its site?
What is the point of having this RFE/RL Facebook post and RFE/RL blog post as written without much analysis and balance?
Who are these EU sources the article refers to?
How much of it is the author's own speculation?
Is this a serious analysis, uncompromising journalism or sensationalism to increase Facebook "Likes" and web views?
Is there perhaps something else behind it?
Did the RFE/RL story make readers feel sorry for the unemployed Italian youth and angry that the United States government seems to be still supporting these apparently foolish and counterproductive sanctions against Russia?
What is the point of RFE/RL using scarce U.S. taxpayer funding to post such articles in English rather than focusing on targeting its audiences in foreign languages?
During the Cold War, RFE's and RL's English-language analyses were widely read by government leaders, academics and members of the U.S. Congress and their staffers.
Would this Facebook post and blog post convince members of Congress to increase funding for RFE/RL or to cut it?
What is its target audience?



SPUTNIK and RT had great fun with the photo of Ukrainian Prime Minister Yatsenyuk being forcefully removed from the tribune, but SPUTNIK did not specifically reference this RFE/RL Facebook post.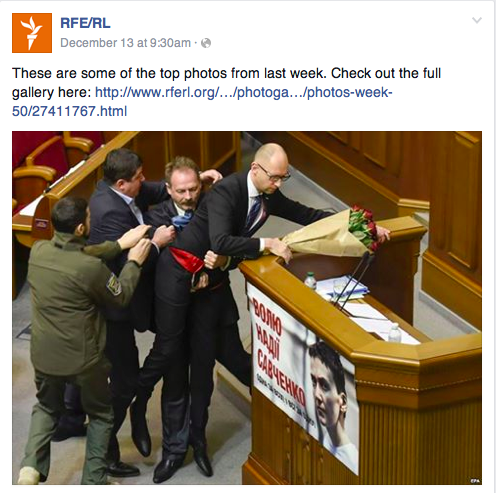 What is Transmission Blog?

The RFE/RL report on Russia sanctions and Italy was posted on its "Transmission Blog."
What kind of "transmissions" the "Transmission Blog" engage in and from whom?
What is its target audience?
Why should U.S. taxpayers pay for it?
How many of the comments posted under this article appear to come from pro-Kremlin trolls?
This is how the "Transmission Blog" is described by Radio Free Europe / Radio Liberty:
About This Blog

"Written by RFE/RL editors and correspondents, Transmission serves up news, comment, and the odd silly dictator story. While our primary concern is with foreign policy, Transmission is also a place for the ideas — some serious, some irreverent — that bubble up from our bureaus. The name recognizes RFE/RL's role as a surrogate broadcaster to places without free media. You can write us at transmission@rferl.org"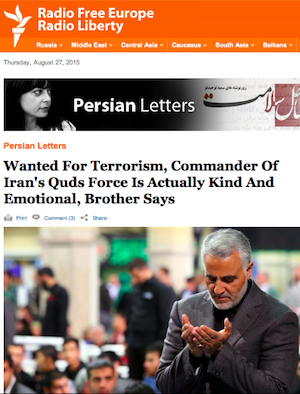 Both Failures and Excellent Journalism Amid Leadership Crisis

Of course, RFE/RL journalists produce many outstanding news reports and analysis.
Despite a leadership crisis, poor treatment of employees by some managers and occasional editorial failures, excellent journalism still dominates on RFE/RL sites. There is no doubt about it. The number of good news reports and analyses is far greater than the number of bad or questionable ones.
But in August 2015, RFE/RL posted an inexplicably naive puff piece on the commander of the Islamic Revolutionary Guard Corps (IRGC) Quds (Jerusalem) Force, Maj. Gen. Qassem Soleimani.
The RFE/RL article described the Iranian terrorist as religious and someone who "loves the children of the martyrs" and is "very kind and emotional." The RFE/RL report quoted extensively from an interview with Qassem-Soleimani's brother, Sohrab Soleimani, which was published on August 23, 2015 by Iran's Fars News Agency (FNA).
A former high-level Broadcasting Board of Governors official, a former presidential appointee, who prefers to remain anonymous sent us this observation:
FORMER BBG OFFICIAL: "RFE/RL is in deep crisis. It can't get powerful programming on the air in a timely fashion or of the quantity needed, due in no small part to having no senior leadership for more than a year in a half. What its language desks actually put on the air is rarely scrutinized, and it certainly is part of no overall strategy.

The BBG sleepwalks through this crisis, enjoying seminars on interesting topics for its members, but apparently little time spent to fix the cascading problems."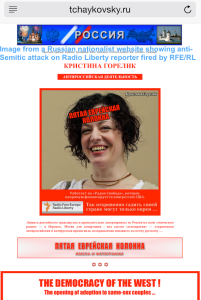 Two award-winning journalists specializing in uncovering government corruption and human rights violations in Russia were inexplicably dismissed by Radio Liberty's management. One of these journalists, Kristina Gorelik, is still a target of vicious anti-Semitic attacks from Russian ultra-nationalist supporters of President Putin for her previous RFE/RL work.
Kristina Gorelik was unceremoniously dismissed by Radio Liberty and told to fend for herself in Putin's Russia. Another longtime employee was simply told by his manager a few days before being informed that his contract would not be renewed: "Radio Liberty is moving forward and you are falling behind." Their chances of find decent jobs in Russia are minimal because of their former association with RFE/RL.
Another recently dismissed Radio Liberty journalist is a young investigative reporter Anastasia Kirilenko. Her freelance contract was canceled by Radio Liberty when she did an interview exposing official corruption linked to President Putin. She was accused by the management of breaking the rules and not being able to substantiate her reports.
Her reports about official corruption in Russia, however, are still being widely used by what little remains of independent Russian media. One of them was published recently by Mikhail Gorbachev's sponsored Novoye Vremya. Kirilenko reportedly has had even her name banned by Radio Liberty's Russian Service management. One Radio Liberty reporter tried to reach out to her and even recorded an interview, but was reportedly told by the management not to use it. Radio Liberty journalists who are still employed in Prague and in Moscow are reportedly too afraid to complain publicly about poor management, but they are complaining privately to other journalists. "The whole situation is… desperate and the Americans so naive … can't keep following what RL does … it seems impossible to change … will try to forget this unpleasant experience with RL," Kirilenko, who now lives and works in Paris, wrote.
A well-known Western journalist who prefers to remain anonymous shared with us what some of Radio Liberty Russian Service journalists are saying: "Journalists are threatened with being fired for posting on their private pages anything that the top manager disapproves of, … retaliations continue."
"The leadership vacuum at RFE/RL is proving catastrophic for many reasons. The BBG seems not to care, but then we have to remind ourselves that no one on this board has ever been associated with one of the surrogates," a former high-level U.S. government official who wants to remain anonymous told BBG Watch.
"If RFE/RL had a separate and engaged oversight board and an area-experienced CEO, many of these conflicts would not have developed or they would have been quickly and properly managed," a former BBG manager and Voice of America official told us.
Former BBG member and former Radio Liberty executive S. Enders Wimbush, who testified before the Senate Foreign Relations Committee on November 17, 2015, said that "the BBG is allergic to strategy," "BBG's governance is weak," and that "the BBG's response to Ukraine has been neither robust nor quick, despite an influx of new taxpayer funds for the purpose."

Is There Hope for BBG and RFE/RL?

RFE/RL has been without permanent leadership for well over a year. A former RFE/RL president (twice), journalist (formerly Washington Post correspondent in Moscow) and former NPR president Kevin Klose strongly supports the key provisions of the bipartisan H.R. 2323 bill, as do many other distinguished Americans, including former BBG members and former diplomats. The bill would reform the Broadcasting Board of Governors by giving RFE/RL and other BBG non-federal grantees a separate, specialized oversight board and a separate executive in charge of the surrogate media outlets.
BBG Chairman Jeff Shell and new BBG CEO John Lansing are successful entertainment media business executives but do not have any substantive government or foreign news and opinion outreach experience. They are both on the record opposing this key reform provision. The bill's authors are: Rep. Ed Royce (R-CA) and Rep. Eliot Engel (D-NY). The bipartisan reform legislation was already approved by all members of the House Foreign Affairs Committee where Royce is its Chairman and Engel is its Ranking Member.
John Lansing has just appointed two longtime BBG executives, Jeff Trimble and Marie Lennon, to oversee some of the management reforms he wants to implement. These two top-level career federal government managers were both essentially in charge of running the agency (in the case of Jeff Trimble also earlier in a non-federal executive role at RFE/RL) for many years during the period when the Broadcasting Board of Governors was described by Secretary of State Hillary Clinton and ex-officio BBG member (in 2013) as "practically defunct" and ranked, as it still does, near the bottom in employee job satisfaction and management leadership evaluation in the Federal Employee Viewpoint Surveys (FEVS).
During the same period, the Office of Inspector General (OIG) uncovered numerous violations of government rules and regulations and waste of taxpayers' money by the agency's management. BBG Chairman Jeff Shell said that many of these violations have already been dealt with and resolved. He took issue with OIG's 'ineffective leadership' assessment of BBG
We want to end, however, on a positive note. The video below was produced when Kevin Klose was still RFE/RL president many months ago. RFE/RL is definitely worth supporting and saving so that more of such reporting can be done to strengthen media freedom and democracy, as well as ultimately U.S. national security.
This BBG Watch post was dated February 22, 2013. RFE/RL journalists still deliver such outstanding news reports today. It's not all doom and gloom and beyond repair, but major management reforms, both at RFE/RL and especially at the Broadcasting Board of Governors, are urgently needed.

During today's open meeting of the Broadcasting Board of Governors (BBG), Radio Free Europe/Radio Liberty (RFE/RL) acting president Kevin Klose showcased a video journalism report from Afghanistan that impressed BBG members, sources told BBG Watch.
Kevin Klose, who recently assumed his position as acting president, promised to return Radio Free Europe/Radio Liberty to serious fact-based journalism after a period of embarrassing journalistic experiments under the previous RFE/RL management team.
Kevin Klose, a former editor, and national and foreign correspondent with The Washington Post, is an award-winning author and worldwide broadcasting executive. He served most recently as dean of the Philip Merrill College of Journalism at the University of Maryland, was president of National Public Radio (NPR) from 1998 to 2008, and RFE/RL president from 1994 to 1997.
The video report titled, "At Afghan Brickworks, Family Trapped In Cycle Of Debt," tells the story of Zabit Khan and his nine children who are bonded laborers working to pay off family debts at a brick factory in Afghanistan. The Khans are among thousands of Afghans stuck in an unending cycle of debt and poverty with little hope of escape. The report was produced by Sabawoon of RFE/RL's Radio Free Afghanistan and written by Frud Bezhan.
Direct LINK TO RFE/RL VIDEO.