BBG Watch Commentary
A former RFE/RL editor says that the U.S.-funded and U.S. government-run news site promotes Hitler sympathizers in Kazakhstan.
(Photo: Assem Tokayeva, third from the left, standing next to Alexander Kulitz, second from the left, a member of the German Parliament Bundestag from the Free Democratic Party FDP.)
In recent meetings with European politicians in Strasbourg and Berlin, as well as in speeches, articles and social media posts, journalist and media freedom activist Assem Tokayeva says that the management of the U.S. tax-funded and U.S. government-supervised media organization Radio Free Europe / Radio Liberty (RFE/RL) has lost control over program content to Kazakhstan, some of which — she said — included a lengthy interview with a Hitler fan. Tokayeva had lost her Kazakh Service editor job with RFE/RL as a result of a recent internal reorganization which she says was designed to get rid of the critics of the management like herself who have raised concerns about RFE/RL programs to various countries in Eurasia. She says that RFE/RL Kazakh website promotes intolerant and dangerous nationalism.
RFE/RL is funded entirely by U.S. taxpayers and reports to the U.S. Broadcasting Board of Governors (BBG) federal agency whose current CEO is a previous U.S. administration holdover official John F. Lansing. Critics say there are serious management problems not only at RFE/RL but also at the BBG-managed Voice of America (VOA) where some employees have raised similar concerns about alleged management actions to punish dissent and charges of censorship of reports on human rights and corruption to Iran and China. RFE/RL's Radio Farda programs to Iran have also come under severe criticism from anti-regime Iranians and independent journalists accusing RFE/RL management of silencing dissent. John Lansing did not respond to a recent request for the BBG to comment on Tokayeva's statements.
This week Tokayeva and a group of other young human rights activists and journalists met in Berlin with members of the German Parliament: Renata Alt from the Free Democratic Party FPD, Margarete Bause from the Green Party, Michael Bergels from the Green Party and Alexander Kulitz from the Free Democratic Party FDP. The group also met with with Markus Pieper at the Federal Foundation for the Study of the Communist Dictatorship in East Germany.
Tokayeva joins a growing list of young journalists, most of them women including award-winning investigative reporters Khadija Ismayilova, documentary news video producer Shahida Tulaganova from Uzbekistan, as well as a group of other young and talented journalists – including former Vaclav Havel Fellows from various Eurasian countries – who also have criticized the current RFE/RL management, calling it authoritarian, chaotic, and out of touch with some of its best journalists. Ismayilova and Tulaganova were not part of the group that met with the German parliamentarians this week, but they have condemned the RFE/RL management in earlier separate social media posts. Ismayilova and Tulaganova have quit the organization in frustration and publicly expressed their disapproval of the RFE/RL management while others who were critical were pushed out by the management. Khadija Ismayilova, a former political prisoner in Azerbaijan, an investigative reporter and winner of many international journalistic awards who recently quit RFE/RL, wrote in a public Facebook post that senior executives in charge of the organization suffer from "a crisis of career stagnation" and don't know how to communicate with journalists.
"People do not leave good organizations," Ismayilova wrote in another public Facebook post. "I resigned from this organization because they didn't hesitate to fire the best journalists," she added.
"I keep warning European politicians and institutions about how the RFE/RL's Kazakh service known as Azattyq distorts information on what's going on in Kazakhstan and spread[s] ideological propaganda of Kazakh authorities at the expense of US taxpayers," Tokayeva posted on her Facebook page Friday. "This week I had number of meetings in #Bundestag presenting there the most outrageous examples of content deterioration and other abuses at Azattyq. I am going to publish soon more about it #stoppropaganda of #authoritarianregimes at #rferl #azattyq.
Tokayeva also posted her text in Russian:
я продолжаю свои встречи с европейскими политиками, которым интересно узнать, каким образом Казахская редакция Радио Свободная Европа/Радио Свобода извращает информацию о том, что происходит в Казахстане и распространяет госпропаганду Акорды. На этот раз я показала депутатам Бундестага вопиющие примеры ухудшения контента и других злоупотреблений в Азаттыке. Скоро и вам станет о них известно #азаттык #свобода"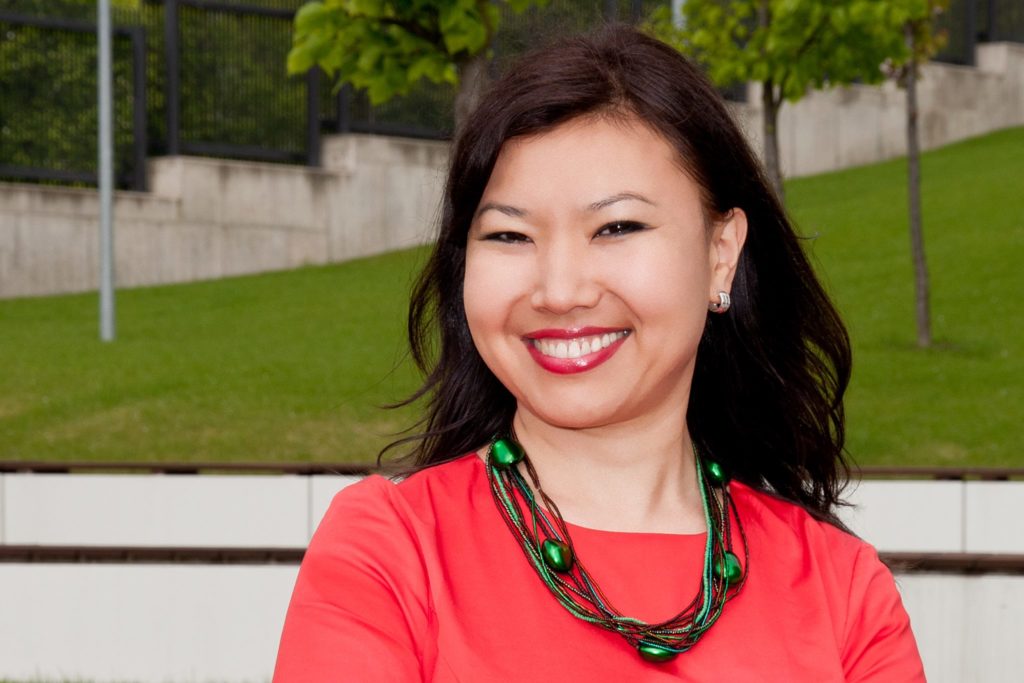 Last month (April 16-18), Assem Tokayeva together with other human rights activists and journalists had meetings at the European Parliament in Strasbourg also to discuss human rights violations in Central Asia and problems at Radio Free Europe / Radio Liberty with MEP members. They met with Austria's Othmar Karas, renowned Czech journalist Jaromír Štětina, who is now EU Parliament member from the Czech Republic; Lithuanian politician and MEP Valentinas Mazuronis; MEP Clare MOODY (UK, S&D); MEP María GIMÉNEZ BARBAT (Spain, ALDE); MEP Gunnar HÖKMARK (Sweden, EPP); MEP Miapetra KUMPULA-NATRRI (a member of the Social Democratic Party, part of the Progressive Alliance of Socialists and Democrats, Finland).
At the Parliamentary Assembly of the Council of Europe (PACE) on April 23-25, Assem Tokayeva and other young human rights activists had meetings with several European politicians, including Paul GAVAN, Assembly Member, Senator from Irish party Sinn Féin; Doris FIALA (second of the left), Member of the National Council from the party Les Libéraux-Radicaux, Switzerland; Nicole TRISSE (next to Assem Tokayeva), Chairperson of French delegation at PACE who represents Emmanuel Macron's party La République en Marche; Ondřej BENEŠIK (second of left), Assembly member from Christian and Democratic Union – Czechoslovak People's Party (Křesťanská a demokratická unie – Československá strain lidová), the Czech Republic; Ulla SANDBÆK (second on right), Assembly member from Danish Parliament who represents the Alternative Party and Assembly Members from the Swedish Parliament. In the center is a representative of the parliamentary delegation Jonas GUNNARSSON.
With Markus Pieper at the Federal Foundation for the Study of the Communist Dictatorship in East Germany.
The website of the Kazakh Service of the U.S.-funded Radio Free Europe/Radio Liberty has been under poor management for quite some time, Tokayeva says. RFE/RL President Thomas Kent, Vice President and Editor-In-Chief Nenad Pejic and Regional Director Abbas Djavadi have ignored warnings from RFE/RL and outside journalists that the website is being used to disseminate racist and xenophobic propaganda, and in some cases to promote fans of Nazi Germany by posting a long interview with one of them as a legitimate member of Kazakh civil society, Tokayeva wrote in an article. She was referring to the April 2014 issue of Almaty-based Kazakh-language tabloid magazine "Anyz Adam" ("Legendary Man") which was devoted to the personality of Nazi leader – Adolf Hitler. Many articles and commentaries in the magazine were glorifying Hitler and some of them even downplayed his genocidal crimes, including the Holocaust, Tokayeva wrote. The magazine had nothing to do with RFE/RL, but its editor, who was fined by the Kazakh authorities for publishing the issue about Hitler, was later interviewed by RFE/RL's Kazakh Service as a civil society member, Tokayeva said. She also wrote that the RFE/RL Kazakh Service had tried to present the editor of the magazine issue about Hitler as a victim of harassment of the media by the authorities. It was obvious that the Kazakh authorities were promoting yet another puppet figure through media coverage, including by RFE/RL, to divert attention from the government's own abuses of power and harassment of legitimate journalists, Tokayeva observed.
Assem Tokayeva has more than 18 years of experience in Russian language mass media journalism in Kazakhstan, including 13 years with Radio Free Europe/Radio Liberty. She joined RFE/RL in 2004 as a freelance correspondent of the Kazakh Service in Astana, Kazakhstan. The same year she participated in creating the Russian language weekly program "Parovoz". She described it as the first program in Russian that was successfully launched by a non-Russian service at RFE/RL and became a model for launching in 2008 the first Russian language website by non-Russian services at RFE/RL. In 2009 the website won the prestigious Online Journalism Award of the Online News Association in U.S in the "Non-English, Small Site" nomination for "standing in defense of citizen's rights to seek and receive information."
From 2010 until recently, Assem Tokayeva had been working as an Online Writer/Editor for the Russian language website of RFE/RL's Kazakh Service in Prague, Czech Republic. She lost her job in what RFE/RL management described as a reorganization.
Since January 2018 she is a self-employed freelance translator and advocate for press freedom. She and the group of journalists and human rights activists are planning to visit Washington, DC and present their case to members of the U.S. Congress which funds Radio Free Europe / Radio Liberty through annual appropriations in the federal budget for the Broadcasting Board of Governors.
"Does the U.S. Congress know that authoritarian regimes of post-Soviet countries control language services at the U.S.-funded Radio Free Europe/Radio Liberty (RFE/RL)?, Assem Tokayeva asked in one of her recent Facebook posts.