BBG Watch Commentary
The incident in New York City on Tuesday afternoon provided another example of how the Voice of America (VOA) frequently lags
behind other media in reporting breaking news.
VOA falls under the Broadcasting Board of Governors (BBG), a U.S. agency with the lowest employee morale in the federal government. VOA is still managed by Obama administration holdovers.
Britain's BBC was up with full story on the New York City shooting, at least 8 paragraphs, with Twitter posts from NYPD before 4:18 PM.
VOA had nothing on front page at that time.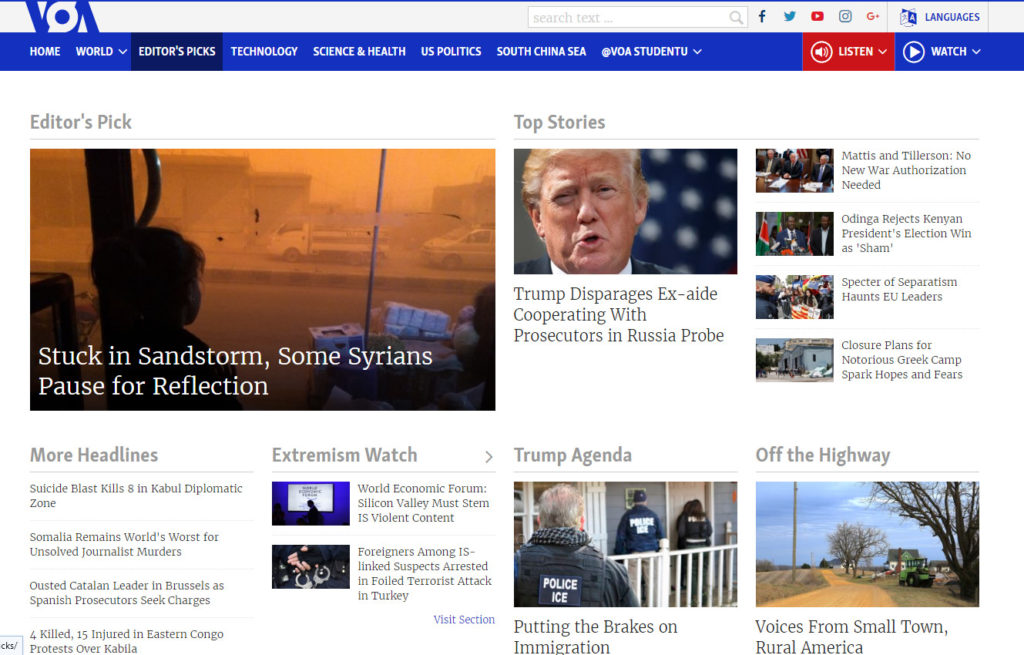 Shortly after breaking news bulletins about the incident started to flood the media, VOA's main English front page was observed to have no mention whatsoever of the event.
Later, VOA did post a Twitter item linked to a brief five paragraph AP story. It was not expanded with any additional material, such as Twitter posts by the NYPD or the New York City mayor's office, which appeared in BBC reports.
As of 4:35 PM VOA still had no story on its main English global web page, or on the U.S. section of that page.
In contrast, the BBC had extensive updates of the story, complete with Twitter posts from NYPD, and photographs, with contact links
and requests for contributions from readers via Twitter and SMS.
VOA finally posted a small item on the incident on its front page, observed at about 4:38 PM, linking to an expanded AP story with a 4:30 PM time mark.
To top everything off, BBC was up with
the latest death figure, VOA still had a 30 minute old AP story up, without the fatality figure.
And now at 5:34 PM, VOA still has the story buried under a Syria story. BBC now has the story No. 1 on Home, World, and U.S. pages, and BBC has a "Live" page up with numerous photos and Twitter feeds.

Voice of America frontline reporters wonder where the multi-million dollar VOA New York Bureau was on this? Why did VOA stick with AP, then Reuters stories for more than 90 minutes after the first breaking news item?
We looked at the VOA video, which reporter from the NY Bureau, posted on Twitter and You Tube. The post has minimal shares and likes. In comparison with other outlets — it's
just pitiful.
The story has been up on YouTube for quite a while with videos from news outlets other than VOA:
Time (42 minutes ago), 1689 views;
ABC (14 minutes ago), 225 views;
FOX (26 minutes ago), 980 views;
CNN (1 hour ago), 1449 views;
and even NJ.com (19 minutes ago), 109 views;
and more.
This is one more example that the agency is incapable of keeping on top of breaking news.
Its alleged "digital first" priority is a bust. It can't keep pace with commercial news outlets.
It can't keep pace with the BBC.
It has to rely on AP and even then it's behind the curve.
In short, the agency is non-competitive.
It is not a go-to source for news and information in a timely manner. Anywhere.
It rarely breaks into programming on-air or digital with a bulletin or live reporting.
As it often does, VOA relied on one of its reporters, in this case Steve Herman, the White House correspondent, to report on Twitter.
But without anything of the VOA website, these tweets, unless picked up by U.S. media, show minimal audience engagement, most of it, in any case, from the United States which is not supposed to be VOA's market.
Some of the VOA tweets were giving erroneous information.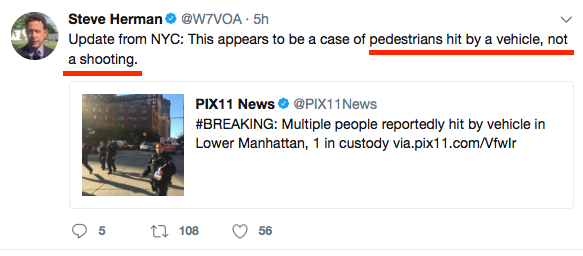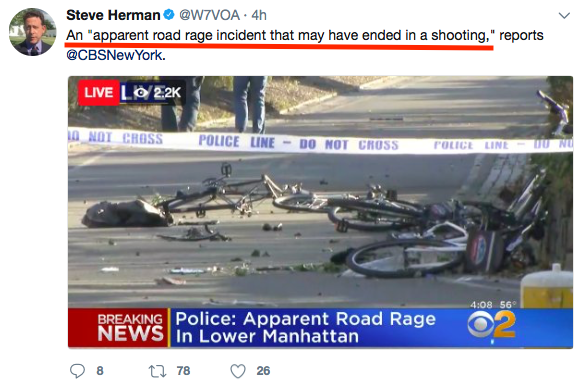 Though these tweets mentioned a death figure of "several fatalities", New York NBC station WNBC had already reported about 15 minutes before a figure of 6 killed.
One attachment as of 4:58 PM EDT, shows NYC story buried under "More Headlines" on the VOA front page.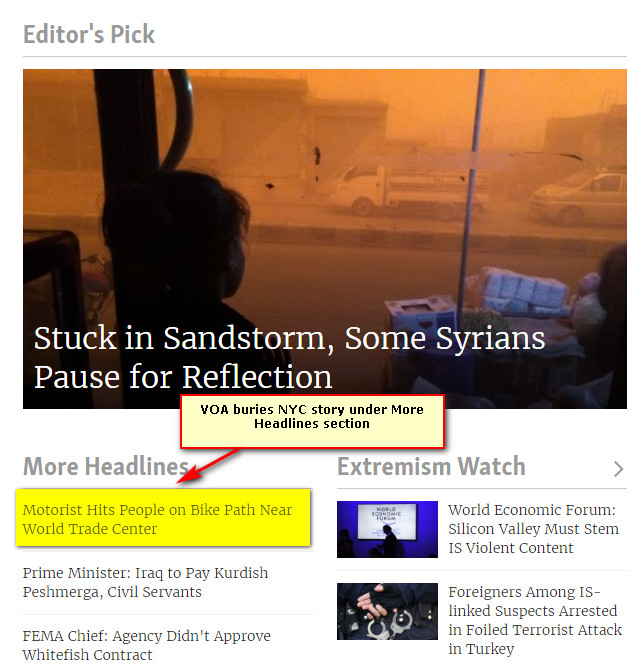 It is interesting that the VOA Twitter item contains a link to an AP story, very short, just a straight pick up of AP, but that story itself had not appeared ANYWHERE on VOA front
page, or VOA U.S. section as of 4:31 PM.
What is most obvious when you look at the social media posts, even the ones VOA correspondent Steve Herman still puts up there, is the weak reactions, whether
shares or likes, etc. He can only get a more substantial number of likes and comments
for some of his strongly anti-Trump tweets, and only when they are picked up by The Washington Post or another such outlet. Even then the reactions are about 95% or more from the United States, which is not where VOA's audience is supposed to be; and close to 99% from some of the most vocal opponents of Trump in the U.S., which shows
how one-sided and domestic audience-oriented VOA content has become.
On this story, it's pretty clear what happened. Here you had the worst terrorist incident in NYC since 9/11, if I am correct from reading various stories and posts. They had to rush to get their NY guy out there on the street to do a video.
But worse is how they mishandled online. To bury the story under "More Headlines," when BBC everyone else realized immediately that was a WORLD story, is pathetic.