OPINION

Masters of bad timing
By Ted Lipien
The Broadcasting Board of Governors (BBG), the U.S. federal agency in charge of media outreach abroad, is planning to eliminate all shortwave radio broadcasts in Russian by U.S. taxpayer-funded Radio Free Europe / Radio Liberty (RFE/RL) as of June 26, 2016. Radio programming in Russian by Radio Liberty's Russian Service will, however, continue 24/7 online on the RFE/RL website. Radio Liberty's Russian audio will also be available 24/7 on two satellites, Hot Bird and AsiaSat, according to the RFE/RL's Russian-language announcement. Radio Liberty Russian Service will also continue to use 1386 kHz medium wave radio frequency from midnight to 6 AM and from 9 PM to to 10 PM Moscow time. This frequency can only be heard in some parts of European Russia. The BBG's other entity, the Voice of America (VOA), has not been using shortwave radio transmissions to Russia since 2008.They were eliminated by the BBG a few weeks before the August 2008 Russian invasion of Georgia. Talk about bad timing.
I have always said that we don't need the CIA. Reliable predictions as to where the next international crisis will happen can be made by looking at program cutting decisions by the Broadcasting Board of Governors. If you look at BBG's past decisions to cut programming — not just shortwave radio but also entire services and/or satellite television transmissions — they included broadcasts to Russia, China, Tibet, Georgia, and Ukraine. The BBG bureaucracy usually made these decisions a few weeks or months before a major crisis erupted in these countries. They have missed hints of internal repression or external aggression with remarkable consistency. It happens because the BBG has no executives with strong foreign policy and international affairs backgrounds as the Voice of America and Radio Free Europe and Radio Liberty did during the Cold War. The BBG has been an absolute disaster, a "practically defunct" agency, to use former Secretary of State Hillary Clinton's description of the BBG. When she made her comment to Congress in 2013 she herself was an ex officio member of the BBG board.
I don't believe that shortwave radio has a strong future, but in cutting shortwave radio transmissions in Russian, Broadcasting Board of Governors officials seem far too optimistic that the Russian authorities will not block the Radio Liberty website. Russia's media regulator, Roskomnxdzor, recently briefly blocked and then unblocked RFE/RL's news website Krym.Realii (Crimea.Realities) in Russia and Moscow-annexed Crimea. Roskomnxdzor's spokesman said that the Russian authorities later unblocked Krym.Realii after RFE/RL's Crimean news desk complied with a request by Russia's Prosecutor-General's Office to remove from the site "materials that contain illegal information." RFE/RL denied that it had removed any content.
Pressure on RFE/RL from the Russian government seems to be growing, although RFE/RL's large news bureau in Moscow has not been shut down by the Russian authorities while many Western-funded NGOs have already been forced to stop operating in Russia. RFE/RL may be next unless President Putin thinks that he already has it under sufficient control by using the FSB secret police to put pressure on RFE/RL journalists and their bureau in Moscow.
In a hint of what may await Radio Liberty, Kremlin controlled Russian TV channel NTV showed last March a propaganda hit piece on RFE/RL, in which outlandish accusations were made against the American-funded broadcaster. An earlier Russian television program "News Of The Week With Dmitry Kiselyov," the Kremlin's lead propagandist, portrayed RFE/RL journalists as spies conspiring against Russia. Nenad Pejic, RFE/RL editor in chief, called the incident "a disgusting example of intimidation," and said that "authorities in Russia appear to be preparing a case against us because of our journalism."
To independent outside observers, these incidents illustrate a certain political vulnerability of the BBG relying heavily on Internet program delivery in Vladimir Putin's backyard. 71.3 % of Russia's population has Internet access. Nearly 30 % does not. Many Russian speakers in regions outside of the Russian Federation, including Moscow-occupied Crimea, still don't use the Internet. With Putin's media making vague accusations of spying against RFE/RL, some Russians may be afraid to access Western news media websites out of concern that their Internet use could be monitored, especially in Russia-occupied territories, such as Crimea.
Broadcasting Board of Governors officials, whose ranks have grown by leaps and bounds in recent years, seem convinced, however, that shortwave radio broadcasting has absolutely no future in Russia. In 2014, the BBG established a Special Committee on the Future of Shortwave Broadcasting to conduct a comprehensive review of the efficacy of shortwave radio as a distribution platform for U.S. government-funded international media outreach. According to the BBG's "Fiscal Year 2014 Performance and Accountability Report,"
"The [BBG] committee found shortwave radio to be essential to listeners in a few target countries, but of marginal impact in most markets. Based on consistent and verifiable data, and audience-based research, it was concluded that shortwave listenership around the world has plummeted, and that shortwave usage does not generally increase during crisis situations. Consequently, BBG has budgeted for the reduction of shortwave transmissions to countries where it is not a viable delivery platform."
Much more worrisome, however, are minuscule audience reach numbers on any media for both RFE/RL and VOA programs in Russian. In an apparent effort to to hide this fact, the BBG makes it difficult to find on its website recent weekly audience reach statistics for its programs in Russia. RFE/RL publicizes instead less meaningful annual numbers of visitors or page views online. According to RFE/RL, "RFE/RL's Russian-language sites provided 266 million pages of content to almost 170 million visitors. RFE/RL Russian-language Facebook pages registered almost 23 million engaged users last year." RFE/RL's weekly audience reach in Russia, however, is believed to be only about one or two percent of the country's population. Kremlin's state media have huge audience numbers compared to RFE/RL and VOA. That is understandable because Russian state media have in-country distribution, including national TV networks, while the BBG does not because the Russian authorities banned domestic rebroadcasts of Radio Liberty and VOA programs. But VOA and RFE/RL are also far behind in reach and impact compared to some of the few remaining independent Russian news websites, such as Meduza. It operates from abroad on a much smaller budget but has a much larger online audience in Russia.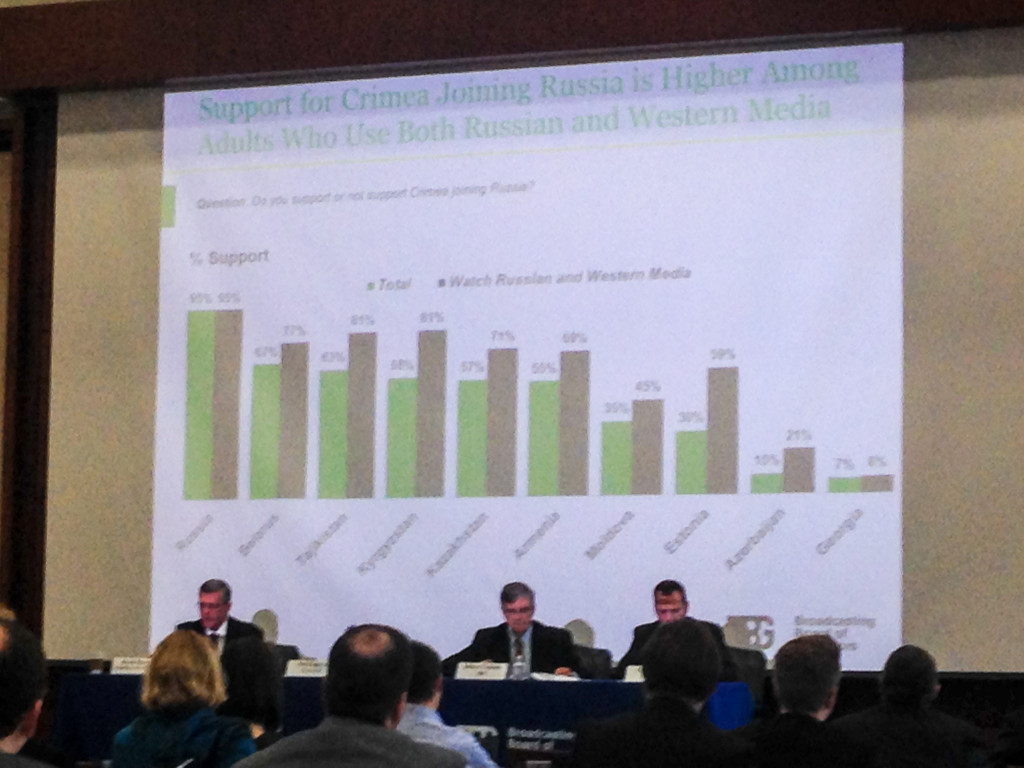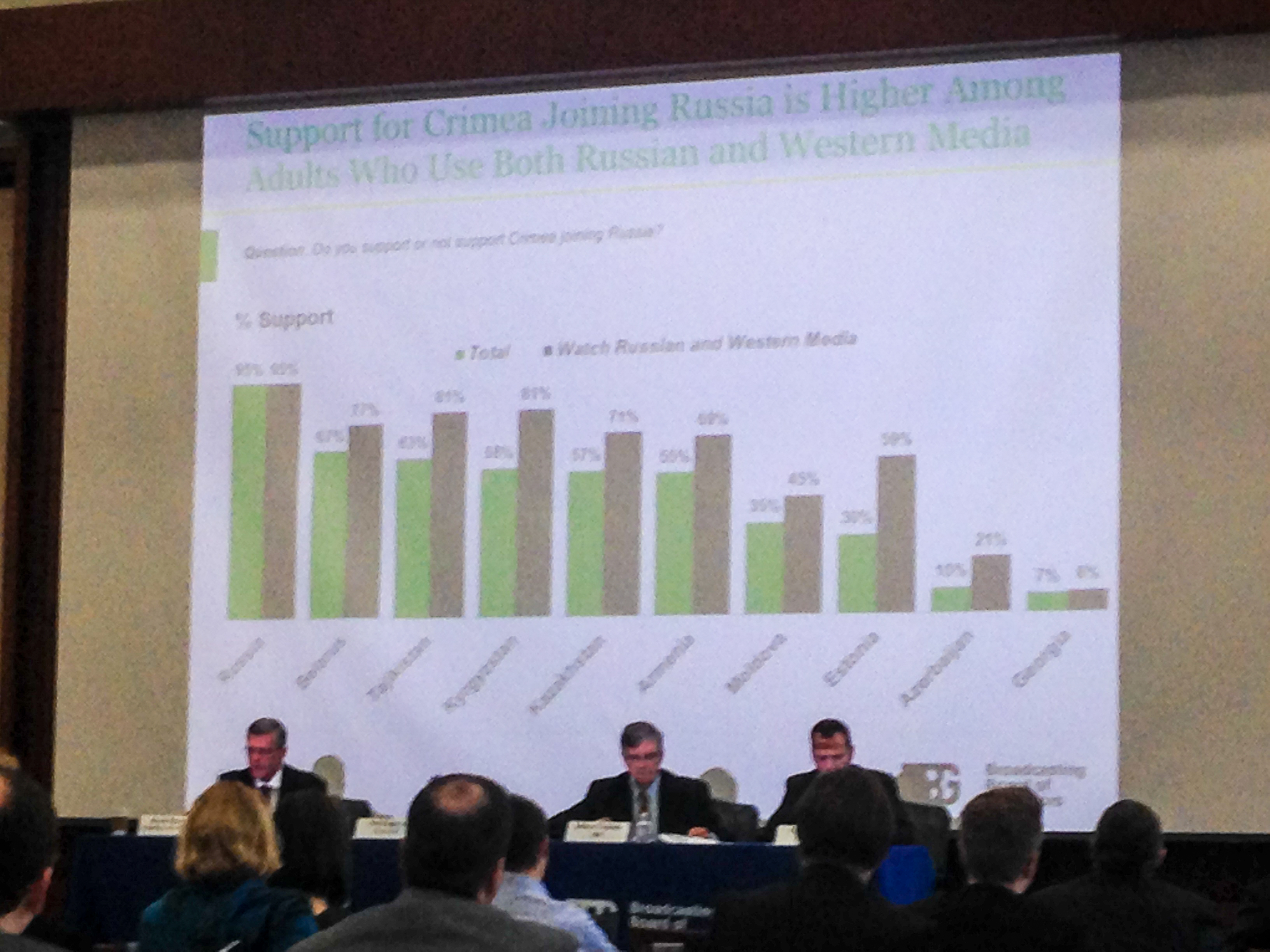 Even more worrisome is the lack of significant impact of BBG programs in Russia. In a nationally representative survey of Russia, the Associated Press-NORC Center for Public Affairs Research found that "Russians' attitudes toward the United States and President Barack Obama are extremely unfavorable and have grown sharply more negative in the last couple of years." "Eighty-one percent of Russians have an unfavorable opinion of Obama, and only 2 percent have a favorable view of him," AP reported.
The BBG may very well be right that shortwave radio transmissions cannot do much more for augmenting its audience in Russia. But eliminating shortwave radio will not help this practically defunct agency. BBG officials have missed a very important point. BBG's impact in Russia is not low because it does not have digital outreach, because it does, and it is not low because the Russian authorities block BBG websites, because for the time being they don't. BBG's impact in Russia is also not low because it has or does not have shortwave radio transmissions, but the overall audience reach will be smaller without them. The poorest and most vulnerable audiences won't be served. Judging by past performance, any money saved from cutting shortwave will be wasted on consultants and the bureaucracy.
Here is what U.S. taxpayers who pay $777.8 million to the BBG (FY 2017 Budget Request), of which $121.1 million goes to RFE/RL and $224.4 to VOA, need to know. BBG's impact in Russia is low because Putin's domestic propaganda is highly successful. BBG's impact in Russia is also low because BBG's program strategy and the quality and content of BBG programs are obviously inadequate.
Several trends have contributed to the current crisis. Increasing control over RFE/RL by BBG's federal bureaucracy has had a particularly negative effect. The forced merging of RFE/RL and VOA brands have rendered their respective programs and the joint program in Russian "Current Time" largely ineffective. U.S. taxpayers' money is being wasted on the government bureaucracy instead of being invested in producing better quality programming that could stimulate intellectual discussion among Russian speaking elites.
The Russians don't need more news, which is available everywhere. What they need is more Western analysis and alternative domestic opinions. The BBG may not be able to achieve high audience numbers in Russia, but at least it has a chance to influence political discussion among the Russian elites with the right kind of programming. This can have a multiplier effect, as it did for much of the Cold War. During that period of high impact, Radio Free Europe and Radio Liberty employed top journalists and experts.
Eliminating shortwave radio transmissions to Russia was an expected bureaucratic response from the BBG designed to deflect attention from the real problems the agency refuses to deal with. The move attempts to show that the government bureaucracy is engaged in doing something, when in fact it is only reducing its already small audience in Russia with its shortwave decision while doing nothing to reform the agency and achieve real impact.
The political timing of this decision couldn't be worse, even assuming that eventual reductions of shortwave radio transmissions to some countries are inevitable. But the BBG bureaucracy is famous for doing the wrong thing at the wrong time or even the right thing but at the wrong time.
An anonymous RFE/RL journalist got it right in commenting on RFE/RL's and VOA's race for achieving "'Snappy, eye-catching' nothingness," which seems to be BBG's current strategy.
"While Putin continues his inroads into former Soviet gory glory, this is how the American taxpayers' dollar is getting wasted. Incompetence, hubris and sausage measuring contests. What a shame. 'Snappy, eye-catching' nothingness. While you gentlemen argue about 'exemplary analysis' dissecting sausage-wielding in Georgia, Russian tanks are still in Abkhazia and South Ossetia. Here's the prequel to the sequel. 'The Pork Awakens.' Preparing to roll into another former Soviet republic maybe, and we all know that Russian tank barrels hardly ever fire sausages, at vegans or meat-eaters alike. But go on, have some mustard. No ketchup, please. Not yet."

Disclosure: Ted Lipien is one of the co-founders and supporters of BBG Watch.