Media outlets targeting external audiences with English language online news used various terms to describe former Israeli prime minister Arial Sharon who died Saturday — from "great warrior" and "controversial" to "brutal" and "butcher."
The quality of reporting and audience engagement through social media varied greatly, from over 11,000 Facebook "Likes" for BBC's main report as of 12:30 AM ET Sunday, to 61 Facebook "Likes" for VOA's main news story on Sharon's death. Iran's Press TV main news report shows 474 Facebook "Likes."
Radio France Internationale (RFI) reported that French President François Hollande hailed Ariel Sharon as a "major actor in the history of his country" who "chose dialogue" with the Palestinians. RFI also reported on sharp criticism of Sharon from the Palestinians. There was more criticism of Sharon in the RFI report than praise. RFI report shows 0 Facebook "Likes" as of 12:30 AM ET Sunday. Low social media interest indicators for both RFI and VOA are typical for these two media outlets, but RFI numbers are even lower than VOA's.
Germany's DW (Deutsche Welle) does not show social media statistics on its website, but a Sharon post on DW's Facebook page showed 47 "Likes" as of 12:30 AM ET Sunday. Russia's RT main news report shows over 5,500 Facebook "Likes." Israel International Radio website does not show social media statistics on its website.
The most neutral description of Sharon came from one of Israel International Radio reports, which referred to him only as "Israel's 11th prime minister." But the radio's website quoted numerous statements praising the former Israeli leader.
Israel International Radio did not make any attempt at balance. Reports posted on its website did not quote anyone criticizing Sharon.
The Israel Broadcasting Authority (IBA) Israel International Radio and TV website reported that Prime Minister Binyamin Netanyahu expressed his "deep sorrow" over the passing of Sharon and called him "a great warrior and military leader."
Iran's media offered nothing but harsh criticism. Other international media outlets tried to be more balanced in their reporting on Sharon's death.
BBC, RT (Russia Today), and Germany's DW (Deutsche Welle) provided both praise and criticism from various sources, but no strongly negative descriptions of their own.
While BBC and RT did not shy from quoting individuals voicing strong criticism of Sharon, they themselves described him only as "controversial."
Germany's DW referred to Sharon as "hardliner," "divisive figure," and "controversial," but its reports were balanced and strongly critical comments clearly attributed.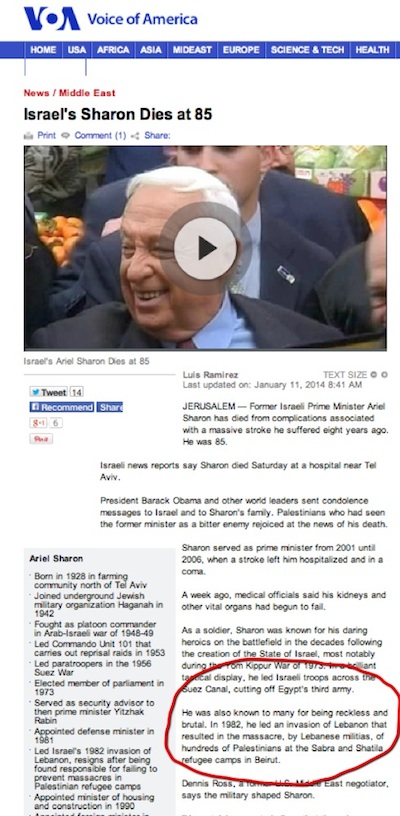 U.S. taxpayer funded Voice of America (VOA) quoted both critics and admirers of Sharon, but one of its reports included a comment, which was not clearly attributed and referred to Sharon as "brutal" and "reckless."
"He was also known to many for being reckless and brutal," Voice of America reported. VOA did not specify who those "many" are.
Such vagueness may have been due to editorial carelessness, but it may have created an impression among some that perhaps VOA also shares this view. To compensate, a VOA report quoted Omri Ceren, a senior adviser at The Israel Project, a pro-Israel nonprofit group in Washington. He told VOA Sharon was a figure of "overarching importance" in Israel's history for his role in reshaping the country's civil and military sectors.
VOA also posted a separate report on Arab world reaction to Sharon's death, with strongly critical comments against him.
VOA also posted in full President Obama's statement of condolences, but VOA web editors left HTML code in the text, making it appear unprofessional. Many hours later, the code is still visible, which also makes the text difficult to read.
VOA should have provided a broader selection of U.S. reactions, from President Obama, members of Congress, Jewish-Americans, Arab-Americans, and independent experts.
BBC reported on President Obama's statement and provided a link to the White House website. Both VOA and BBC reported on world reactions.
Iran's state media quoted Palestinian and other sources calling Sharon "a criminal."
Iran's Press TV reported that "Sharon earned the title 'Butcher of Beirut'." Press TV was referring to the Sabra and Shatila refugee camps massacre in Lebanon in 1982.
Other than Israel International Radio news reports, the most sympathetic about Sharon appears to be the main news report from Russia's RT, although RT also reported that Human Rights Watch (HRW) issued a statement on Saturday, stressing that Sharon "died without facing justice for his role in the massacres of hundreds and perhaps thousands of civilians by Lebanese militias in the Sabra and Shatilla refugee camps in Lebanon in 1982."
"For the thousands of victims of abuses, Sharon's passing without facing justice magnifies their tragedy," said Sarah Leah Whitson, Middle East and North Africa director at Human Rights Watch, as reported by RT. BBC also reported on the Human Rights Watch statements.
The most balanced and most extensive reporting on Sharon came from BBC. In addition to its lead news report on its homepage, BBC lists links to five additional reports.
DW and RT also did a good job in their reporting on the story. VOA's reports appeared to have been done in a hurry and were not well edited and coordinated. U.S. and world reactions were spread out among three reports and did not offer a balanced and comprehensive assessment in any single report. VOA's reference to Sharon as "brutal" without a proper attribution was highly unfortunate from a journalistic point of view. But at least in this case, VOA offered more reporting on this story than on many previous occasions when it was often late and failed to provide updates.
Israel's external state-funded media took the path of least resistance by avoiding reporting on anything controversial.
Iran's state media was unashamedly anti-Sharon and anti-Israel.