BBG Watch Commentary
The White House sent out this announcement to the media at about 10 AM ET. Four hours later, Voice of America still has no news reports on President Obama's planned visit to India.
Several hours ago, the White House Press Office made an announcement today, Friday, November 21, 2014, that President Obama will visit India in January 2015. Indian Foreign Ministry also announced that President Obama agreed to visit the country as first US President as Chief Guest for Republic Day.
Russia's new SPUTNIK news agency and radio (formerly Voice of Russia) almost immediately posted online a full-length report. Numerous Indian and U.S. media outlets have had reports online on Obama's planned visit to India for at least three hours and many provided an initial analysis of U.S.-Indian relations in light of Obama's visit announcement.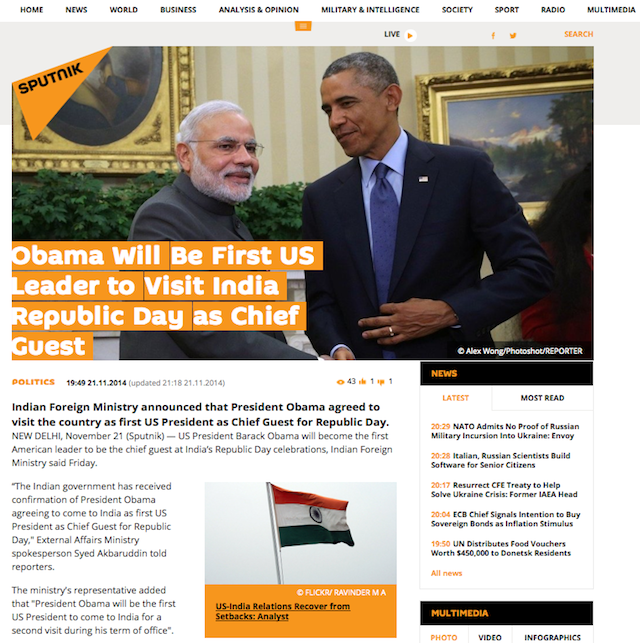 But U.S. taxpayer-funded international media outlet Voice of America (VOA) has so far had nothing online on Obama's planned visit to India.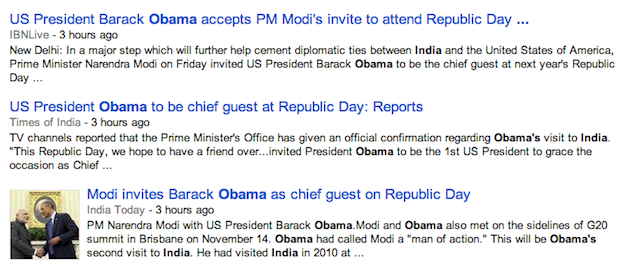 As of 1:40 PM ET, Friday, November 21, 2014, Voice of America English news website has nothing on President Obama's announced visit to India. Many of the news reports on VOA's "ASIA NEWS" page are more than 12 hours old; many are from previous days. Some were posted on November 19.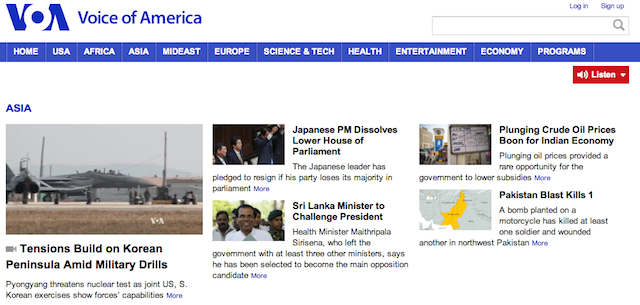 The VOA "ASIA NEWS" page also includes a poll: "POLL What do you think the APEC summit meetings will do to improve US-China and China-Japan relations?" The APEC Summit 2014 was held from November 8 to 10, 2014. Today is November 21. The poll, which was posted before the summit, is still on the VOA site. It got only 124 votes in more than 10 days from the entire world.
Voice of America needs to become a real news organization that posts news and updates them in a timely fashion.