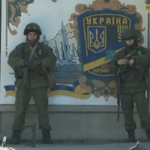 Elizabeth Arrott
March 03, 2014
SIMFEROPOL, CRIMEA, UKRAINE —SIMFEROPOL, CRIMEA, UKRAINE — The international war of words over developments in Ukraine overshadowed physical confrontations on the ground Monday.VOA's Elizabeth Arrott is in Simferopol, capital of Ukraine's contested Crimean Peninsula, where locals are reacting to the Russian military presence.
Across Ukraine's Crimean Peninsula, soldiers without insignia are now a common sight. Widely believed to be Russian forces, there is tension around Prevolnoye military base, where Ukrainian soldiers have hunkered down while Russian flags fly nearby.
"I am far from thinking that there will be an attack or a war," said a hopeful Valery Boiko, a representative for the Prevolnoye military base commander. "Nobody needs this, you or we, nobody from Ukrainian citizens to those serving in the army. I hope that the politicians will come to an agreement at their level."
However both Kyiv and the West, concerned about Moscow's decision to authorize military intervention in the name of protecting ethnic Russians, called for them to withdraw.
British Foreign Secretary William Hague visited Kyiv Monday, where a pro-Western uprising led to the ouster of Moscow ally President Viktor Yanukovych last month. U.S. Secretary of State John Kerry arrives Tuesday to show Washington's support for the new government.
Earlier, prompted by fears that Russia could move into eastern Ukraine, Kyiv ordered a full military mobilization.
Some among Crimea's pro-Moscow ethnic Russian majority are preparing for trouble, forming volunteer self-defense units. But any formal attack seemed unlikely, as Ukraine would be up against the far mightier Russian army.
"Our role is to protect the city, to prevent provocations, and provide order so that Crimean people can live peacefully and calmly," said Sergey Nikolayovich Stanyuk of the Crimean Civil Self-Defense.
Despite tensions, much of Crimea was calm. The mood was celebratory around parliament, over which now flies the Russian flag.
Some of the irregulars provided a mixed message, showing a fondness for Europe in their clothing, while wearing pro-Russian bands on their sleeves.
But concern remains about what intervention means for the future, and the fault lines that are forming.
"Crimea is multinational," said Soviet-era Navy Captain Valentin Mihailovich. "I don't really like what's going on, but it was necessary for protection because of all those Banderas [nationalist partisans] in Kyiv. Western Ukraine is opposed to Eastern and Southern Ukraine."
That vision of the government in Kyiv as having been brought to power by fascists and thugs – an idea reinforced by Russian media – threatens to make the fault lines wider.