BBG Watch Media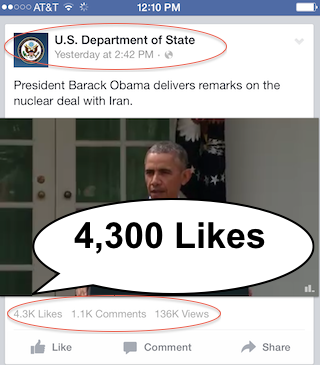 "When it comes to a few important journalistic new media skills, such as speed of posting information online and use of social media, U.S. State Department's public diplomacy is leagues ahead of U.S. taxpayer-funded Voice of America (VOA)," former VOA acting associate director wrote in an op-ed in Digital Journal.
"U.S. State Department is not a news or journalistic organization. It never was and never will be. But State Department public diplomacy specialists could teach Voice of America a few technical things about journalism in the digital age. VOA aspires to be a news organization engaging audiences abroad with the help of such social media platforms as Facebook or YouTube, but these days VOA often fails under its dysfunctional management."
"President Obama's statement after the announcement of the nuclear deal framework with Iran was a good example of how the U.S. State Department vastly outdistanced on social media the Voice of America Persian Service, also known as the Persian News Network or PNN," Ted Lipien wrote.
Disclaimer: Digital Journal op-ed was written by one of BBG Watch co-founders.