BBG Watch Media
In an opinion article posted on the Atlantic Council website, former Radio Free Europe / Radio Liberty (RFE/RL) president Jeffrey Gedmin urged a speedy passage of the bipartisan legislation, H.R. 2323, the United States International Communications Reform Act of 2015 to "develop information and media strategies worth their name" in countering propaganda and disinformation emanating from the Kremlin. The legislation would reform the vast bureaucracy of the Broadcasting Board of Governors (BBG), the federal agency in charge of U.S. international media outreach.
Jeffrey Gedmin's article, "Here's How We Give Putin Something to Think About," was also published in Newsweek under the title, "The West Should Be Turning the Screws on Putin."
"It's astonishing how Congress and the Obama administration have dithered over the reform of US international broadcasting," Gedmin wrote. The bipartisan H.R. 2323 bill, co-sponsored by Ed Royce (R-CA) and Eliot Engel (D-NY) "deserves speedy passage in the House and the Senate and approval by the President," Gedmin observed.
Gedmin: "This will give the Voice of America and a newly consolidated Freedom News Network—merging Radio Free Europe/Radio Liberty, Radio Free Asia, and the Middle East Broadcast Network—the chance to operate more efficiently and effectively. It's time to resource properly television capabilities. How woefully and embarrassingly inadequate it is that VOA and RFE/RL now have funding to produce a new Russian language television show for a meager thirty minutes a day."
Jeffrey Gedmin opened his article with a criticism of Western leaders and media buying into the Kremlin propaganda narrative of Russia being humiliated as a victim of the West's alleged aggression.
"Imagine Winston Churchill saying: 'We've got to send Nazi Germany a clear signal. At the same time we have to recognize that the Germans do need their lebensraum.' It's unthinkable," Gedmin wrote. As an example of inappropriate Western responses, Gedmin quoted a recent comment by United Kingdom Foreign Secretary Philip Hammond who told the BBC: "We've got to send a clear signal to Russia that we will not allow them to transgress our red lines. At the same time we have to recognize that the Russians do have a sense of being surrounded and under attack, and we don't want to make unnecessary provocations."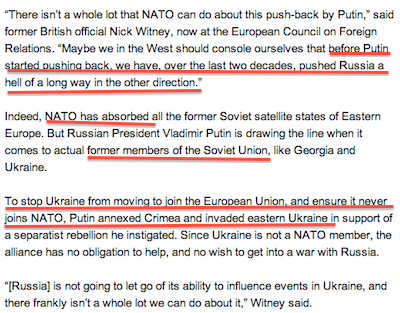 Jeffrey Gedmin is currently senior fellow at Georgetown University's School of Foreign Service, senior advisor at Blue Star Strategies, and co-director of the Transatlantic Renewal Project.
Western media often report on statements, both Russian and Western, which reflect the Kremlin propaganda narrative without questioning their accuracy and offering sufficient balance or historical background.
Mr. Gedmin did not mention any specific examples of such reporting, but he observed that Radio Liberty is becoming more assertive in telling the Russians "what Putin is doing to their country." Both Radio Free Europe / Radio Liberty and the Voice of America are overseen by the Broadcasting Board of Governors.
Gedmin: "As for content, let's worry less about trying to respond to Putin's disinformation. It's not unimportant to play defense. But we need to be far more assertive about defining our own agenda, and Radio Liberty has already started on this track. The Russian people must hear about what Putin is doing to their country. That means accurate news and information in Russian to Russia about the impact of Putin's policies. No Russian patriot wants to see Russia's future destroyed by self-serving deception and costly foreign adventures."