UPDATE: VOA English News also did not report on the 2014 Statement by President Obama on the Celebration of Coptic Christmas. President's statement included a message on religious freedom:
"During this season, we reaffirm the commitment of the United States to work for the protection of Christians and other people of faith in Egypt and around the world. The freedom to practice our faiths is critical to stable, pluralistic, and thriving societies, and the United States will continue to be vigilant in its work to protect that freedom." President Barack Obama
Voice of America (VOA) English website is ignoring Orthodox Christmas, even though it has English-speaking audiences in parts of the world where Orthodox Christians live and are in some cases persecuted religious minorities, including countries like Syria, Egypt and other areas of the Middle East. VOA English website also has some traffic from Russia, a country with the largest Orthodox Christian population.
Fortunately, VOA Russian Service, as well as VOA Ukrainian Service, are noting the religious holiday, including posting reports on Orthodox Christian celebrations in the United States.
Православное Рождество в Вашингтоне, VOA Russian
VOA Russian Service interviewed the Dean of the Cathedral of St. John the Baptist in Washington, Archpriest Victor Potapov.
Audiences around the world appreciate when their major religious or secular holidays are reported on by international media, including Voice of America.
There are estimated 283 million Orthodox Christians in the world. Many of them are religious minorities in their countries. Some face religious persecution. Many are English speakers. In India there are close to 4 million Orthodox Christians. In Belarus there are 7 million Orthodox Christians.
Over 100 million Orthodox Christians live in Russia.
In one of VOA's top markets, Ethiopia, there are estimated 45 million Orthodox Christians. In Egypt, Orthodox Christians number approximately 7.5 million, in Syria close to 2 million. Many Ethiopian, Egyptian and Syrian Orthodox Christians speak English and are potential users of the VOA English website.
There are over 36 million Orthodox Christians in Ukraine.
VOA News could have reported on Patriarch Bartholomew's special prayer for Ukraine. It did not.
But just as Orthodox Christians were celebrating Christmas Eve around the world, VOA English News took time to write and post a partially plagiarized report on ancient Romans eating giraffe meat and presented it as one of its top nine world news stories, even though this science news was already three to four days old.
VOA English News reporting priorities seem to be very strange indeed.
There are over 5 million Orthodox Christians in the United States. At the very least, Voice of America should have reported in English on Orthodox Christians celebrating their Christmas in the United States. Because of recent news from Ukraine, it could have focused on Ukrainian Americans celebrating their Christmas by collecting money and goods for pro-Europe and pro-freedom demonstrators in Ukraine. VOA Ukrainian Service did report on this, but other VOA language services could have used a multimedia report in English which they would then translate into their languages.
The New York Times took note of Orthodox Christmas with these two multimedia reports already on January 6:
Ukrainian protesters celebrate orthodox Christmas, NYT.
Jerusalem's Greek Patriarch arrives in Bethlehem to lead Orthodox Christmas mass, NYT.
As far as news is concerned, VOA English News could have reported also on Patriarch Kirill's Christmas message in which he asked to remember victims of terrorism in prayers. RT (Russia Today) reported on it on January 6, as the message was delivered on Orthodox Christmas Eve. Reporting on it on the VOA English website could have been linked to recent news of terrorist attacks in Volgograd, Russia, and in many other parts of the world.
While ignoring Orthodox Christmas, VOA English website did post more than one report on Christmas celebrations on December 24 and 25 at the Vatican and in other, mostly Catholic parts of the world. VOA English News also reports regularly on major Muslim holidays. A number of reports on Pope Francis in recent days on the VOA English website were in connection with Christmas celebrations. VOA English News also had a report on secular New Year's day celebrations, but in its report failed to note, except for one photo, New Year's major day pro-freedom protest celebrations in Ukraine and Turkey.
Had VOA English News reported on Orthodox Christian celebrations today, it could have linked it to its earlier report that during Pope Francis' announced visit to the Holy Land in May 2014, he plans to hold an inter-faith meeting in the Church of the Holy Sepulchre together with Bartholomew I, the Ecumenical Patriarch of Constantinople.
Bartholomew is the spiritual leader of the some 300 million Orthodox Christians worldwide.
VOA had reported earlier that "Pope Francis made the announcement of the planned visit "on the exact 50th anniversary of Pope Paul VI's meeting in Jerusalem with Bartholomew's predecessor, Athenagoras, the first meeting of the leaders of the Western and Eastern Christianity since they were divided by the Great Schism of 1054."
There appears to be very little planning of consistency in VOA news reporting in recent years.
When it comes to freedom, religion, and many other topics, VOA English News frequently manages to disappoint international audiences. Critics attribute many of these failures not to intentional ignoring of freedom or religious news and topics but to general mismanagement and lack of leadership at the organization.
Orthodox Christmas Day is nearly over in most of the world. VOA English News has missed its chance to report on it.
The current VOA leadership seems to forget that persecuted religious minorities, other marginalized groups, political and economic exiles, and pro-freedom activists everywhere are some of the biggest consumers of VOA and other international media news programs.
Others did better.
BBC English website noted Orthodox Christmas with a beautiful photo gallery and a report on Orthodox religious celebrations in the UK.
BBC
BBC In pictures: Orthodox Christmas celebrations around the world
BBC Winter Olympics: Russia launches Sochi security clampdown, … how seriously the authorities are taking the threat of violence. President Vladimir Putin was in Sochi on Monday night to celebrate the Orthodox Christmas
BBC Georgia: Pilgrims seek wish fulfilment at monk's tomb
BBC Ukrainian POW chapel marks Christmas
Radio Free Europe / Radio Liberty (RFE/RL)
RFE/RL English website had a report and also posted a photo gallery. Its language services had a number of Orthodox Christmas-related reports.
RFE/RL 07.01.2014 01:01 Orthodox Christians Celebrate Christmas …Millions of Orthodox Christians around the globe are celebrating Christmas. Millions of Orthodox Christians around the globe are celebrating Christmas. In Russia, President Vladimir Putin attended services at the newly-built Holy Face of Christ the Savior Church in the Black Sea resort of Sochi, which will host the Winter Olympics…
RFE/RL 07.01.2014 09:21 Russians Celebrate Orthodox Christmas …Orthodox Christians in Russia marked Christmas on January 7, according to the Julian calendar, with processions and midnight services in the country's churches. Russian Orthodox Patriarch Kirill celebrated Christmas Mass at Moscow's Christ the Savior Cathedral, while President Vladimir Putin attended services at a new cathedral in Sochi. (Reuters video)
More from RFE/RL on Orthodox Christmas: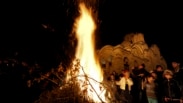 RFE/RL 07.01.2014 07:55 Orthodox, Eastern Rite Christians Celebrate Christmas Most Orthodox and Eastern Rite Christians celebrate Christmas according to the Julian calendar on January 7, two weeks after Christians who observe the holiday using the Gregorian calendar. Here's a look at how the Orthodox holiday was observed in a number of different countries, from Eastern Europe to the Middle East. In Kosovo, ethnic Serbs gather around a bonfire at the medieval monastery of Gracanica on the eve of Orthodox Christmas, January 6, 2014 Kosovo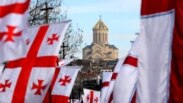 RFE/RL 06.01.2014 15:37 Top Shots the most compelling photographs from RFE/RL's broadcast region and beyond. For more photo galleries, see our "Picture This" archive. Bulgarian men dance in the Tundzha River on Epiphany Day in the town of Kalofer. (Reuters/Stoyan Nenov) Greek Orthodox swimmers kiss a wooden crucifix in the chilly waters of the Bosphorus, where it was thrown during an Epiphany Day ceremony in Istanbul, Turkey. (EPA/Sedat Suna) A squirrel gathers nuts in the Gorky Park of culture and rest in….
RFE/RL 06.01.2014 15:25 RFE/RL Video Roundup – Jan. 6 Car bombings strike Iraq, a Kyrgyz mufti is embroiled in scandal, and Orthodox Christians welcome a new leader in Belarus. Plus stories from Ukraine, Turkmenistan, and Pakistan in this roundup of news from RFE/RL broadcast countries.
RT (Russia Today)
RT (Russia Today) English website had a number of reports.
RT 07.01.2014 13:39 'Sochi 2014 to be safest, most secure Olympics ever' – organizers… President Vladimir Putin, who has celebrated Orthodox Christmas in Sochi, is currently inspecting the state of the city …
RT 07.01.2014 08:51 From Bethlehem to Russia: Millions get together to celebrate Orthodox Christmas… as the biggest holy day of all, Christmas is perceived to be more joyous. Christmas in the Orthodox Church is preceded by …
RT 06.01.2014 15:27 Patriarch Kirill's Christmas message: Remember victims of terrorism in your prayers… The Orthodox Church is celebrating Christmas. The reason this feast is so important is because it …