BBG Watch Commentary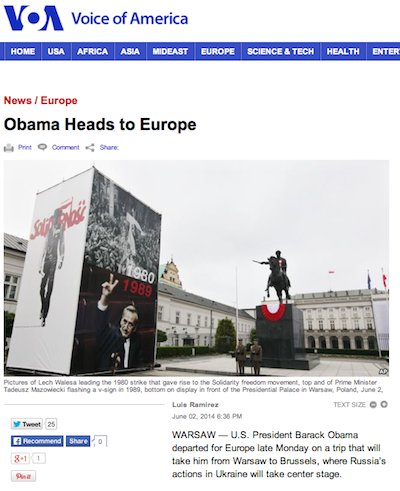 While many U.S. and international media outlets were posting full length reports and news analyses on President Obama's upcoming European trip, drawing on a White House press briefing Friday afternoon by Deputy National Security Advisor Ben Rhodes, the U.S.taxpayer-funded Voice of America did not report on the briefing and devoted only two sentences to the White House announcement that Obama will meet in Warsaw with President-elect of Ukraine Petro Poroshenko at the 25th anniversary celebrations marking the end of communist rule in Poland.
It is by now a well established fact that VOA news reporting largely stops after business hours in Washington. Ben Rhodes' briefing started at about 3 PM EDT Friday and ended at about 4:00 PM. VOA executives apparently made no arrangements for anyone to cover the briefing while VOA White House correspondent, Luis Ramirez, may have been getting ready to travel to Poland, the first stop on President Obama's European trip.
In any case, there was no one assigned by VOA executives to cover the White House late Friday afternoon or to write a report or a full length news analysis on the President's upcoming European trip and its foreign policy implications. VOA's online international audiences, including those in Russia and Ukraine, got two or three sentences about the trip and almost nothing from the White House special press briefing by NSC's Ben Rhodes.
While on Friday evening, Saturday, Sunday and Monday, other international media outlets were posting full-length news reports and news analyses with headlines about Obama's trip and quotes from the White House press briefing, VOA English News only managed to post Monday a 161-word report on the presidential trip. That particular VOA report had an editorializing headline "Obama to Visit Volatile Europe" which was factually incorrect, as the countries to be visited are not "volatile." The VOA headline was later changed to "Obama to Visit Europe" but it can still be seen in the permalink for the VOA post, "http://www.voanews.com/content/obama-to-visit-volatile-europe/1927297.html."
This VOA report was very short on text and substance. As of 1:30 AM EDT Tuesday, it had only 5 Facebook "Shares," even less than usual very low social media engagement numbers on the VOA English news website.
China's CCTV report on Obama's trip had 242 words (compared to VOA's 161), and unlike VOA's report, it had two quotes from Ben Rhodes. CCTV does not show social media engagement data.
Voice of Russia did not quote from the White House press briefing in its strongly anti-U.S. news analysis/ commentary on President Obama's trip to Poland, but the Voice of Russia report/commentary had 1,200 words (compared to VOA's 161) and 64 Facebook "Recommends" (compared to VOA's 5).
The Voice of America did not post a longer news report about President Obama's trip to Europe until 6:36 PM EDT Monday, June 2, 2014.
This report, "Obama Heads to Europe" by VOA White House correspondent Luis Ramirez, has 505 words and is generally well written, interesting and balanced, if not truly comprehensive considering that it deals with U.S. foreign policy and the U.S. President.
Still, this late VOA news report is far better than VOA's two or three sentences on Friday, Saturday, and Sunday and 161-words in an earlier VOA report on Monday. But the last name of Poland's President Bronislaw Komorowski is misspelled in the latest Voice of America report as "Komoroski," making VOA once again appear less than journalistically professional.
Between 6:36 PM EDT Monday and 2:00 AM EDT Tuesday, the Voice of America report on President Obama's trip to Europe did not get any Facebook "Shares." It did get 25 Tweets.
Surprisingly, Russia's RT has not have yet posted any report on Obama's European trip, but another RT report from today, June 2, dealing with U.S. news, "Republicans criticize US swap with Taliban, warn of 'very dangerous' precedent," had over 1,000 Facebook "Shares," 131 Tweets, and 85 Google+ as of 2:00 PM EDT Tuesday.
By comparison, a VOA report on the same topic, "Washington Debates Terms of Bergdahl Release – VOA News," not from today, June 2 as the RT report, but posted by VOA on June 1, is showing only 2 Facebook "Shares," 22 Tweets and 0 Google+ as of 2:00 AM EDT Tuesday, even though it has been online a day longer than the RT report.
So much for VOA's social media engagement and digital transformation touted by Voice of America and International Broadcasting Bureau executives. Russia's RT beat VOA on this U.S. news 500 to 1 in Facebook "Shares," 6 to 1 in Tweets and 85 to 0 in Google+. The RT report had 43 readers' comments as of 2:00 AM EDT Tuesday; the VOA report on the same topic had none.
###
VOA News
Luis Ramirez

June 02, 2014 6:36 PM

WARSAW — U.S. President Barack Obama departed for Europe late Monday on a trip that will take him from Warsaw to Brussels, where Russia's actions in Ukraine will take center stage.

President Obama comes to Poland at a time when there is skepticism about America's willingness to confront more forcefully the threats of Russian expansionism.

President Obama's aim in Warsaw – a few hundred kilometers from the Ukrainian border – is to further clarify for his allies the policy he laid out in a speech at the West Point military academy last week, when he said diplomacy and multilateral action, not guns, are his preferred way to resolve crises.

"Our ability to shape world opinion helped isolate Russia right away. Because of American leadership, the world immediately condemned Russian actions," said President Obama.

The first items on Obama's agenda are meetings with Polish President Bronislaw Komoroski, whose government wants tougher sanctions and far more than the 150 U.S. troops who landed here in April as a sign of American support.

Because of its location between Russia and Western Europe, Poland has historically been vulnerable. Analyst Will Pomeranz at the Wilson Center in Washington says it is with good reason that Warsaw is worried now.

"Poland has been invaded by Russia at various points through the centuries, been ruled by Russia. Russia in the end of 19th and beginning of the 20th century basically went after a lot independent Polish institutions in attempts to russify Poland. So, Poland historically is always concerned about what's going on in Russia and what Russia's intentions are towards Poland itself," said Pomeranz.

Part of President Obama's reason for coming to Poland is to join in celebrating the 25th anniversary of the election victory of union leader Lech Walesa's Solidarity movement that spelled the end of four decades of Soviet-imposed communist rule in Poland.

At the commemoration Wednesday, the U.S. leader will deliver remarks aimed at reassuring this region that America remains a leader of democracy and freedom in this part of the world.

Many Poles need that reassurance. Lech Walesa, who became Poland's first elected president in 1990, spoke on Polish television last week and was critical of the U.S. administration, saying – in his words – the superpower has not been up to the job. He said bad things are happening in the region because – quote – "there is no leadership."

President Obama is scheduled to meet with Ukraine's president-elect, Petro Poroshenko, in Warsaw on Wednesday, before traveling to a G-7 summit of industrialized democracies in Brussels.

The meeting was originally planned as a G-8 event to be held in the Russian resort of Sochi, before the group barred Russia and switched the venue following the Russian annexation of Crimea.

The last stop for the U.S. president later in the week is Normandy in France, where he will mark the 70th anniversary of D-Day, the allied invasion of France and the start of the liberation of Europe from Nazi occupation.

Russian President Vladimir Putin will be among those present.