BBG Watch Commentary
When Solidarity leader, Nobel Peace Prize laureate and former President of Poland returned to the U.S. Congress Wednesday for a special screening of a biographical movie about him, "Wałęsa: Man of Hope," by Polish filmmaker Andrzej Wajda, the Voice of America (VOA) ignored the event.
But when Lech Wałęsa was leading the Solidarity trade union in the 1980s, the Voice of America Polish Service was listened to by more than 70 percent of Poles, making it one of the most popular programs in VOA's history. Wałęsa later said that his and Solidarity's victory in 1989 would not have been possible without the contribution of uncensored news reporting by the Voice of America and Radio Free Europe. When he delivered his historic speech to the joint session of the U.S. Congress 24 years ago, as communism fell in Poland, the speech was broadcast to Poland jointly by the Voice of America and the newly-reformed Polish Radio.
The absence of any Voice of America reporting on Lech Wałęsa's return to Capitol Hill this week is simply astounding. He remains an inspiring figure for many human rights and pro-democracy activists in countries like Ukraine, Russia, Belarus, China, Tibet, Iran and many others to which the Voice of America still directs its broadcasts and online news.
The fact that VOA and the Office of Communications and External Affairs of the International Broadcasting Bureau (IBB) ignored this Capitol Hill event is also astounding since American taxpayers are paying for VOA and IBB operations and appropriations for the agency are approved by members of the U.S. Congress.
The Broadcasting Board of Governors (BBG) needs to look into this matter since this is not the first time that the Voice of America ignores a major human rights news story happening only blocks away from its newsroom. IBB executives have done nothing to correct such problems.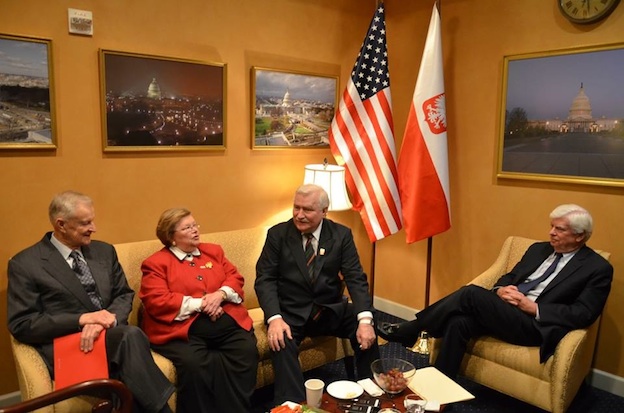 The following description of the Capitol Hill event with Lech Wałęsa was posted by the Polish Embassy in Washington.
An evening to remember. Numerous standing ovations on Capitol Hill as President Lech Walesa returned to the U.S. Congress after 24 years and was greated by a full house of nearly 500 dignitaries: U.S. Senator Barbara A. Mikulski (D-MD), former Senator from Connecticut and current MPAA President Christopher Dodd (who reunited with Lech Walesa on-stage and led the discussion, reflecting over their first meeting back in 1983), Rep. John D. Dingell of Michigan, Co-Chairs of the House Poland Caucus, Congressman Dan Lipinski and Congressman Michael Grimm, as well as Congresswoman Sheila Jackson Lee of Texas, with Washington Wizards Polish basketball player Marcin Gortat, lead actor who potrayed Walesa in the film Robert Wieckiewicz, as well as former National Security Adviser Zbigniew Brzezinski were all in attendance to pay tribute to this icon.

"I spoke at every public high school in Connecticut over the years … and I'd be asked by people, 'Can one person change the world?' and I used to constantly cite Lech Walesa, Eunice Shriver, Nelson Mandela as people who clearly changed the world," Dodd said during the course of the on-stage interview held before the movie screening.

"When Lech Walesa jumped over the wall at the Gdansk Shipyard, he took the whole world with him. The Solidarity movement brought hope and democracy to Poland, and inspired so many more around the globe, including Polish Americans in my hometown of Baltimore. The United States and Poland are united by our beliefs – in freedom, in people, and in speaking truth to power. Today, we are strong democracies, true allies, and steadfast friends." said Senator Barbara Mikulski

Through the screening of the movie on Capitol Hill, the evening highlighted Solidarity's contribution in bringing down Communism and ushering in freedom and Democracy to Central and Eastern Europe which lead to the tear down of the Berlin Wall.

"This history happened in Poland first" emphasized Ambassador Ryszard Schnepf, adding that Poland and the Polish people, will never forget the word 'Solidarity' and the support we received, particularly from the United States in our greatest hour of need.

The screening of the film "Walesa. Man of Hope" in the U.S. Congress was not only a prestigious political but also a timely cultural event, proving to be a great occasion to once again highlight and celebrate the work of producer Andrzej Wajda and his film.

We thank you all for a magnificent evening and encourage you to share your thoughts and impressions of this memorable event.