BBG Watch Commentary
The U.S. taxpayer-funded Voice of America (VOA) has posted two out of three promised special reports on "Islamist Extremism in America." These VOA reports are politically correct to a fault but have generated almost no audience engagement.
"Islamist Extremism in America" special reports from the Voice of America push the theme of the Orlando massacre and other terrorist attacks in the U.S. being blamed on "Failing at life" with "Religion, not the primary factor."
"This isn't about Islam," VOA says. "Family dysfunction," "bipolar disorder," and being "off his track" may be responsible for terrorist attacks. While "Islamist Extremism in America" reports did not advance the excuse of lax gun laws in the United States, several other VOA reports did. Their authors did not bother to ask the obvious question why terrorist attacks also happened in France and Belgium and in other countries which have strict gun control laws.
"She was lonely" and "his dad was quite a drinker" were some of the other theories advanced by VOA writers to explain attraction among some Muslim Americans to an extremist ideology of ISIL. The overall message from the Voice of America was that "Islam is [not] at the heart of the problem" of "Islamist Extremism in America."
The Voice of America reports were prepared by VOA's Central English newsroom correspondents. Even some of the broadcasters in the Middle East have more courage and sophistication to expose cultural roots of terrorism in Islamic countries. We have seen several such programs in which Middle Eastern TV anchors, in some cases women, spoke courageously and eloquently about the reluctance among Muslims and among Muslim men to have an intellectual discussion about issues of religion and culture behind terrorism.
When the Voice of America was not yet overcome with political correctness, it interviewed several years ago an imam in Bosnia who explained how the causes of terrorism among Muslims were both religious and cultural, not personal or economic. The Bosnian imam on VOA about ten years ago was not afraid to criticize. Many VOA reports now are completely bland.
While some Voice of America correspondents engage in politically correct but misleading reporting, at least one outstanding VOA foreign language service journalist who broadcasts to a Muslim country was quite blunt recently in describing some of the real cultural issues behind extremist violence. Writing on her personal Facebook page about her countrymen who during World War II had protected the Jews, she bemoaned their current reluctance to feel sorry for the Orlando victims, "because they were gay." "We have a long way to go!," she wrote. VOA needs more journalists like her writing for a worldwide audience.
VOA's worldwide audience needed a much deeper analysis of the issues from the Voice of America. One of the VOA special reports says: "And it begs the question, by defining violent Islamism solely in religious terms: Is the U.S. deploying resources to counter that assumption in the most efficient and effective way?"
What does it mean? Who is defining violent Islamism solely in religious terms, who is making that assumption, and who supposed to counter it? There are serious issues to be explored here, but the Voice of America remains confused, far more confused than some of the better journalists in the Middle East.
The Voice of America still has a long way to go under the new director Amanda Bennett. She did manage to put the VOA Central newsroom on their toes in covering the Orlando shooting faster and more extensively than they had done covering similar stories in recent past. Unfortunately, some of that coverage has been quite pedestrian. We don't know how she feels about these reports, but since they were prominently featured and promoted on the VOA website, we have to assume that she and her deputy Sandy Sugawara perhaps think that they are award material or at least good enough to be posted online.
The Voice of America and Radio Free Europe would have never succeeded in helping to end the Cold War if they had been reluctant to criticize communism and looked for silly excuses to justify the horrors of communist oppression. This is what the Voice of America is now doing in responding, or more accurately not responding, to Islamist extremism. Hillary Clinton's comments from 2013 continue to apply: VOA's parent agency, the Broadcasting Board of Governors (BBG), is still "practically defunct" despite having new CEO John Lansing, and the Voice of America is unable to engage in the war of ideas the way Mrs. Clinton and many other Americans would want VOA to do.
By the way, while there is a basis for legitimate criticism of Donald Trump and Ted Cruise, the VOA report also seems strongly partisan. These reports mix personal views of the writers with those of others but are not labeled as commentaries.
Audience engagement for these reports on the Voice of America website is almost non-existent. As of early Tuesday, June 15, one of them has absolutely no comments from readers; the other one has only three. One of the three is from the perennial pro-Kremlin troll, "Mean Bill," who probably has posted more comments on the VOA English news website than anybody else. He, of course, blames the United States for Islamist extremism.
Two of the three who left comments claim to live in the United States. VOA's mission is abroad.
One of the VOA special reports is showing only five (5) Facebook "Shares" as of early Tuesday; the other one is showing 14 Facebook "Shares." For a worldwide audience, that is close to nothing. VOA could, of course, boost the number of "Shares" by buying Facebook ads, which it is now in the habit of doing for some posts.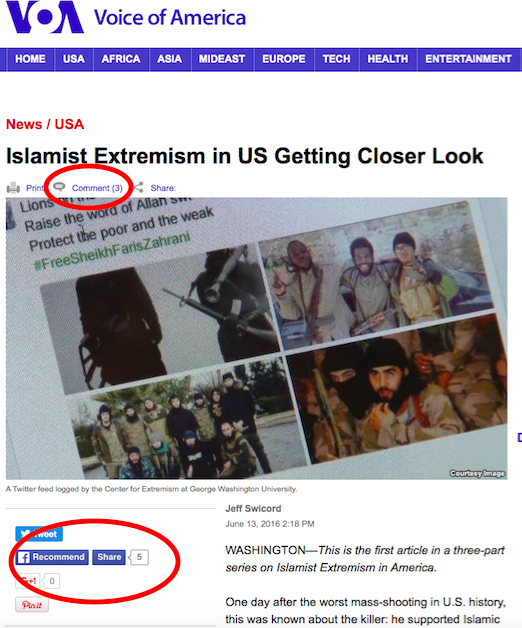 Voice of America Reports
Jeff Swicord
June 13, 2016 2:18 PM
WASHINGTON—This is the first article in a three-part series on Islamist Extremism in America.
One day after the worst mass-shooting in U.S. history, this was known about the killer: he supported Islamic State but had no known direct ties; he expressed hatred of gays; his ex-wife accused him of being abusive; and he earlier claimed ties to al-Qaida, prompting the FBI to question him at least twice.
Omar Marteen was also a Muslim, a father, a son of middle-class Afghan immigrants, a security guard for nearly a decade and the owner of a state-issued firearms license.
The question some are asking is which of the above factors provides a key to why Marteen walked alone into a gay nightclub in Orlando, Florida, early Sunday and killed 49 people.
[PHOTO – Not Reposted: Suspected Orlando shooter Omar Mateen. (Orlando Police Department)]
Flood of information after attacks
In a non-descript office in a shopping mall on the edge of the campus of George Washington University in Washington, D.C., researchers log the tweets of English-speaking Islamic State (IS) supporters worldwide. The Center for Cyber and Homeland Security is one of many centers for the study of extremism cropping up across the U.S.
"There is a really big swell of information that comes right after attacks," says research fellow Audrey Alexander, who, along with her colleagues, follow more than 1700 English speaking accounts – 300 of them in the U.S.
"[Social media] gives tremendous legitimacy to the (IS) movement," she said. "So, the fact that there is such an outgrowth within the United States shows that this a powerful narrative and it is a salient message."
[PHOTO – Not Reposted: Research fellow Audrey Alexander. (J. Swicord/VOA)]
The "message" has resonated with a small but active group of IS social media supporters across the U.S. According to a report released by the Center last year called "ISIS In America" — a title that uses a different acronym to identify IS, which is also known as ISIL and Daesh — more than 56 people took things a step farther and were arrested for actively assisting the terror organization in some way.
Why this small cadre of Americans is attracted to IS is far from clear. All of the experts VOA spoke with agreed there is no common profile. Of the 56 arrests last year, 86 percent of them were male; the overwhelming majority were U.S. citizens or permanent residents who ranged in age from 15 to 47.
"Statistically, the vast majority are homegrown," Said Lorenzo Vidino, who co- authored the report. "All kinds of backgrounds, maybe second generation immigrants."
Failing at life
If there is no common profile, there are some common traits, analysts say.
"The person that is vulnerable is the person that is off their track — that is failing in their life somehow," says Anne Speckhard, a research psychologist and Director of the International Center for the Study of Violent Extremism in Washington, who has interviewed hundreds of IS recruits worldwide.
"It is not just their own vulnerabilities; it is that they are exposed to a terrorist network and to its ideology."
At this early stage of the investigation, authorities are still trying to gauge the extent of Marten's exposure to IS's network and ideology. However, there is ample evidence that he was a person "off his track."
[PHOTO – Not Reposted: Anne Speckhard, a research psychologist and Director of the International Center for the Study of Violent Extremism in Washington. (J. Swicord/VOA)]
In interviews, his first wife said she left him because he became violent, describing him as possibly suffering from bipolar disorder. A co-worker said he often made disparaging remarks towards women and other groups. The shooter's father said his son was deeply angered after seeing two men kissing in front of his child — suggesting a motive for the Orlando attack.
Religion, not the primary factor
Speckhard says while there often is a religious component to extremism, it is rarely the dominant factor. She says joining an Islamist extremist group or even participating in social media banter often bring meaning and purpose to a person's life.
Supporters of IS don't always begin as Muslims. Of the current 3.3 million Muslims in America, about 24 percent are converts, who — over-represented among those arrested for links to IS — comprise about 40 percent of the total population.
"They stumble across Islamic extremism and then they convert," Speckhard said. "They do it because it is meeting a need. Not because they are necessarily looking for a religion."
Speckhard tells the story of a young Christian Sunday school teacher living an isolated life in the northwestern U.S. After IS murdered American reporter James Foley, she tweeted, "why would a terrorist behead a journalist?"
IS answered: "Because this is a revolution. Blood is shed in a revolution and we are changing the world."
The IS recruiter then posed the question, "Did you know Islam is the completion of Christianity?" The Sunday school teacher's conversation and radicalization began.
"She was lonely," says Speckhard. "So all these people are swarming in on her, paying attention to her, sending her tweets, sending her messages, offering to Skype with her. And eventually she converted because she wanted to belong to something. She wanted something in her life."
At last, after the recruiter suggested she and her younger brother come join IS in Syria, her grandmother, with whom she was living, intervened.
[PHOTO – Not Reposted: A Twitter feed after the Brussels attack by Islamic State logged by the Center for Extremism at George Washington University.]
Family dysfunction
While that woman had a relative who ultimately proved helpful, another common trait of people who succumb to radicalization is a dysfunctional family.
Mohamed Khweis, the U.S.-born son of Palestinian immigrants was captured by Kurdish forces in Iraq after allegedly joining IS.
Khweis told his parents he was leaving their northern Virginia home to go on vacation in Europe. In an interview on Kurdish television, he said he flew to London, then Amsterdam, and on to Istanbul where he randomly met a girl whose brother was an IS fighter. She offered to take him to visit the militants.
Last week, Khweis was extradited to the U.S. to stand trial. He is charged with material support for IS, which could put him behind bars for 20 years. According to an FBI affidavit unsealed at a hearing, he admitted his intention all along was to join IS.
Speckhard says his flight itinerary was one typically used by recruits to avoid detection — a young Arabic male flying from the U.S. direct to Istanbul would probably raise red flags. She suspects he was trying to escape family troubles; IS offered a way out, and the young woman was sent to meet and possibly marry him. It all fits the pattern of what she says is a vulnerable person in need.
"I have some information that his dad was quite a drinker. So imagine being a Muslim raised with a dad that doesn't … drink at all — and then drinks too much. That's upsetting. So he announced to his parents 'I'm leaving. I'm going on a vacation,' " said Speckhard, explaining that alcohol-abusing father figures are a factor in numerous cases of radicalization.
These cases, and the data researchers are collecting, paint a portrait of Islamist extremism in America that challenges one of the dominant talking points about terror today: that Islam is at the heart of the problem. And it begs the question, by defining violent Islamism solely in religious terms: Is the U.S. deploying resources to counter that assumption in the most efficient and effective way?
In the second part of this series, VOA explores the effect of anti-Muslim rhetoric on the Islamic community in the United States and efforts to counter terrorism.
Jeff Swicord, Carolyn Presutti, Lisa Bryant
Last updated on: June 14, 2016 3:39 PM
WASHINGTON—This is the second article in a three-part series on Islamist Extremism in America.
The pitch is fast, but the swing of the bat is on target.
Danish Bashir, 25, sprints toward first base as his parents, Imran and Amina, cheer for his adult softball league team from the stands. It's a scene that could take place in any town across America.
The Bashir family are Pakistani-American immigrants; their two sons, Danish and Daniyal, were born and raised in the U.S.
They are part of the fabric of the 3 million-plus Muslims living in the United States. According to a recent Pew Research Center report, Islam will be the second-largest religion in the U.S. by 2050.
If presumptive Republican presidential nominee Donald Trump — who has called for a ban on Muslims entering the U.S. — were to get his way, families like the Bashirs would never have been allowed in America. And they never would have had the opportunity to become citizens.
Calls for ban
In a speech given Monday after the shooting in Orlando, the real estate mogul doubled down on his call for a ban.
"The bottom line is that the only reason the killer was in America in the first place was because we allowed his family to come here," Trump told the crowd. "That is a fact and it is a fact we need to talk about."
[PHOTO – Not Reposted: Danish Bashir's parents, Imran and Amina, watch a softball game in Springfield, Va. (C. Presutti/VOA)]
Amina and Imran Bashir came to America in 1988 to attend Syracuse University in upstate New York. They met in their second year, eventually married, and decided to stay and raise their family in the U.S.
"We just embraced it," says Amina speaking about integrating into American culture. "We were used to student life. We came and it was a lot of fun. Imran would wake up with MTV on. We loved it over here."
The Bashirs have settled comfortably into a colonial-style home in the upper-middle-class Virginia suburbs of Washington.
Family
Imran and his eldest son, Danish, work in the computer technology industry. The youngest son, Daniyal, is a doctor of pharmacy candidate at the University of Baltimore.
"Springfield is good enough," Amina said of the town she calls home. "Everything is here. We all have family near here, they are all split up and it doesn't matter whether our neighbors are Muslim or not. You know it really doesn't matter to me."
While there are cities in the U.S. that have large concentrated Muslim populations, the vast majority are well integrated — spread out in mixed neighborhoods across the country.
Muslims in Europe
Molenbeek, a Brussels melting pot of more than a half-dozen nationalities, is located a half-hour walk from the city's fabled Grand Place. It's here where some jihadi fighters have returned from Syria, and where some of the suspects linked to terrorist attacks in Brussels and Paris grew up.
But Molenbeek is more than the sum of a few radical residents. It is the reflection of today's rapidly changing, multicultural Europe that demands, experts and activists say, new ways of rethinking integration.
[PHOTO – Not Reposted: Danish Bashir, center, sits in the dugout at a softball game in Springfield, Virginia. (C. Presutti/VOA)]
For some, that means recognizing different notions of belonging — to a neighborhood or city, for example, as well as to a nation. Others believe it also means abandoning traditional assimilation models and adopting a more U.S.-style approach toward religion and multiculturalism that reflects the melting pot reality of Europe today.
"It doesn't matter whether you have a veil on your head, what's important is what you have inside your head," says sociologist Corinne Torrekens, a specialist in Muslim communities at the Free University of Brussels.
"We have to stop with this debate of neutrality and secularity in Belgium and recognize and accept our multicultural society in all its manifestations. Not just when we want to drink mint tea or eat Turkish pita," Torrekens said.
Similarities to France
The same debate is playing out in neighboring France, reflecting larger similarities between the two countries.
"These children from the second and third generation don't really feel French because they feel rejected by the nation and its core values," said Alexandre Piettre, a sociologist at the Paris-based Society, Religion and Secularism Group (GSRL). "That's a big difference with the United States, where African Americans, for example, also may feel rejected, but they feel American."
[PHOTO – Not Reposted: Amina and Imran Bashir are photographed during their Hajj pilgrimage in 2015.]
​Both Belgium and France are profoundly secular countries that push assimilation rather than diversity when it comes to new arrivals.
Both are leading European exporters of jihadist fighters. Both have high populations of North African immigrants and their offspring. And both are grappling with the fallout of Islamist terrorist attacks that appear increasingly intertwined.
How America differs
The demographics of Muslims in America are very different from Europe.
According to the Pew Research Center study, Muslims in the U.S. are well-educated, and enjoy higher incomes when compared to most other religions.
Of Muslims in the U.S., 39 percent hold a college degree, while only 25 percent of Christians have completed higher education.
Those degrees translate into higher income.
The 2015 median household income in the U.S. was $53,657. Nearly a third of Muslims, 29 percent, earn between $50,000 and $100,000. And 20 percent earn more than $100,000 per year.
Slightly fewer American Christians, 27 percent, earn between $50,000-$100,000, while only 17 percent of Christians earn more than $100,000.
Reality
This reality belies the picture painted by Trump, the Republican presidential candidate.
Trump first called for a ban on Muslims entering the country last March after the Brussels bombings. He went on to suggest the Muslim faith was rooted in hatred and violence.
[PHOTO – Not Reposted: Faithful take part in the annual Hajj pilgrimage to Mecca, Saudi Arabia, in 2015.]
​"Where this hatred comes from and why, we will have to determine," he said.
Trump's call for a ban on Muslims entering the U.S. was quickly denounced as unconstitutional and counterproductive by legal scholars and terrorism experts.
Misguided
Seth Jones, a terrorism expert with the Rand Corporation, said the idea of banning Muslims from the U.S. is a waste of resources and misguided because it misses the root of the problem.
"This isn't about Islam, this isn't about Sunni Islam, this is about a very small percentage of individuals who hold what we call a Salifi-jihadist world view to establish a global caliphate," Jones said.
"This is a fringe group. The problem and the solution is to recognize and understand how and why there are fringe elements and how you get the 99 percent that oppose this to be helpful and supportive in identifying the fringe elements," he added.
After the Brussels attack, then-Republican presidential candidate Ted Cruz also spoke out. "We need to empower law enforcement to patrol and secure Muslim neighborhoods before they become radicalized," he said.
Cruz elaborated in an interview with CNN's Anderson Cooper: "If you have a neighborhood where there's a high level of gang activity, the way to prevent it is you increase the law enforcement presence there and you target the gang members to get them off the streets. I'm talking about any area where there is a higher incidence of radical Islamic terrorism."
The dark imagery of Cruz's comments is hard to comprehend. There are no Islamic street gangs roaming neighborhoods in the U.S.
[PHOTO – Not Reposted: FILE – Children from Al-Rahmah school react to seeing President Barack Obama, who came over to greet them during his visit to the Islamic Society of Baltimore, Feb. 3, 2016.] [PHOTO – Not Reposted: FILE – Children from Al-Rahmah school react to seeing President Barack Obama, who came over to greet them during his visit to the Islamic Society of Baltimore, Feb. 3, 2016.]
Yet, both candidates' comments entered the media echo-chamber and were repeated thousands of times across all platforms, creating a false narrative about American-Muslims.
Experts say rhetoric like that plays right into ISIS hands.
"The message ISIS sends out [to Muslims] is that the West hates you, the West is at war with Islam. You do not belong in Western society," said Lorenzo Vidino with the Center for Cyber and Homeland Security at George Washington University.
Fear of a backlash
Back at the Bashir residence in Springfield, Virginia, Imran and his son Danish are home from work.
Imran is cooking rice to go with dinner while Danish texts friends about a "Game of Thrones" watch party — the hit TV series that has captivated many young Americans of the millennial generation.
Imran said he is worried about the way Muslims are being portrayed in the presidential campaign. He told VOA it is probably best to keep a low profile.
"We are a middle-class family. We want to just be normal people. We want to enjoy. There is no reason to give anybody an opportunity and there are good people everywhere," Imran said. "It is very easy for somebody to point a finger and that can lead to some unnecessary impact or disturbance in my life."
Danish says he doesn't understand Donald Trump.
"I am still an American, too. And being an American is about being together, so my view is different from his. His hatred [at ISIS] is correct. But pointing to people in your own backyard? That doesn't make any sense to me," Danish said.
He adds that he is blessed to live in a mixed neighborhood and have friends from all kinds of backgrounds.
"There is no segregation in terms of that. It's equal opportunity. And that is what we have in America. We can come from nothing into becoming something great and achieving your goals. And that is why my parents came to America," Danish said.
In the third part of this series, VOA explores the question, "What is counterterrorism?"
Carolyn Presutti
Carolyn Presutti is an Emmy and Silver World Medal award winning television correspondent who works out of VOA's Washington headquarters. She has also won numerous Associated Press TV, Radio, and Multimedia awards, as well as a Clarion for her TV coverage of The Syrian Medical Crisis, Haiti, The Boston Marathon Bombing, Presidential Politics, The Southern Economy, Google Glass & Other Wearables, and the 9/11 Anniversary.