BBG Watch Commentary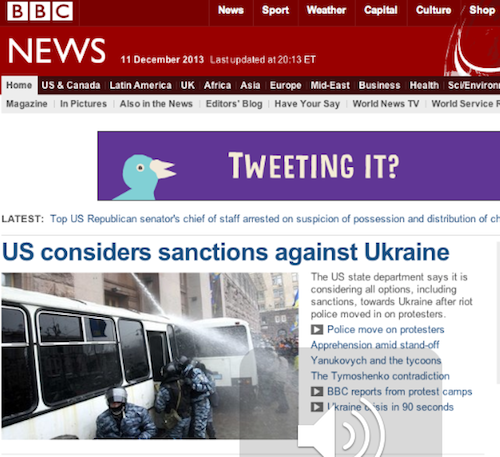 "US considers sanctions against Ukraine," is the top news story on the BBC website, but the Voice of America (VOA) English news website does not have a separate report on the U.S. State Department's statement that it is considering all options, including sanctions, towards Ukraine after riot police moved in on protesters.
There is no reference to the possibility of U.S. sanctions anywhere on the VOA English homepage. State Department spokeswoman Jen Psaki's statement is included in the middle of a Reuters report "US Lawmakers Warn of Sanctions if Ukraine Violence Worsens."
VOA English Newsroom seems incapable of generating its own, separate report on a very significant foreign policy statement from the U.S. administration and relies instead on a Reuters news story, which is largely about reactions in the U.S. Congress to events in Ukraine.
VOA's inability to post its own reports from the State Department and the U.S. Congress is astounding.
Also astounding is the lack of news prioritization by the VOA central news web desk.
BBC and other international media are leading with the State Department statement on Ukraine, but NOT the Voice of America English website.
It also took VOA executives weeks to make a decision to send a VOA English correspondent to Kyiv. One has just finally arrived. But for weeks, the VOA English news website was posting Reuters reports from Ukraine, often hours after other international media outlets posted their original reports. These Reuters reports on the VOA site were getting barely any Facebook "Likes" — a few dozen at best — compared to thousands of Facebook "Likes" from original from the scene reports by BBC and Russia Today correspondents.