BBG Watch Commentary
Voice of America (VOA) director Amanda Bennett has two scheduled public appearances in Washington, DC this week. They should be interesting in light of her recent statements and what the organization she leads has done for the past two years. The Voice of America is part of the Broadcasting Board of Governors (BBG) led by Amanda Bennett's boss John F. Lansing. Both of them are Obama administration holdover appointees. We offer some background material for anyone who would like to ask Ms. Bennett some questions.
Media Ownership in an Era of Distrust: A Conversation with the Director of Voice of America

Tuesday, April 24, 2018
2:30-3:30 pm.
And:

Join the Broadcasting Board of Governors (BBG), The George Washington University School of Media & Public Affairs and the Committee to Protect Journalists for a conversation on challenges and new trends in international media freedom, access to information, and journalist safety.
Wednesday, April 25, 2018
The George Washington University, Elliott School of International Affairs
City View Room, 7th Floor
1957 E Street, NW
Washington, DC 20052
11:45 AM – 12:30 PM – Registration and networking lunch
12:30 PM – 2:30 PM – Program
Amanda Bennett has been criticized by VOA's own journalists and others over her handling of the VOA Mandarin Service interview with Chinese businessman whistleblower Guo Wengui which was cut short on her orders. She denies that pressure from the Chinese government had anything to do with her decision and defends it as necessary to protect VOA's high journalistic standards. The senior management did not take any responsibility for its decision and placed five VOA Mandarin journalists on administrative leave with pay and is reportedly threatening three of them with firing.
In a meeting with VOA China Branch, in which Amanda Bennett announced recently the appointment as China Branch Chief of a non-Chinese speaker, a VOA journalist who has no experience in reporting on China, she was quoted by VOA's Chinese journalists making these remarks, which some found insensitive in the presence foreign-born VOA employees.
One foreign-born VOA journalist called it "A You Know Speech."
VOA DIRECTOR AMANDA BENNETT: "You know, you know what. We, the skill set that we need here right now is excellent journalism, experience, ah, collaborativeness, and fearlessness. And I think, you know, you can see that Ernie has got all of those things. And, you guys are going to, you guys are going to be able to help him make up that. You know, if you're weighing something, you know, we've got a lot of candidates that came in who are super fluent in Mandarin, you know. But that was it. What good is that gonna do? You guys all speak Mandarin, you know, and Cantonese, you know. Why would I hire someone to do what all of you guys are able to do? What we need is a leader. Right? And Ernie is a leader. Ernie has proved over and over again that he's a leader. And so when you're weighing things — you know, language fluency, leadership — and, you know, you get someone with big language fluency but no leadership. You know, he's a mover. Really strong leadership. We can figure out, and you guys already proved you can figure out, how you make up for that. So, that's my answer."
Her official bio on the Voice of America website lists, however, impressive reporting credentials although no prior experience in managing large organizations, federal workforce or U.S. public diplomacy:
VOA AMANDA BENNETT BIO: "Amanda Bennett is a Pulitzer Prize-winning author, investigative journalist and editor and was named Director of the Voice of America in March 2016. Through 2013, she was Executive Editor, Bloomberg News, where she created and ran a global team of investigative reporters and editors. She was also co-founder of Bloomberg News' Women's project. She was editor of The Philadelphia Inquirer from June 2003 to November 2006, and prior to that was editor of the Herald-Leader in Lexington, Kentucky. She also served for three years as managing editor/projects for The Oregonian in Portland. Bennett served as a Wall Street Journal reporter for more than 20 years. A graduate of Harvard College, she held numerous posts at the Journal, including auto industry reporter in Detroit in the late 70s and early 80s, Pentagon and State Department reporter, Beijing correspondent, management editor/reporter, national economics correspondent and, finally, chief of the Atlanta bureau until 1998, when she moved to The Oregonian. She has also been a contributing columnist for The Washington Post."
Amanda Bennett's official VOA bio also says:
VOA AMANDA BENNETT BIO: "Together with her husband, Donald Graham, she was a co-founder of TheDream.US, which provides college scholarships to the children of undocumented immigrants."
This may perhaps explain why VOA has produced in the last two years hundreds of reports on legal and illegal immigrants in the United States. Critics say that many of these reports are one-sided.
Amanda Bennett's husband, a former CEO and chairman of the Washington Post company with whom she was a co-founder of TheDream.US, is now chairman of Graham Holdings Company which among many of its corporate activities does significant educational testing and training business in the United States but also abroad, including China. China sends thousands of students each year to the United States.
In July 2016, Amanda Bennett reportedly sent an email to staff highlighting a VOA interview in which Donald Trump's immigration plan was described by a student interviewee as one of "hate and prejudice." The email shared with outsiders by some VOA reporters did not ask or point out whether any countervailing views on illegal immigration were presented in the VOA interview.
"July 8 at 1:11pm

Friends,

Check out this week's highlights below.

(…)

VOA Spanish interviewed two undocumented immigrants who are high school valedictorians in Texas. Larissa Martinez of Dallas, who received a full scholarship to Yale University, said that many illegal immigrants like her live in fear. She called Republican presidential hopeful Donald Trump's immigration plan one of "hate and prejudice." Mayte Lara of Austin, who received a full scholarship to the University of Texas, said that to succeed, young undocumented immigrants have to do more than any other social group in the United States. The story, which aired on VOA Spanish affiliates throughout Latin America, received more than 300,000 Facebook views and was shared nearly 800 times."

(…)
A few days later, Ms. Bennett marked the 40th anniversary of the VOA Charter with the statement that "The VOA Charter has never been more important than it is today." She also ordered anti-bias training for VOA reporters. None of this worked. For the first time in VOA's history, a VOA reporter used an F-word in a public forum to condemn a presidential candidate and now future U.S. president Donald Trump. The VOA reporter called Trump "F*ckface Von Clownstick."
The same VOA reporter also posted on a personal but publicly accessible Facebook page a meme showing Donald Trump's face with a Nazi swastika and another meme depicting Mr. Trump as a sexual organ.
While these memes appear to have been posted by a VOA reporter outside of official U.S. government work, the VOA Ukrainian Service translated into Ukrainian and posted online on an official VOA Facebook page a video in which Donald Trump was called by a Hollywood actor "punk," "dog," "pig," "con," "buls**t artist," "mutt," "idiot," "fool," "bozo," and "blatantly stupid." VOA did not attach to the video a rebuttal or a response of any kind. The video was eventually removed after outside criticism.
During the 2016 presidential election campaign, VOA had also published one-sided slurs against Democratic presidential hopeful Senator Bernie Sanders. On the election night in November 2016, VOA did not have any ready to broadcast profiles of Donald Trump but prepared in advance two "Hillary Clinton Wins" profiles of the Democratic Party candidate.
In December 2016, Voice of America newsroom reporters, editors and managers, who are U.S. federal employees, collaborated on preparing a holiday skit in which they lampooned President-elect's daughter Ivanka Trump, told a sex joke about Mrs. Trump, and said repeatedly that Donald Trump was "a joke." Some of it was live streamed on Facebook.
Similar violations of the VOA Charter have continued almost unabated into 2017 under Ms. Bennett's and Mr. Lansing's watch, and some have continued into 2018.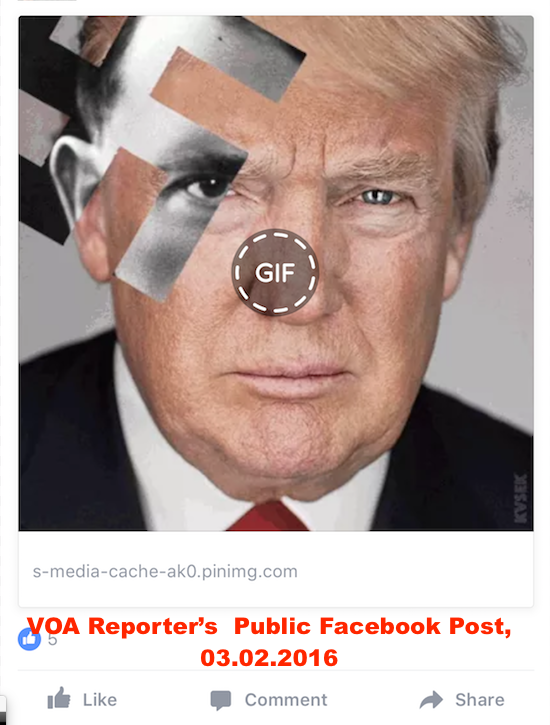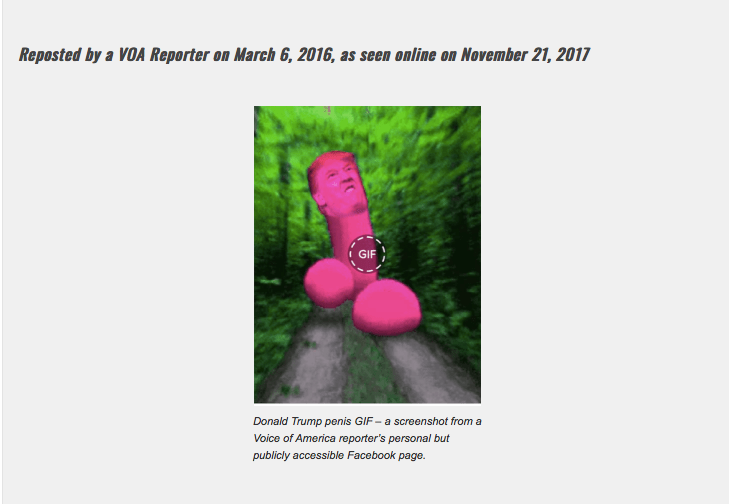 Voice of America censors a report on Guo Wengui https://t.co/eqTHyEBC04

— BBG Watch (@BBGWatch) October 6, 2017
Thank you BBGWatch! Protect our freedom of speech

— 贵在行动 -推特党宣传部长(自封) (@tuiqiandang) October 6, 2017
Thanks for speak out for justice and freedom!

— 驱除俄狗恢复中华 (@sadanduo) October 6, 2017
龚提问时我在想她代表谁尼?VOA?不是还在停职中嘛?

— Snowkoal (@cpecc1968) October 6, 2017
VOA has become VOC, voice of Chinese kleptocracy! It's time to close it.

— Alan✊️ (@jcintertronic) October 6, 2017
Wow what a fantastic article by BBG Watch ! This is called true check and balance! Thank you so much!!!

— 麦哥✊️✊️✊️ (@Dinggwg2017) October 6, 2017
voa has violated the Voice of America Charter @VOANews pic.twitter.com/QZlQbgzCDO

— 推特地下党新闻发言人✊✊✊ (@tuituji1) October 7, 2017
VOA is dead

— 雨夜惊慌 (@rainnightpanic) October 7, 2017
I used to watch VOA, but since Guo's interview in April cut short abruptly, I have been watching Mingjing, instead of VOA.

— Susan 李 (@susan_li_aus) October 7, 2017
As one of hundreds of thousands followers of Mr Guo, I know many Chinese share the same view with me about VOA, and Mr Guo.

— Susan 李 (@susan_li_aus) October 7, 2017
article! I saw VOA advertising in googles. They have realized they have lost a lot of viewers. It is time for change.

— 2017 期待改变 (@live4emoment) October 6, 2017
— Sylvia (@we2in1) October 7, 2017
— 自由中華 (@ziyouzhonghua) October 7, 2017
One of the most important things the US gov can do right now on Iran is to fix VOA Persian & make it a more effective organization in line with US interests. The war of ideas & information matters more than ever before. #iranprotests

— Alireza Nader (@AlirezaNader) April 4, 2018
Having reformist pro Islamic Republic guests, hosts and personalities on @VOAIran funded by taxpayers should become as shameful as having pro Nazi or pro communists on the channel. @VOAIran @BBGWatch https://t.co/90fPjfn6nh

— Amir Fassihi (@AmirFassihi) April 5, 2018
Dear @BBGWatch, the #ReformBBG should be accelerated if @realDonaldTrump administration really seeks a peaceful transition in #Iran. Thank You 🙏 @VP pic.twitter.com/3FpQtc3m3z

— Kaveh Taheri 🕊 (@TaheriKaveh) April 6, 2018
@PahlaviReza says regime's supporters & lobbies have infiltrated USG-funded @VOAIran & @RadioFarda_ and promote pro-regime so-called "Moderates" through them.#ReformBBG@SenRubioPress @isg2 @AndrewLPeek @RepEdRoyce @SenTomCotton @RepDeSantis @leezeldin @RepKinzinger @BBGWatch https://t.co/7ZJS1yN74S

— Amir Etemadi (@amiretemadi) February 11, 2018
شاهزاده رضا پهلوی: نیروهای اصلاح‌طلب و لابی‌های جمهوری اسلامی به صدای امریکا و رادیوفردا رخنه کرده‌اند و هم‌چنان به دنبال ادامه حیات رژیم با ترویج گفتمان اصلاح‌طلبی هستند. این رسانه‌ها باید پاکسازی شوند و از خواست اصلی مردم یعنی از بین رفتن اساس این حکومت، حمایت کنند @PahlaviReza pic.twitter.com/E6eReOR5q9

— Taghato (@taghato) February 11, 2018
#ReformBBG is one of the most important issues, which can help #IranProtests succeed, should @POTUS @realDonaldTrump admin really wish to support the Iranian people. pic.twitter.com/iLIIMMoznF

— Kaveh Taheri 🕊 (@TaheriKaveh) January 8, 2018
از دولت آمریکا می خواهیم در راه کمک به ملت #ایران و ثبات منطقه ای و صلح جهانی تغییرات اساسی در رسانه های دولتی خود ایجاد کند.
We need to #ReformBBG as soon as possible @BBGWatch@USAdarFarsi @WhiteHouse @StateDept

— Faranak Azad (@FaranakAzad1) February 12, 2018
@PahlaviReza calls for a clearing of #iranlobby and reformists from @VOAIran @RadioFarda_Eng @BBGWatch @BBGgov https://t.co/A48j6tbr8V

— Artin (@artindiplomacy) February 11, 2018
Again, who exactly is paying their salaries, IR or USA?
From their behavior I find it quite confusing.

— Darkseid (@DoctorDoom2) February 8, 2018
Clearly not. VOA leadership is oblivious to criticism.

— KenTimmerman (@KenTimmerman) February 8, 2018
The time for change at the Broadcasting Board of Governors and the Voice of America is long overdue. If nothing else, what needs to change is how BBG and VOA officials view and treat Americans who pay their salaries.

— Gity Behi (@gitybehi) February 8, 2018