BBG Watch Guest Commentary
This is part three of a commentary on the newly named United States Agency for Global Media (USAGM), formerly known as the Broadcasting Board of Governors (BBG). The author is a former Voice of America (VOA) senior White House correspondent and international reporter Dan Robinson.
In part one of his commentary, Robinson wrote:

NEWS AGENCY INITIALLY CLOSED EVENT, BARRED BBG WATCH COVERAGE

As BBG Watch reported in August, Broadcasting Board of Governors and now USAGM CEO and Director John F. Lansing announced that a "closed event" would be held September 12th at the National Press Club, "exploring the evolution of U.S. global media" with invitations sent out to a select group of people, and as it turned out, only carefully selected media.

Some immediate and important questions arose (the kind that one would only see reading BBG Watch, the only independent watchdog on the agency's operations). The main one: Why would an event about a renamed U.S. government agency funded by taxpayers be cloaked in secrecy?

Also, the agency invitation made reference to "corporate restructuring." But despite efforts of various officials in recent years to recast the agency as as the equivalent of a commercial "media company" — it isn't. It's a U.S. government body, regardless of its oft-cited "independence".

As BBG Watch founder Ted Lipien wrote: "Arranging a closed event about a federal agency devoted to media freedom and transparency can only be described as a spectacularly stupid idea from a public diplomacy and public relations perspective, and one that could be easily exploited by Russian propaganda."

FOIA AND PROTESTS TO BBG

As a former VOA news correspondent and language service chief for nearly 35 years, I received news of the September 12th event from sources. On September 4th, I sent a formal request to attend.

Here was the response, received from USAGM public affairs: "Thank you for your email. As space is limited the event is invitation only. We'll keep you on our list for updates and future events about the U.S. Agency for Global Media."

Breaking down this barrier, as absurd as it was unprecedented, required further steps.

In a Freedom of Information Act (FOIA) request, I asked for a list of invitees and those who RSVP'd. An email from Lipien to BBG Board members said the agency's initial denial "under the flimsy excuse of insufficient space" would "open the agency to further charges of incompetence, insensitivity and hypocrisy . . ." and constituted "an unprecedented USAGM attempt to stifle independent investigative journalism in the United States."

USAGM reversed its earlier rejection: "This is to inform you that we've added your name to the guest list for this event". I still await a response from the agency regarding the FOIA for a full list of invitees and those who actually attended. — more

In part two of his commentary, Robinson wrote:

FACT AND FANTASY

Sitting in the First Amendment Lounge that day (a Press Club security guard was stationed just outside the entrance perhaps, one surmises, to deal with any rowdy formerly uninvited media) I reminded myself of definitions of surreal, as in: "A surreal mix of fact and fantasy".

Here is an agency that, over the past two decades, has (and this list is not exhaustive):

Mismanaged its own resources and personnel
Stumbled in breaking news coverage, with websites often ridden with errors demonstrating lack of quality control
Lost most of its audiences (though it plays statistical and semantic games to inflate its audience figures)
Lurched from scandal to scandal (including the still unresolved issue of the Mandarin 5)
Been forced to require employees in one of its entities (VOA) to undergo training in bias avoidance, and journalism
Suffered numerous meltdowns of its primary digital production platform, impacting programming
Had employees in one entity (again, VOA) using official social media channels to post embarrassing and politically-biased comments
Allowed employees (with endorsement by a former VOA director) to put on a satirical event featuring insults of an incoming president and his family members
Officials who have presided over this embarrassing history mentioned none of these. They mixed with an exclusive group at this catered soiree, and in remarks said essentially, hey we know we screwed up in the past, but please — JUST GIVE US A(NOTHER) PASS!

. . . AND they asserted that finally, after years of bumbling and mismanagement — the agency "has changed! Transformation!….to be a more "nimble and impactful tool of U.S. foreign policy. . ." and has "fully joined the information battlefield."

Remember: this is the agency that a prominent senator only a few years ago called: "the most worthless organization of the federal government." — more

QUESTIONS NOT WANTED BY USAGM

By Dan Robinson
TOUGH RHETORIC ON CVE AND SUPPORTING U.S. SECURITY GOALS
Citing the importance of bipartisanship in Washington, Representative Rooney described USAGM essentially as a spear of soft power diplomacy, in his words, "[pushing] American values in a non-hostile and non-militaristic context."
"When we're not united, the world can exploit us, when we're supposed to be doing the opposite to them," said Rooney, who added that he hoped USAGM programming helps "the people of Iran finally get rid of that horrible autocracy".
The lawmaker also described VOA as a "voice" for the opposition in Venezuela (take that VOA journalists who insist that their role is not to take sides).
NAUERT SAYS AGENCY ROLE IS TO "INCREASE RECEPTIVITY" TO U.S. GOALS
Under Secretary of State for Public Diplomacy and Public Affairs Heather Nauert made clear what the Trump administration expects from USAGM. At one point noting that the re-branding was "perhaps not necessary", she said the agency should be working to "[increase] receptivity to America's goals and its priorities."
(NOTE: Momentum for reorganizing the former BBG actually accelerated under former president Barack Obama, who signed the 2017 National Defense Authorization Act and established a Global Engagement Center in the State Department aimed at ramping up counter-disinformation activities).
But the toughest rhetoric regarding the future role of USAGM came from what can only be described as a kind of Gettysburg Address by Lansing, who may still be on his way out as CEO regardless of how well he thinks his sit down went with Mike Pompeo.
He paid his usual lip service to "accurate, independent and objective news and information" but said the agency now exists to help "push the tide of authoritarianism back".
"[We must] work internationally on behalf of U.S. interests in parts of the world that need it most, and with that rise of authoritarianism I mentioned and the aggressive tactics by the Russians, for one, we have now fully joined the information battlefield."
The language must have left some journalist's jaws on the floor in the VOA newsroom. Over the years, many them remained uninformed about the actual history of VOA which is filled with examples of high-level policy and often programming control and direction, including by Edward R. Murrow who is frequently cited as a kind of God-like figure.
Lansing described "[supporting] the kinds of societies that in the long run support U.S. interests" as part of the "unchanged role" of the agency, specifically "[those that] reject terrorism, authoritarianism and extremism and make better political allies and trading partners."
"De-mystifing extremist narratives. . .fact-checking disinformation. . .and confronting state-sponsored lying" are now a central part of the agency's agenda, Lansing said.
PACK UNMENTIONED; AGENCY MAKES NEW AUDIENCE CLAIMS
By the way, it should be noted that at no point in any of the remarks was there a single mention of the name of Michael Pack, whose name was put forward by the Trump administration last June in nomination to replace Lansing as the next CEO of the newly-named USAGM.
Also — other than the happy talk by Lansing about the new "modernized" agency, and boasts about new programs such as a 24/7 Farsi channel, little was said about specific "corporate restructuring" in an agency with a reputation for bloated and inefficient bureaucracy.
Once again, the agency rolled out another claim about allegedly sharply increased audiences — a projected 339 million. It is common practice for the agency to simply tack on millions to audience claims, based on affiliate agreements with stations overseas.
And there are reasons to doubt such claims, as Lansing put it, that the agency is now the "No. 1 international broadcaster in Iran" and that its 'Current Time' program has grown audience size in Russia by 5 million viewers.
QUESTIONS NOT WANTED
As for any normal media coverage of the September 12th self-promotion exercise, there does not appear to have been any (other than this article in BBG Watch).
MSNBC sent a cameraman from Capitol Hill to record Nauert's address, because (as the operator told me) she so rarely holds briefings. A reporter for a Japanese newspaper (Shankei Shimbun) was present and drew my attention to a copy of the day's State Department schedule listing Nauert's address with the notation "MEDIA DETERMINED BY HOST".
At the conclusion of remarks, and as the last of two stirring videos praising the glorious accomplishments of USAGM and valiant journalists at its outlets, it was clear that there was no intention to open up for questions.
Kenneth Weinstein, thanked guests for coming, and encouraged them to enjoy the refreshments and take the opportunity to talk with members of the "USAGM Team"
Greta Van Susteren, the former FOX and other network personality who the agency has used in an attempt to bolster its battered image, sat a table but made few remarks beyond one happy talk exchange with Nauert.
Many journalists at the Voice of America chafe at Van Susteren's presence there (agency management bestowed upon her "volunteer" status, and she is called a "contributor" in programming).
Criticism has also focused on what appears to be a decision by management not to impose the same guidelines on Van Susteren regarding her social media activities as regular agency employees.
The agency is pleased with Van Susteren's ability to bring in high profile interviews, including President Trump in Singapore after his summit with North Korean leader Kim Jong Un. Greta has become, in many respects, the new face of USAGM.
Also present was Frank Sesno, head of the School of Media and Public Affairs at George Washington University. Based on public comments, he appears to hold a mostly favorable view of the agency. Though not mentioned in his Wikipedia profile, but in some other bios, he worked briefly at VOA before joining CNN in the mid-1980s.
Of course, there are a few questions that could have been asked of agency officials, from Lansing on down — for one, about exactly how they arrive at their inflated audience figures.
The National Press Club opens its doors to organizations all the time willing to pay a room fee, and those organizations set their own conditions when it comes to media coverage.
But it is interesting, to say the least, that a taxpayer-funded federal agency that makes so much noise about employing "thousands of talented journalists, storytellers and media professionals" would initially close such an event completely, and in the end limit the scope of coverage.
Conclusions to be drawn are obvious: whether the former BBG, or the new alphabet soup USAGM, officials want to avoid tough questions, about the agency's failures, scandals and ongoing controversies — in short, anything that would challenge the party line.
PINS FOR APPARATCHIKS
As I exited the room, I noticed the little pins they were wearing (the new logo has been described as downright ugly, and certainly not very inspiring).
The pins reminded me of ones I saw worn by apparatchiks in some countries I covered as a VOA foreign correspondent: Myanmar/Burma, Ethiopia, Indonesia, come to mind . . . also the former Soviet Union I visited in the 1970's.
I never wore pins like this while I was a reporter for Voice of America, even (and especially) while on assignment overseas, being satisfied with my own self-identification as, and commitment to being, a news correspondent.
What publicly-funded USAGM needs are not neat little pins, and closed events catering to its "base" (like a Trump rally) but a policy of openness in which it accepts and answers questions, not only about what it claims are its glorious victories, but also about its weaknesses and challenges.
These questions need to come from agency employees (though at this point many are simply resigned to sticking it out until their pensions engage) as well as non-government media, and American taxpayers.
Hold USAGM, and members of Congress who appear willing to fund the place permanently, accountable and demand that they not give in to what appear to be tendencies that suppress those very questions from being asked, and which at worst appear to mimic the authoritarian regimes that this agency claims to now target with its programs, in the interest of U.S. national security.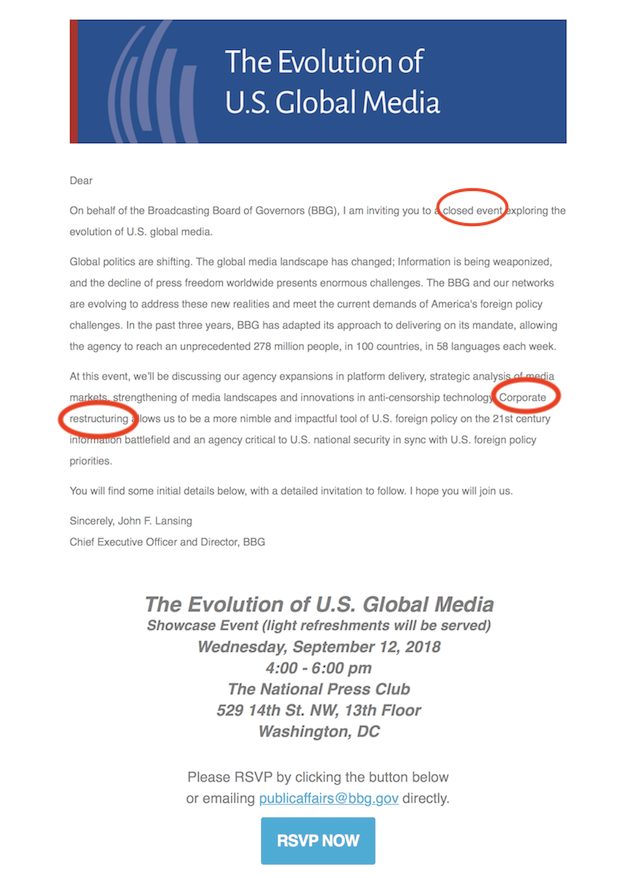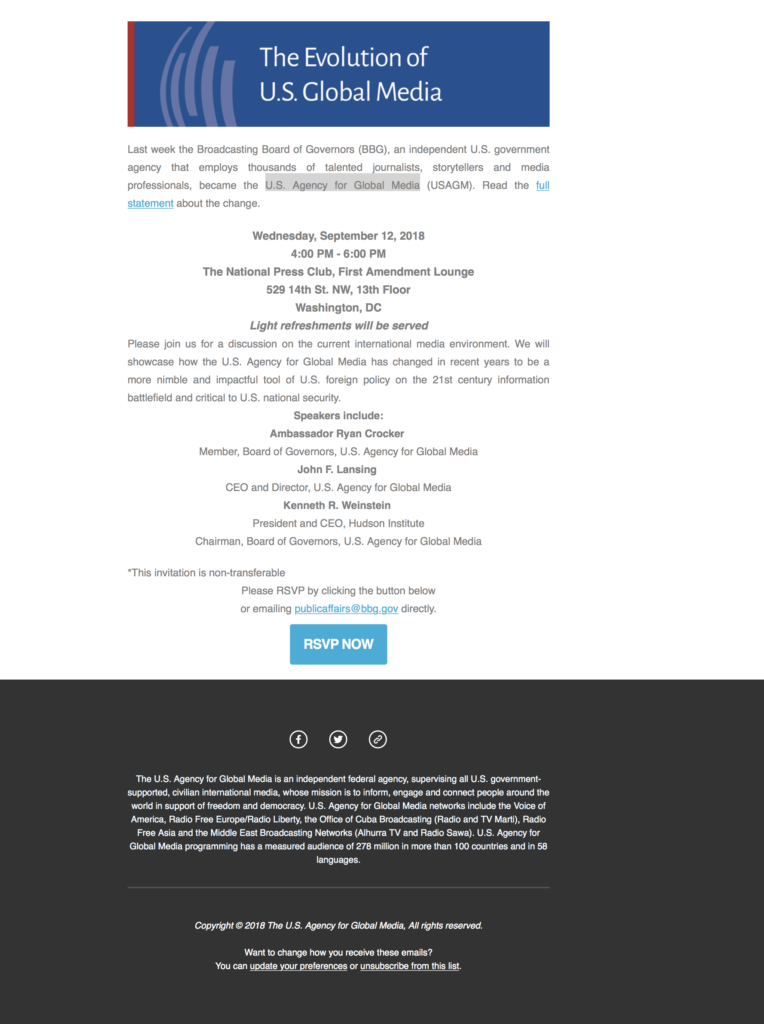 Dan Robinson retired in 2014 after 34 years with the Voice of America. In addition to his White House posting as senior VOA correspondent, he served as bureau chief in Nairobi, Kenya and Bangkok, Thailand. He was also the chief of the VOA Burmese Service and the Capitol Hill correspondent.