BBG Watch Commentary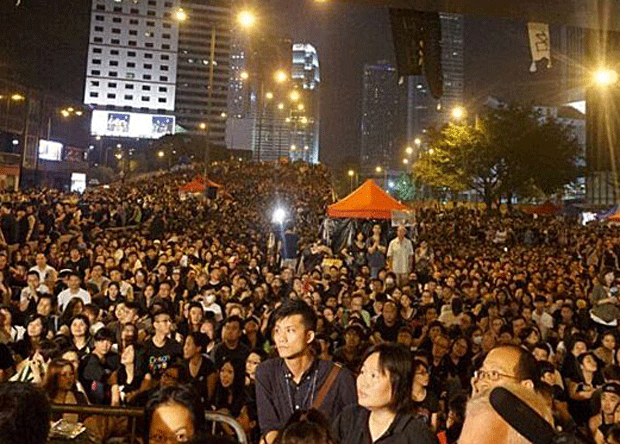 Two key U.S. senators called Sunday for a "de-escalation" of the one week standoff between the authorities in Hong Kong and pro-democracy protesters, saying "good faith" negotiations were key to breaking the stalemate over election reforms for the former British colony, Radio Free Asia reported in an exclusive story carried on shrtwave radio, social media digital platforms and a newly acquired satellite TV channel.
"As democratically elected members of the United States Senate, we strongly support the Hong Kong people's aspiration for universal suffrage and full democracy," U.S. Democratic Senator Patrick Leahy and Republican Senator Roger Wicker said in a statement.
"We urge all parties to follow the path of restraint, de-escalation, and good faith dialogue in pursuit of that goal," said Leahy, the President pro tempore of the Senate, and Wicker, the Republican Deputy Whip.
In another exclusive for Radio Free Asia, AP reported citing RFA that one important Chinese leader "urging the Hong Kong protesters to bide their time is reform-minded Bao Tong, former aide to then-Communist Party general secretary Zhao Ziyang, who spent the last 16 years of his life under house arrest after sympathizing with the students who occupied Beijing's Tiananmen Square to seek democracy on the mainland."
"The seeds have already been sown, and they need time to lie fallow," Bao wrote in a commentary Sunday for Radio Free Asia. "Take a break, for the sake of future room to grow. For tomorrow," wrote Bao, who has been under house arrest himself after spending seven years in prison.
Sources told BBG Watch that Radio Free Asia had no resources to surge on the air as during previous crises in the region, but the U.S. taxpayer-funded uncensored surrogate media outlet for Asia surged on digital content and social media in all four China services during OccupyHK. Broadcasting and program delivery resources are now controlled much more tightly by the Broadcasting Board of Governors (BBG), specifically the BBG's International Broadcasting Bureau (IBB). IBB gave RFA several additional hours on a TV satellite used by the Voice of America (VOA) instead of providing a fresh satellite channel. The decision was controversial because in addition to displacing VOA English language programming, which was applauded and not controversial, RFA audio displaced several hours of repeats of VOA TV Mandarin language program during the crisis without any prior notification from the Voice of America management to audiences in China and to the VOA China Branch staff. These were internal VOA management issues for which RFA was not responsible.
While at first RFA audio to China on satellite TV ran under the blue screen, a few days later the blue screen was replaced with the visual of the live stream of the protest which, according to some viewers, provided the best coverage by far of all the video streams. Some Cantonese audience responses to the program on radio via satellite TV say that it broke the blackout in China on the Hong Kong protests and resulted in non-stop messages from the mainland supporting the protesters.
Before the adjustment to the satellite stream, two original Voice of America Mandarin TV hours were repeated five times a day for a total of 86 hours a week (14 original hours and 72 repeat hours). The new RFA audio content in Mandarin, Cantonese, Tibetan and Uyghur, which is now supplemented with the live video stream on the protests, replaced 14 hours weekly of the VOA Mandarin TV "Weishi" program repeats (out of 72 hours of weekly repeats previously), but it also replaced 28 hours weekly of acquired English language mostly entertainment TV programming, 7 hours weekly of VOA English Music programming and 3 hours weekly of VOA English programming.
BBG Watch has learned that every team at RFA in Washington and abroad has been working non-stop for many days is covering the Hong Kong protests "because it is such a critical event and game-changing in so many ways to the mechanics of peaceful protest in the mobile age," as one source put it.